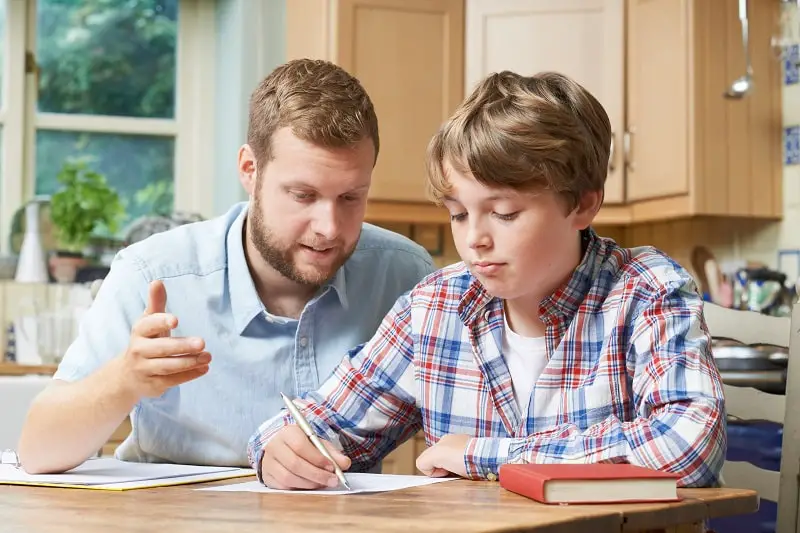 Tutors
provide non-classroom, academic instruction to students on an individual or small-group basis for proactive or remedial purposes.
---
Tutors
Salary, Job Description, How To Become One, and More
---
In this career summary, you will find out what the job of a Tutor is about and what it is like.
After reading this, you will have a good idea on what the job is about and decide if this is the right career for you.
---
---
Tutors provide non-classroom, academic instruction to students on an individual or small-group basis for proactive or remedial purposes.
---
---
---

Interested in becoming a Tutor? Find the right schools that can help you to become one. This service is free thanks to our sponsors.
---
---
---
Improve Your
Test Score
Studying for a standardized test for your college admissions?
Improve your test scores on SAT, ACT, GRE, and GMAT.
Read more
---
---
---
Average salary
$32360 per year
Average hourly wage
$16 per hour
---
Tutors with little to no experience tend to make between $18850 and $22510 while the more experienced ones can earn over $37340 per year.
| Top 5 paying states | Hourly | Annual |
| --- | --- | --- |
| MD | $28 | $58,850 |
| HI | $23 | $47,020 |
| OR | $22 | $45,520 |
| VT | $20 | $42,410 |
| CA | $20 | $42,010 |
One of the easiest ways to increase your salary as a Tutor is to move to a higher paying state like MD. Right now, the highest paying states for Tutors are MD, HI, OR, VT and CA.
However a higher pay at MD doesn't guarantee that you will make more because the living expenses at MD might be twice as high than where you are currently at now.
Three other factors that can increase your salary as a Tutor is the degree you hold, the industry you work in and lastly the company you work for.
---
---
Recommended degree level
Bachelor's Degree
We asked other Tutors what degree they had when they got the job and most of them said they had a Bachelor's Degree followed by a College Certificate.
Other than that, we also asked them what did they major in and here are the most popular majors that came up.
Bilingual and Multilingual Education
Multicultural Education
Indian/Native American Education
Montessori Teacher Education
Waldorf/Steiner Teacher Education
---
---
---
Here are some of the pros and cons of being a Tutor.
PROS
Suitable for people who likes to help and teach others
Suitable for people who values relationships between co-workers and customers and wants to work in a friendly non-competitive environment
This career is perfect for people who love to work indoors.
Short working hours (Less than 40 hours per week)
CONS
Not suitable for people who likes practical and hands-on work
One of the lowest paying jobs
It is hard to get into this career. A considerable amount of work-related skill, knowledge, or experience is required for this career.
---
---
---
Is this job meaningful
73%
---
73% of Tutors said they were satisfied with their job and 73% said they feel like their job is making other people's lives better.
---
---
Best personality for this career
The Helpers and The Thinkers
---
You can read more about these career personality types here.
People who are suitable for this job tends to like working with, communicating with, and teaching people. They like helping or providing service to others..
They also like working with ideas, and require an extensive amount of thinking. They like searching for facts and figuring out problems mentally.
---
---
Start your journey to be
a Tutor
Get the best college for Tutors
---
---
Discover the best colleges for your $$$
---
---
Find colleges have the highest earning grads
---
---
Yes, I'm sure
---
---
Instructional Coordinators

develop instructional material, coordinate educational content, and incorporate current technology in specialized fields that provide guidelines to educators and instructors for developing curricula and conducting courses. Includes educational consultants and specialists, and instructional material directors.

Salary

$67490

Mathematics Professors

teach courses pertaining to mathematical concepts, statistics, and actuarial science and to the application of original and standardized mathematical techniques in solving specific problems and situations. Includes both teachers primarily engaged in teaching and those who do a combination of teaching and research.

Salary

$87140

Secondary School Special Ed Teachers

teach secondary school subjects to educationally and physically handicapped students. Includes teachers who specialize and work with audibly and visually handicapped students and those who teach basic academic and life processes skills to the mentally impaired.

Salary

$65320

Foreign Language Professors

teach languages and literature courses in languages other than English. Includes teachers of American Sign Language (ASL). Includes both teachers primarily engaged in teaching and those who do a combination of teaching and research.

Salary

$79160

Library Science Professors

teach courses in library science. Includes both teachers primarily engaged in teaching and those who do a combination of teaching and research.

Salary

$75450
---
Find a college with the major you want

---
Related career information
Tutors job description, Tutors salary, Tutors information, what is the job of a Tutor like, pros and cons about Tutors, colleges and universities for Tutors, is Tutors the right career for me, careers in Education
Similar careers
Academic Guidance Specialist, Academic Tutor, Accounting/Finance Tutor, ACT Tutor, Adult Basic Education Instructor, After School Tutor, Biology Tutor, Center Director, Chemistry Tutor, Children's Tutor
Additional resources