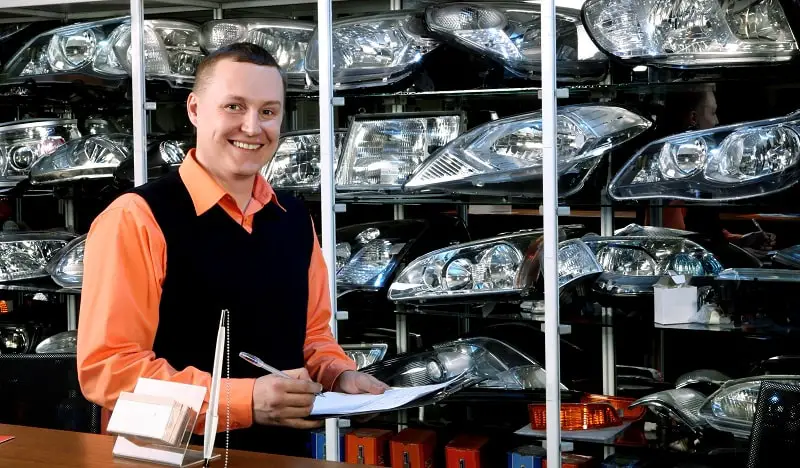 Parts Salespersons
sell spare and replacement parts and equipment in repair shop or parts store.
---
Parts Salespersons
Salary, Job Description, How To Become One, and More
---
In this career summary, you will find out what the job of a Parts Salesperson is about and what it is like.
After reading this, you will have a good idea on what the job is about and decide if this is the right career for you.
---
---
Parts Salespersons sell spare and replacement parts and equipment in repair shop or parts store.
---
---
---

Interested in becoming a Parts Salesperson? Find the right schools that can help you to become one. This service is free thanks to our sponsors.
---
---
---
Average salary
$34080 per year
Average hourly wage
$16 per hour
---
Parts Salespersons with little to no experience tend to make between $19880 and $23840 while the more experienced ones can earn over $40430 per year.
| Top 5 paying states | Hourly | Annual |
| --- | --- | --- |
| AK | $20 | $42,350 |
| HI | $20 | $41,640 |
| ND | $20 | $41,290 |
| CT | $20 | $40,890 |
| CO | $19 | $39,990 |
One of the easiest ways to increase your salary as a Parts Salesperson is to move to a higher paying state like AK. Right now, the highest paying states for Parts Salespersons are AK, HI, ND, CT and CO.
However a higher pay at AK doesn't guarantee that you will make more because the living expenses at AK might be twice as high than where you are currently at now.
Three other factors that can increase your salary as a Parts Salesperson is the degree you hold, the industry you work in and lastly the company you work for.
---
---
Recommended degree level
High School Diploma (or GED)
We asked other Parts Salespersons what degree they had when they got the job and most of them said they had a High School Diploma followed by a Post-Secondary Certificate.
Other than that, we also asked them what did they major in and here are the most popular majors that came up.
Selling Skills and Sales Operations
Vehicle and Vehicle Parts and Accessories Marketing Operations
---
---
---
Here are some of the pros and cons of being a Parts Salesperson.
PROS
Suitable for people who likes to start and carry out projects
Suitable for people who values relationships between co-workers and customers and wants to work in a friendly non-competitive environment
This career is perfect for people who love to work indoors.
It is easy to get into this career. Some previous work-related skill, knowledge, or experience is required for this career.
CONS
Not suitable for people who likes to work with designs
One of the lowest paying jobs
Long working hours (More than 40 hours per week)
---
---
---
Is this job meaningful
37%
---
62% of Parts Salespersons said they were satisfied with their job and 37% said they feel like their job is making other people's lives better.
---
---
Best personality for this career
The Entrepreneurs and The Organizers
---
You can read more about these career personality types here.
People who are suitable for this job tends to like starting up and carrying out projects. They like leading people and making many decisions. Sometimes they require risk taking and often deal with business..
They also like following set procedures and routines. They like working with data and details more than with ideas.
---
---
Start your journey to be
a Parts Salesperson
Get the best college for Parts Salespersons
---
---
Discover the best colleges for your $$$
---
---
Find colleges have the highest earning grads
---
---
Yes, I'm sure
---
---
Insurance Sales Agents

sell life, property, casualty, health, automotive, or other types of insurance. May refer clients to independent brokers, work as an independent broker, or be employed by an insurance company.

Salary

$67890

Demonstrators and Product Promoters

demonstrate merchandise and answer questions for the purpose of creating public interest in buying the product. May sell demonstrated merchandise.

Salary

$33260

Sales Engineers

sell business goods or services, the selling of which requires a technical background equivalent to a baccalaureate degree in engineering.

Salary

$108610

Gaming Booth Cashiers

exchange coins, tokens, and chips for patrons' money. May issue payoffs and obtain customer's signature on receipt. May operate a booth in the slot machine area and furnish change persons with money bank at the start of the shift, or count and audit money in drawers.

Salary

$27220

Securities and Commodities Sales Agents

buy and sell securities in investment and trading firms and develop and implement financial plans for individuals, businesses, and organizations.

Salary

$98770
---
Learn more about Parts Salespersons
Find a college with the major you want

---
Related career information
Parts Salespersons job description, Parts Salespersons salary, Parts Salespersons information, what is the job of a Parts Salesperson like, pros and cons about Parts Salespersons, colleges and universities for Parts Salespersons, is Parts Salespersons the right career for me, careers in Sales and Marketing
Similar careers
Appliance Parts Counter Clerk, Auto Parts Clerk, Auto Parts Handler, Auto Parts Salesperson, Commercial Parts Professional, Counter Clerk, Electronic Parts Salesperson, Merchandising Assistant, Parts Advisor, Parts Back Counter Man
Additional resources