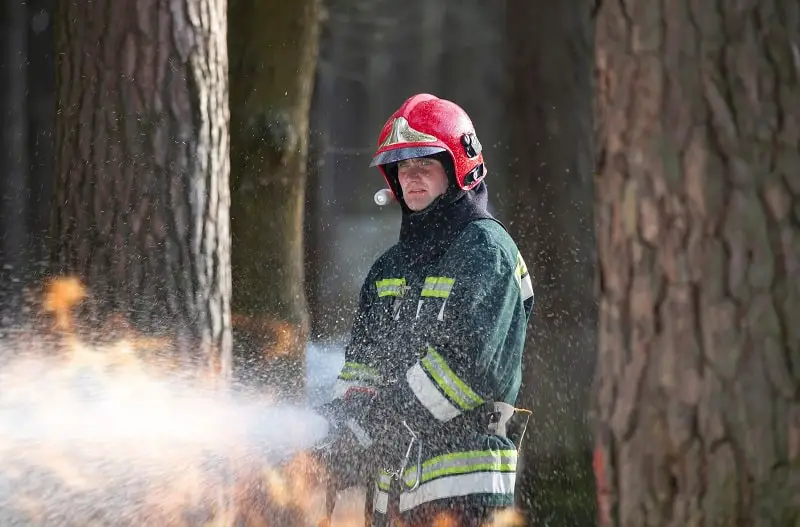 Forest Firefighters
Forest Firefighters control and suppress fires in forests or vacant public land.
Education
No degree required
---
---
---
---
Forest Firefighters control and suppress fires in forests or vacant public land.
Rescue fire victims, and administer emergency medical aid.
Maintain contact with fire dispatchers at all times to notify them of the need for additional firefighters and supplies, or to detail any difficulties encountered.
Collaborate with other firefighters as a member of a firefighting crew.
Patrol burned areas after fires to locate and eliminate hot spots that may restart fires.
---
Average salary
$53240 per year
Average hourly wage
$26 per hour
---
Forest Firefighters with little to no experience tend to make between $25170 and $33720 while the more experienced ones can earn over $67100 per year.
| Top 5 paying states | Hourly | Annual |
| --- | --- | --- |
| CA | $39 | $81,580 |
| NJ | $37 | $76,530 |
| WA | $36 | $73,850 |
| NY | $35 | $73,710 |
| NV | $32 | $66,830 |
One of the easiest ways to increase your salary as a Forest Firefighter is to move to a higher paying state like CA. Right now, the highest paying states for Forest Firefighters are CA, NJ, WA, NY and NV.
However, a higher pay at CA doesn't guarantee that you will make more because the living expenses at CA might be twice as high than where you are currently at now.
Three other factors that can increase your salary as a Forest Firefighter is the degree you hold, the industry you work in, and lastly the company you work for.
---
Recommended degree level
No degree required
We asked other Forest Firefighters what degree they had when they got the job and most of them said they had a High School Diploma followed by less than a High School Diploma.
Other than that, we also asked them what did they major in and here are the most popular majors that came up.
Natural Resources Law Enforcement and Protective Services
Fire Prevention and Safety Technology/Technician
Fire Science/Fire-fighting
Wildland/Forest Firefighting and Investigation
Fire Protection, Other
---
Here are some of the pros and cons of being a Forest Firefighter.
PROS
Suitable for people who likes practical and hands-on work
Suitable for people who values achievements and are results-oriented
This career is perfect for people who love to work outdoors.
It is easy to get into this career. Some previous work-related skill, knowledge, or experience is required for this career.
CONS
Not suitable for people who likes to work with designs
Salary is below average
Long working hours (More than 40 hours per week)
---
Is this job meaningful
88%
---
83% of Forest Firefighters said they were satisfied with their job and 88% said they feel like their job is making other people's lives better.
---
Best personality for this career
The Builders and The Helpers
You can read more about these career personality types here.
People who are suitable for this job tends to like work activities that include practical, hands-on problems and solutions. They like working with plants, animals, and real-world materials like wood, tools, and machinery..
They also like working with, communicating with, and teaching people. They like helping or providing service to others.
---
---
Learn more about Forest Firefighters
---
Related career information
Forest Firefighters job description, Forest Firefighters salary, Forest Firefighters information, what is the job of a Forest Firefighter like, pros and cons about Forest Firefighters, colleges and universities for Forest Firefighters, is Forest Firefighters the right career for me, careers in Criminal Justice and Law Enforcement
Similar careers
Crew Boss, Engine Boss, Fire Crew Specialist, Fire Fighter, Fire Technician, Firefighter, Forest Fire Warden, Forest Firefighter, Forest Ranger, Forest Ranger Technician
Additional resources
---