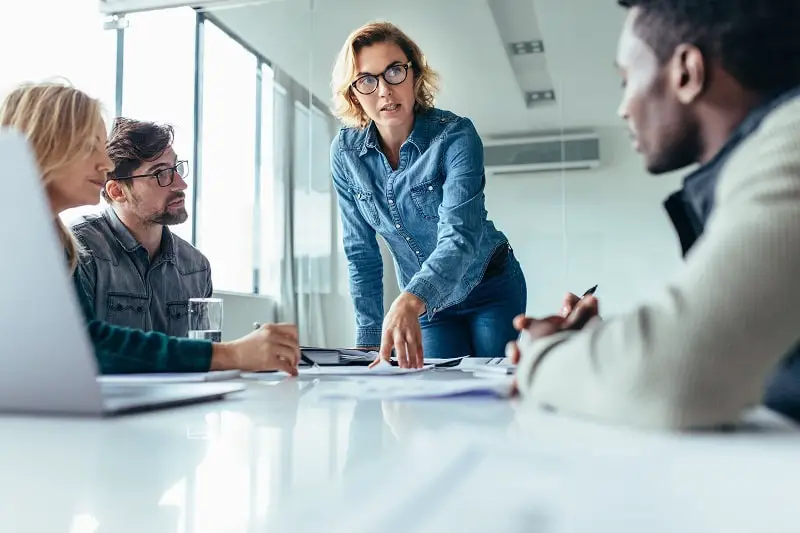 Administrative Services Managers
plan, direct, or coordinate one or more administrative services of an organization, such as records and information management, mail distribution, facilities planning and maintenance, custodial operations, and other office support services.
---
How To Become an Administrative Services Manager
How long does it take, what degree do you need and more.
---
In this requirements guide for Administrative Services Managers, you will find out what do you need to become an Administrative Services Manager and what it takes to become one.
After reading this, you will be able to plan for your future if you want to be an Administrative Services Manager.
---
---
Recommended degree level
High School Diploma
We did a survey to ask other Administrative Services Managers what degree they had when they became an Administrative Services Manager. Here are the results.
High School Diploma
---
Bachelor's Degree
---
College Certificate
---
One of the most common questions that we always get is what major or degree do I need to become Administrative Services Managers or what courses do I need to take.
We also asked Administrative Services Managers what did they major in college or university and here are the top 5 most popular majors that came up.
Medical or Health Management and Clinical Assistant
Business
Business Administration and Management
Purchasing, Procurement and Contracts Management
---
A high school diploma or a General Educational Development (GED) diploma is the minimum required education for someone looking to become an Administrative Services Managers. However, Administrative Services Managers typically enter the occupation with a bachelor's degree. Those with a bachelor's degree typically study business, engineering, or facility management.
---
---

Interested in becoming ? Find the right schools that can help you to become one. You will need some of your details to get you matched with the right college or university. This service is free thanks to our sponsors.
Questions to ask the university or college:
How many students are in the program?
Is your program accredited?
How many faculty members do you have? Do they hold the right credentials?
What is your job placement rate?
Does your school hold career fairs or other on-campus events with employers? How many employers typically attend?
How many of your students have at least one internship by graduation?
---
---
---
You may need some previous work-related skill, knowledge or experience to be an Administrative Services Manager. For example, an electrician must complete three or four years of apprenticeship or several years of vocational training, and often must have passed a licensing exam, in order to perform the job.
Careers in this difficulty category will usually need 1 or 2 years of on-the-job training and informal training with experienced workers. These careers usually involve using communication and organizational skills to coordinate, supervise, manage, or train others to accomplish goals. Similar careers include hydroelectric production managers, travel agents, electricians, court reporters, and medical assistants.
---
Related work experience required
2 to 4 years
2 to 4 years
---
1 to 2 years
---
4 to 6 years
---
Job training
1 to 3 months
1 to 3 months
---
Up to 1 month
---
3 to 6 months
---
---
---
License and certifications
Do you need any license or certification
Recommended but not required
---
The International Facility Management Association offers a competency-based professional certification program for administrative services managers. Completing this program may give prospective job candidates an advantage. People entering the profession can get the FMP as a stepping stone to the CFM. For the CFM, applicants must meet certain educational and experience requirements.
---
---
We asked other Administrative Services Managers if they could only have 5 skills, what would they be. Here is what they said.
= Hot in-demand that most employers are looking for
---
---
---
Just like any other job, you will need certain know-hows to excel at your job. Administrative Services Managers are generally very knowledgeable in these 5 key areas.
---
---
---
Start your journey to be
Get the best college for Administrative Services Managers
---
---
Discover the best colleges for your $$$
---
---
Find colleges have the highest earning grads
---
---
Yes, I'm sure
---
---
Methane Gas Collection Operators

direct daily operations, maintenance, or repair of landfill gas projects, including maintenance of daily logs, determination of service priorities, and compliance with reporting requirements.

Salary

$113370

Water Resource Specialists

design or implement programs and strategies related to water resource issues such as supply, quality, and regulatory compliance issues.

Salary

$139680

Fitness Coordinators

manage or coordinate fitness and wellness programs and services. Manage and train staff of wellness specialists, health educators, or fitness instructors.

Salary

$89570

Distance Learning Coordinators

coordinate day-to-day operations of distance learning programs and schedule courses.

Salary

$89570

Marketing Managers

plan, direct, or coordinate marketing policies and programs, such as determining the demand for products and services offered by a firm and its competitors, and identify potential customers. Develop pricing strategies with the goal of maximizing the firm's profits or share of the market while ensuring the firm's customers are satisfied. Oversee product development or monitor trends that indicate the need for new products and services.

Salary

$147240
---
Learn more about Administrative Services Managers
Find a college with the major you want

---
Related to Administrative Services Managers Requirements
Administrative Services Managers requirements, how to become Administrative Services Managers, degree required to be an Administrative Services Manager, Administrative Services Managers license and certifications, majors to be an Administrative Services Manager, is it hard to become an Administrative Services Manager and how long does it take