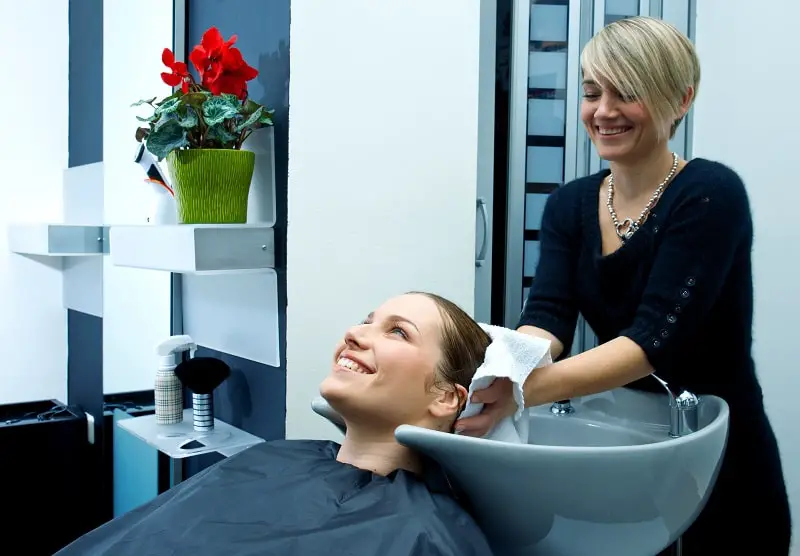 Shampooers
shampoo and rinse customers' hair.
---
Shampooers
Salary, Job Description, How To Become One, and More
---
In this career summary, you will find out what the job of a Shampooer is about and what it is like.
After reading this, you will have a good idea on what the job is about and decide if this is the right career for you.
---
---
Shampooers shampoo and rinse customers' hair.
---
---
---

Interested in becoming a Shampooer? Find the right schools that can help you to become one. This service is free thanks to our sponsors.
---
---
---
Improve Your
Test Score
Studying for a standardized test for your college admissions?
Improve your test scores on SAT, ACT, GRE, and GMAT.
Read more
---
---
---
Average salary
$22160 per year
Average hourly wage
$11 per hour
---
Shampooers with little to no experience tend to make between $17690 and $19230 while the more experienced ones can earn over $24380 per year.
| Top 5 paying states | Hourly | Annual |
| --- | --- | --- |
| DC | $14 | $30,070 |
| MA | $12 | $25,680 |
| CA | $12 | $25,510 |
| CT | $11 | $23,560 |
| FL | $11 | $23,540 |
One of the easiest ways to increase your salary as a Shampooer is to move to a higher paying state like DC. Right now, the highest paying states for Shampooers are DC, MA, CA, CT and FL.
However a higher pay at DC doesn't guarantee that you will make more because the living expenses at DC might be twice as high than where you are currently at now.
Three other factors that can increase your salary as a Shampooer is the degree you hold, the industry you work in and lastly the company you work for.
---
---
Recommended degree level
Post-Secondary Certificate
We asked other Shampooers what degree they had when they got the job and most of them said they had a Post-Secondary Certificate followed by a High School Diploma.
Other than that, we also asked them what did they major in and here are the most popular majors that came up.
---
---
---
Here are some of the pros and cons of being a Shampooer.
PROS
Suitable for people who likes practical and hands-on work
Suitable for people who values relationships between co-workers and customers and wants to work in a friendly non-competitive environment
This career is perfect for people who love to work indoors.
It is easy to get into this career. Some previous work-related skill, knowledge, or experience is required for this career.
CONS
Not suitable for people who likes to work with designs
One of the lowest paying jobs
Demand for this career is not growing
---
---
---
Is this job meaningful
60%
---
69% of Shampooers said they were satisfied with their job and 60% said they feel like their job is making other people's lives better.
---
---
Best personality for this career
The Builders and The Entrepreneurs
---
You can read more about these career personality types here.
People who are suitable for this job tends to like work activities that include practical, hands-on problems and solutions. They like working with plants, animals, and real-world materials like wood, tools, and machinery..
They also like starting up and carrying out projects. They like leading people and making many decisions. Sometimes they require risk taking and often deal with business.
---
---
Start your journey to be
a Shampooer
Get the best college for Shampooers
---
---
Discover the best colleges for your $$$
---
---
Find colleges have the highest earning grads
---
---
Yes, I'm sure
---
---
Costume Attendants

select, fit, and take care of costumes for cast members, and aid entertainers. May assist with multiple costume changes during performances.

Salary

$46010

Baggage Porters and Bellhops

handle baggage for travelers at transportation terminals or for guests at hotels or similar establishments.

Salary

$26990

Locker and Dressing Room Attendants

provide personal items to patrons or customers in locker rooms, dressing rooms, or coatrooms.

Salary

$26720

Motion Picture Projectionists

set up and operate motion picture projection and related sound reproduction equipment.

Salary

$25820

Personal Service Supervisors

directly supervise and coordinate activities of personal service workers, such as flight attendants, hairdressers, or caddies.

Salary

$41710
---
Learn more about Shampooers
Find a college with the major you want

---
Related career information
Shampooers job description, Shampooers salary, Shampooers information, what is the job of a Shampooer like, pros and cons about Shampooers, colleges and universities for Shampooers, is Shampooers the right career for me, careers in Personal Care and Service
Similar careers
Apprentice Cosmetologist, Apprentice Stylist, Assistant Hairstylist, Cosmetologist, Hair Assistant, Hair Designer, Hair Stylist, Hairdresser, Scalp Treatment Operator, Scalp Treatment Specialist
Additional resources