Salary, Job Description, How To Become One, and Quiz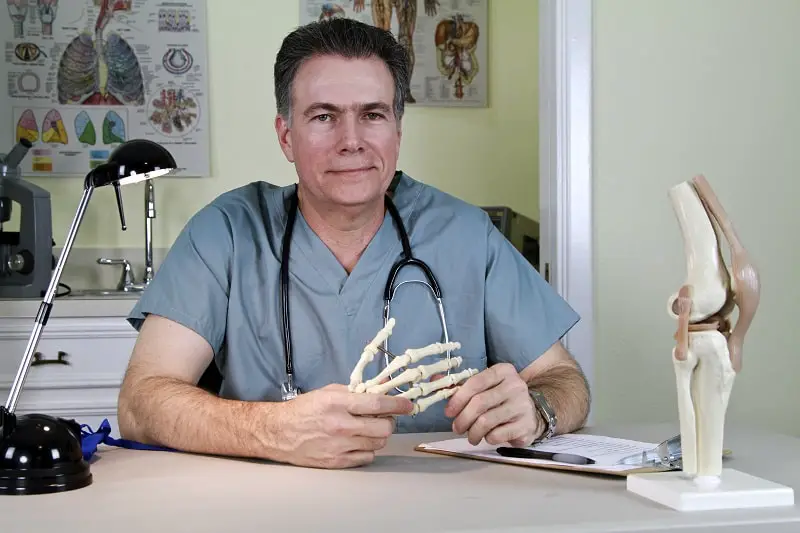 Orthopedic Surgeons
Orthopedic Surgeons prevent, diagnose, and treat conditions that affect the musculoskeletal system. They may help patients using physical therapy, medications, non-surgical treatments, or surgery.
---
---
When you injure a bone or joint, you may see an Orthopedic Surgeon. They specialize in the musculoskeletal system, which covers bones, joints, tendons, ligaments, and muscles. Orthopedic Surgeons often treat sports injuries and back pain. They may also help patients suffering from osteoporosis and arthritis with joint or bone issues.
Working as an Orthopedic Surgeon requires extensive schooling. Orthopedic Surgeons also face increased responsibility compared to many professions. Due to the commitment and training needed for this job, Orthopedic Surgeons are among the highest-paid doctors and in demand throughout the nation.
What they do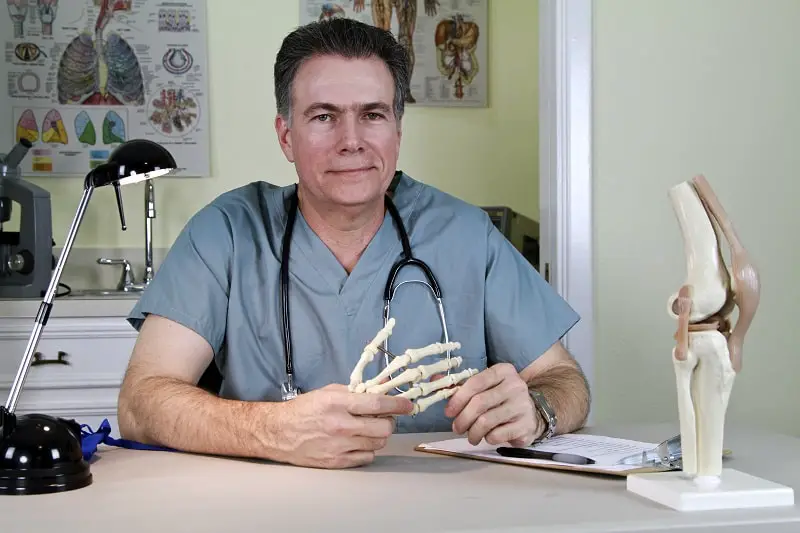 Orthopedic Surgeons prevent, diagnose, and treat conditions that affect the musculoskeletal system. They may help patients using physical therapy, medications, non-surgical treatments, or surgery.
Examine and Diagnose Disease and Injuries
Orthopedic Surgeons are responsible for examining patients to diagnose diseases and injuries. They often receive patients that have been referred by other Physicians. For example, after visiting the hospital for a broken bone, a patient may be sent to an Orthopedic Surgeon.
Orthopedic Surgeons treat diseases and injuries that affect the musculoskeletal system. People often visit Orthopedic Surgeons after experiencing an injury, such as bone fractures or muscle strains. Orthopedic Surgeons also treat people who suffer from chronic medical conditions, including lower back pain and arthritis.
Some Orthopedic Surgeons specialize in the treatment of conditions that affect specific areas of the body. Common subspecialties include the spine, foot and ankle, hand, hip and knee, shoulder and elbow, and sports medicine.
Prescribe Courses of Treatment for Patients
After diagnosing a disease or injury, Orthopedic Surgeons may prescribe a course of treatment for the patient. They may also develop a plan that involves a combination of treatments, such as prescription medications and physical therapy or surgery.
Perform Surgical and Non-Surgical Treatments
Orthopedic Surgeons are licensed to perform surgery. However, they often try to use non-surgical approaches whenever possible to minimize the need for surgery. Every surgery comes with certain risks, requiring Orthopedic Surgeons to weigh the benefits of surgery compared to non-invasive treatments.
Common non-surgical treatments include medications, exercises, physical therapy, and immobilization. Immobilization often involves the use of a brace, splint, or cast to prevent the patient from straining the area that needs to heal.
Medications may be prescribed to help relieve symptoms, including swelling, pain, and inflammation. Orthopedic Surgeons may also recommend over-the-counter medications for minor pain relief.
An Orthopedic Surgeon may use surgical treatment if non-surgical treatments do not improve the patient's condition. Common surgeries include joint replacement, soft tissue repair, and internal fixation. Internal fixation is the placement of pins, screws, or plates to help secure broken bones while they heal.
Orthopedic Surgeons may also perform fusion, which involves the use of bone graft material and hardware to connect two bones. The bone graft material fuses the bones into one bone.
Refer Patients to Specialists
Some treatments may require an Orthopedic Surgeon to refer patients to specialists. They may refer patients to Orthopedic Doctors who specialize in specific areas, such as treating foot injuries or dealing with limb abnormalities. Orthopedic Surgeons also occasionally refer patients to Physical Therapists to aid with recovery.
Maintain Patient Records
Orthopedic Surgeons document their activities, including the results of examinations and recommended treatments. They also write summaries of treatment procedures and their outcomes. The information that Orthopedic Surgeons document gets digitized and added to the patient's medical records.
What is the job like
Megan Ayala
Patricia and Carolyn
If I could use one word to describe my day, I would describe it as tiring. It starts with rushing to the facility and attending to countless patients before I grab my quick lunch and start attending patients again. I then have a specific time for patients coming back for their second visits. Being an orthopedic surgeon, I have a lot of surgery cases to handle too. Thankfully, my assistants are well aware of my routine and schedule surgeries accordingly. I start off at 10 AM and attend patients till 10 PM with two 30 minute breaks in between.
Pros
It pays very well.
A stable career with a lot of benefits.
It is an unreal feeling to help people and serve the community.
Cons
Long working hours are normal for healthcare workers, the story of every other day.
There are some difficult patients to handle, which ruins your day.
The physical and emotional demands of the job can be extremely stressful.
---
Pros
You Get to Improve People's Quality of Life
Orthopedic Surgeons directly impact the quality of people's lives by helping them overcome illnesses and ailments.
It Is a Respectable Career
People tend to hold Surgeons in higher regard compared to many other professions. It is a respectable career that may impress acquaintances.
You Can Work in Multiple Settings
Orthopedic Surgeons can work in a variety of settings, including hospitals, clinics, and private practices. Surgeons who grow tired of one environment can often easily find work in another.
You Face New Challenges Each Day
Each patient that you treat presents new challenges that you must solve, which can make this job intellectually stimulating.
Cons
There Are Extensive Education Requirements
Becoming an Orthopedic Surgeon may take 14 years, which is a major commitment.
Patients Do Not Always Follow Treatments
Patients may not heal properly or quickly when they fail to follow the treatment plan, such as avoiding certain physical activities, which can be frustrating to Orthopedic Surgeons.
Where they work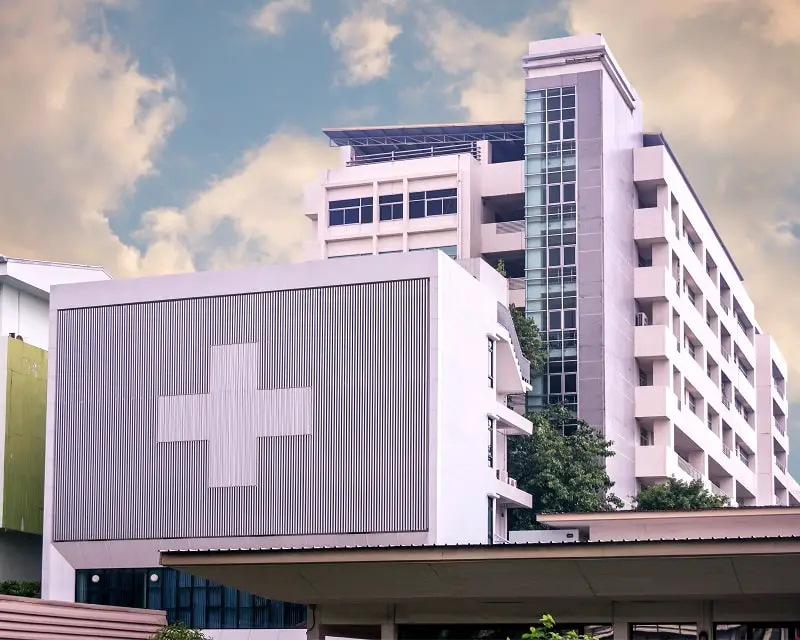 Public and Private Hospitals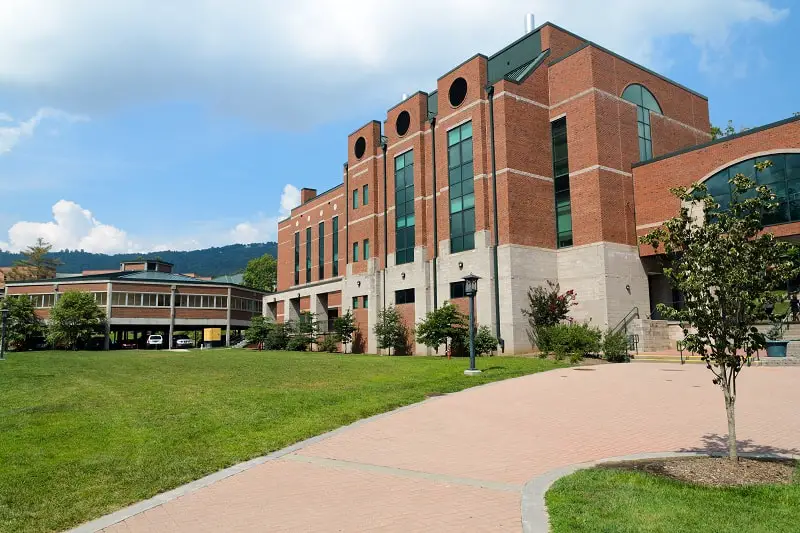 Universities and Colleges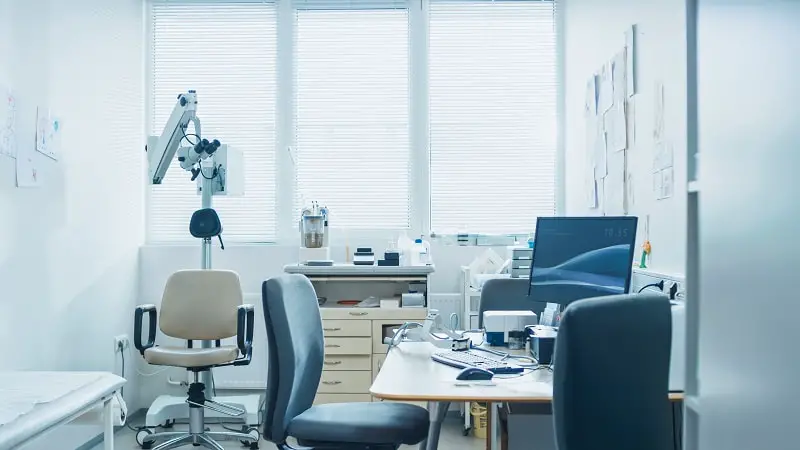 Specialized Clinics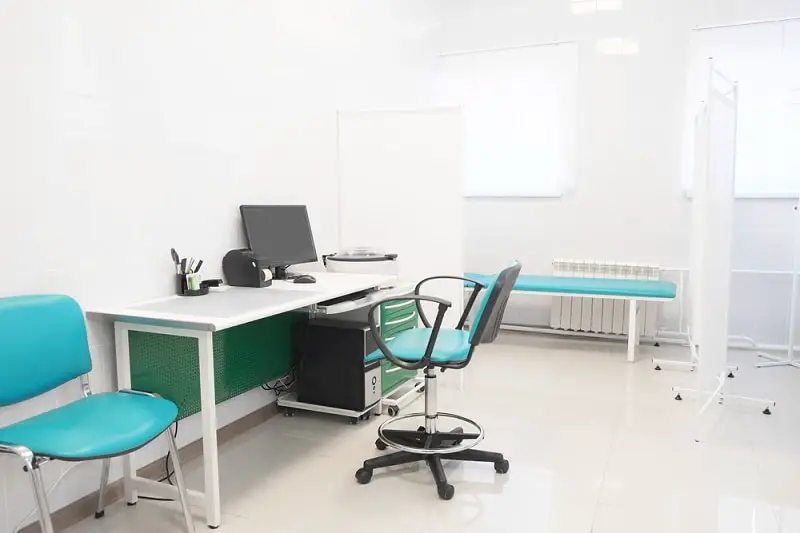 Private Practices
---
---
Many Orthopedic Surgeons work in hospitals, including private and public hospitals. Orthopedic Surgeons may also work in university medical centers and other facilities operated by colleges or universities. However, close to 60% of Orthopedic Surgeons work at private practices.
Orthopedic Surgeons may also find employment at clinics that specialize in treating specific conditions or parts of the body.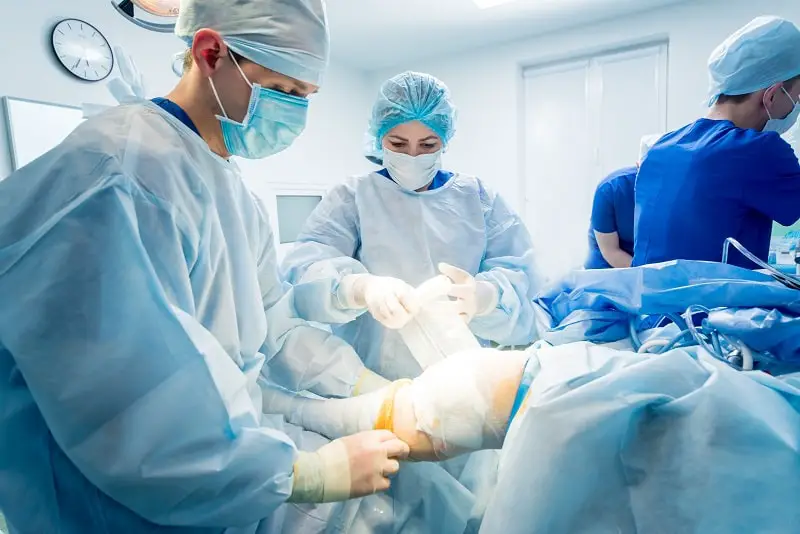 How to become one
Step 1: Study Science in High School
Orthopedic Surgeons need a strong background in the biological sciences. High school students should take biology and chemistry, and advanced placement (AP) science classes are recommended.
Step 2: Earn a Bachelor's Degree
Orthopedic Surgeons need a Bachelor's Degree before earning a Medical Degree. Many medical schools accept any science-related major. However, Biology is the most common degree for all types of Physicians.
Step 3: Earn a Medical Degree
Becoming an Orthopedic Surgeon requires a Medical Degree from an accredited medical school. Medical Degree programs typically take five years to complete.
Step 4: Complete an Orthopedic Residency
Orthopedic Surgeons must complete a residency program after completing medical school. The residency program takes five years to complete.
Step 5: Consider Earning a Fellowship
Some Orthopedic Surgeons choose to choose a concentration within their field by completing a fellowship program. A fellowship program typically takes one year to complete and allows you to specialize in treating specific conditions, such as bone cancer or foot and ankle problems.
Step 6: Pass a Board Exam
Before earning a license, you must pass a board exam. Board exams are available through the American Osteopathic Board of Orthopedic Surgery (AOBOS) and the American Board of Orthopedic Surgery (ABOS).
Step 7: Earn a License to Practice Orthopedic Medicine
The final step before applying for jobs is to earn a license. As with other Physicians, Orthopedic Surgeons must pass the United States Medical Licensing Exam (USMLE).
Should you become one
Best personality type for this career
The Thinker



People with this personality likes to work with ideas that require an extensive amount of thinking. They prefer work that requires them to solve problems mentally.
You can read more about these career personality types here.
Orthopedic Surgeons should be meticulous and detail-oriented individuals, as performing surgery and treating injuries requires precision. Orthopedic Surgeons should also possess curiosity due to the need to keep learning the latest surgical techniques and technologies. Many Orthopedic Surgeons are empathetic individuals, which helps them treat patients with compassion. A realistic outlook is also needed for this profession, as Orthopedic Surgeons need to avoid giving patients false hope.
Take this quiz to see if this is the right career for you.
---
Don't know which career to pursue?
Take the career quiz to find careers that match your personality type.
Take The Career Quiz