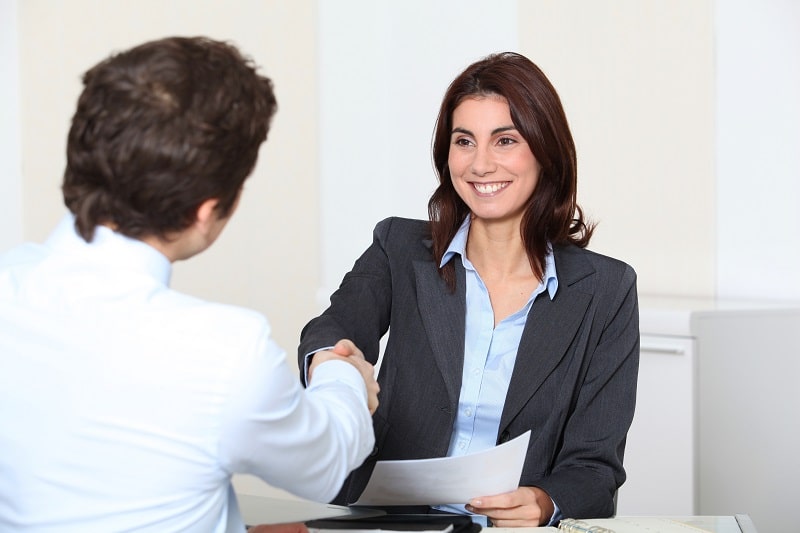 HR Specialists
HR Specialists recruit, screen, interview, or place individuals within an organization. May perform other activities in multiple human resources areas.
Education
Bachelor's degree
---
---
---
---
Human Resources Specialists perform activities in the human resource area. Includes employment specialists who screen, recruit, interview, and place workers.
Interpret and explain human resources policies, procedures, laws, standards, or regulations.
Hire employees and process hiring-related paperwork.
Administer employee benefit plans.
Maintain current knowledge of Equal Employment Opportunity (EEO) and affirmative action guidelines and laws, such as the Americans with Disabilities Act (ADA).
---
Average salary
$66790 per year
Average hourly wage
$32 per hour
---
HR Specialists with little to no experience tend to make between $36270 and $46460 while the more experienced ones can earn over $80120 per year.
| Top 5 paying states | Hourly | Annual |
| --- | --- | --- |
| DC | $45 | $93,880 |
| MD | $37 | $76,560 |
| MA | $36 | $75,700 |
| NY | $36 | $75,650 |
| NJ | $36 | $75,360 |
One of the easiest ways to increase your salary as a Human Resources Specialist is to move to a higher paying state like DC. Right now, the highest paying states for HR Specialists are DC, MD, MA, NY and NJ.
However, a higher pay at DC doesn't guarantee that you will make more because the living expenses at DC might be twice as high than where you are currently at now.
Three other factors that can increase your salary as a Human Resources Specialist is the degree you hold, the industry you work in, and lastly the company you work for.
---
Recommended degree level
Bachelor's degree
We asked other HR Specialists what degree they had when they got the job and most of them said they had a Bachelor's Degree followed by a Master's Degree.
Other than that, we also asked them what did they major in and here are the most popular majors that came up.
Human Resources Management/Personnel Administration, General
Organizational Behavior Studies
Human Resources Management and Services, Other
---
Here are some of the pros and cons of being a Human Resources Specialist.
PROS
Suitable for people who likes to start and carry out projects
Suitable for people who values relationships between co-workers and customers and wants to work in a friendly non-competitive environment
This career is perfect for people who love to work indoors.
Very good salary
CONS
Not suitable for people who likes practical and hands-on work
It is hard to get into this career. A considerable amount of work-related skill, knowledge, or experience is required for this career.
Long working hours (More than 40 hours per week)
---
Is this job meaningful
60%
---
72% of HR Specialists said they were satisfied with their job and 60% said they feel like their job is making other people's lives better.
---
Best personality for this career
The Entrepreneurs and The Organizers
You can read more about these career personality types here.
People who are suitable for this job tends to like starting up and carrying out projects. They like leading people and making many decisions. Sometimes they require risk taking and often deal with business..
They also like following set procedures and routines. They like working with data and details more than with ideas.
---
---
Learn more about HR Specialists
---
Related career information
HR Specialists job description, HR Specialists salary, HR Specialists information, what is the job of a Human Resources Specialist like, pros and cons about Human Resources Specialists, colleges and universities for Human Resources Specialists, is Human Resources Specialists the right career for me, careers in Business and Finance
Similar careers
Background Investigator, Business Agent, Campaign Director, Campaign Worker, Campaigner, Career Development Specialist, Career Specialist, Certification and Selection Specialist, Contingents Supervisor, Corporate Recruiter
Additional resources
---