Elementary School Teachers teach students basic academic, social, and other formative skills in public or private schools at the elementary level.
Establish and enforce rules for behavior and procedures for maintaining order among the students for whom they are responsible.
Adapt teaching methods and instructional materials to meet students' varying needs and interests.
Instruct students individually and in groups, using various teaching methods, such as lectures, discussions, and demonstrations.
Confer with parents or guardians, teachers, counselors, and administrators to resolve students' behavioral and academic problems.
---
Featured Schools
Average salary
$62200 per year
---
Elementary School Teachers with little to no experience tend to make between $37780 and $46120 while the more experienced ones can earn over $75330 per year.
| Top 5 paying states | Hourly | Annual |
| --- | --- | --- |
| NY | $- | $83,010 |
| MA | $- | $82,600 |
| CA | $- | $80,100 |
| DC | $- | $79,480 |
| CT | $- | $75,480 |
One of the easiest ways to increase your salary as an Elementary School Teacher is to move to a higher paying state like NY. Right now, the highest paying states for Elementary School Teachers are NY, MA, CA, DC and CT.
However, a higher pay at NY doesn't guarantee that you will make more because the living expenses at NY might be twice as high than where you are currently at now.
Three other factors that can increase your salary as an Elementary School Teacher is the degree you hold, the industry you work in, and lastly the company you work for.
---
Recommended degree level
Bachelor's degree
We asked other Elementary School Teachers what degree they had when they got the job and most of them said they had a Bachelor's Degree followed by a Master's Degree.
Other than that, we also asked them what did they major in and here are the most popular majors that came up.
Bilingual and Multilingual Education
Elementary Education and Teaching
Teacher Education, Multiple Levels
Environmental Education
Teaching English as a Second or Foreign Language/ESL Language Instructor
---
Here are some of the pros and cons of being an Elementary School Teacher.
PROS
Suitable for people who likes to help and teach others
Suitable for people who values relationships between co-workers and customers and wants to work in a friendly non-competitive environment
This career is perfect for people who love to work indoors.
Good salary (earns more than 50% of the careers out there)
CONS
Not suitable for people who likes practical and hands-on work
It is hard to get into this career. A considerable amount of work-related skill, knowledge, or experience is required for this career.
Long working hours (More than 40 hours per week)
---
Is this job meaningful
73%
---
73% of Elementary School Teachers said they were satisfied with their job and 73% said they feel like their job is making other people's lives better.
---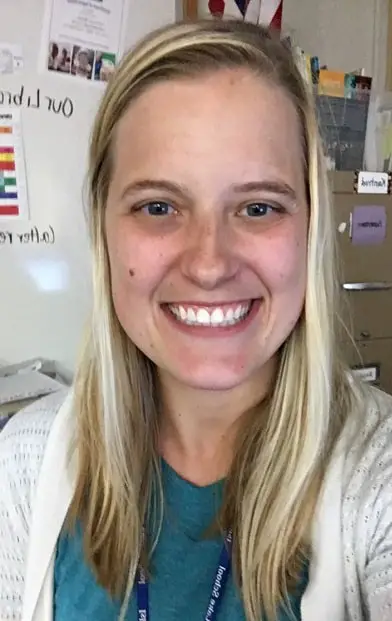 My name is Paige Bryant and I am a 4th-grade teacher. As a 4th grade teacher, I teach reading, writing, math, social studies, and science on a daily basis. But teaching elementary school goes way beyond academics. You are teaching social skills and coping strategies. Some days you act as a counselor, social worker, advocate, … Read More
---
---
Best personality for this career
The Helpers and The Artists
You can read more about these career personality types here.
People who are suitable for this job tends to like working with, communicating with, and teaching people. They like helping or providing service to others..
They also like working with forms, designs and patterns. They often require self-expression and the work can be done without following a clear set of rules.
---
---
Learn more about Elementary School Teachers
Find a college with the major you want
---
Related career information
Elementary School Teachers job description, Elementary School Teachers salary, Elementary School Teachers information, what is the job of an Elementary School Teacher like, pros and cons about Elementary School Teachers, colleges and universities for Elementary School Teachers, is Elementary School Teachers the right career for me, careers in Education
Similar careers
1st Grade Teacher, 2nd Grade Teacher, 3rd Grade Reading Teacher, 3rd Grade Teacher, 4th Grade Math Teacher, 4th Grade Teacher, 5th Grade Teacher, 6th Grade Teacher, Art Educator, Art Instructor
Additional resources
---