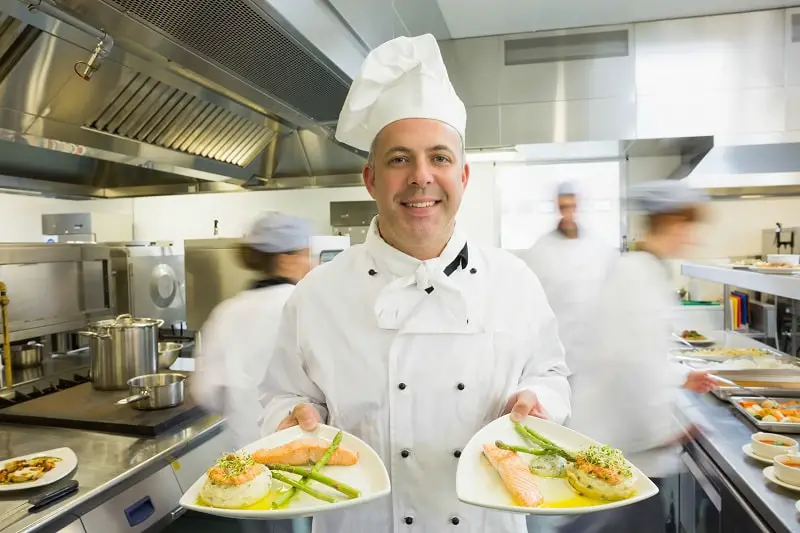 Chefs and Head Cooks
direct and may participate in the preparation, seasoning, and cooking of salads, soups, fish, meats, vegetables, desserts, or other foods. May plan and price menu items, order supplies, and keep records and accounts.
---
How To Become a Chef and Head Cook
How long does it take, what degree do you need and more.
---
In this requirements guide for Chefs and Head Cooks, you will find out what do you need to become a Chef and Head Cook, how hard is it, and what does it take to become one.
After reading this, you will be able to plan for your future if you want to be a Chef and Head Cook.
---
---
Recommended degree level
Associate's Degree
We did a survey to ask other Chefs and Head Cooks what degree they had when they became a Chef and Head Cook. Here are the results.
Associate's Degree
---
a Post-Secondary Certificate
---
High School Diploma
---
One of the most common questions that we always get is what major or degree do I need to become Chefs and Head Cooks or what courses do I need to take.
We also asked Chefs and Head Cooks what did they major in college or university and here are the top 5 most popular majors that came up.
Cooking and Related Culinary Arts
Baking and Pastry Arts
Culinary Arts
Restaurant, Culinary, and Catering Management
Culinary Science or Culinology
---
A growing number of chefs and head cooks receive formal training at community colleges, technical schools, culinary arts schools, and 4-year colleges. Programs cover all aspects of kitchen work, including menu planning, food sanitation procedures, and purchasing and inventory methods.
---
---

Interested in becoming ? Find the right schools that can help you to become one. You will need some of your details to get you matched with the right college or university. This service is free thanks to our sponsors.
Questions to ask the university or college:
How many students are in the program?
Is your program accredited?
How many faculty members do you have? Do they hold the right credentials?
What is your job placement rate?
Does your school hold career fairs or other on-campus events with employers? How many employers typically attend?
How many of your students have at least one internship by graduation?
---
---
---
Improve Your
Test Score
Studying for a standardized test for your college admissions?
Improve your test scores on SAT, ACT, GRE, and GMAT.
Read more
---
---
---
You may need some previous work-related skill, knowledge or experience to be a Chef and Head Cook. For example, an electrician must complete three or four years of apprenticeship or several years of vocational training, and often must have passed a licensing exam, in order to perform the job.
Careers in this difficulty category will usually need 1 or 2 years of on-the-job training and informal training with experienced workers. These careers usually involve using communication and organizational skills to coordinate, supervise, manage, or train others to accomplish goals. Similar careers include hydroelectric production managers, travel agents, electricians, court reporters, and medical assistants.
---
Related work experience required
4 to 6 years
4 to 6 years
---
2 to 4 years
---
None
---
Job training
Up to 1 month
Up to 1 month
---
1 to 3 months
---
None
---
---
---
License and certifications
Do you need any license or certification
Recommended but not required
---
Although not required, certification can show competence and lead to advancement and higher pay. The American Culinary Federation certifies Chefs and Head Cooks, in addition to various levels of chefs. Certification standards are based primarily on work-related experience and formal training. Minimum work experience for certification can range from 6 months to 5 years, depending on the level of certification.
---
---
We asked other Chefs and Head Cooks if they could only have 5 skills, what would they be. Here is what they said.
= Hot in-demand that most employers are looking for
---
---
---
Just like any other job, you will need certain know-hows to excel at your job. Chefs and Head Cooks are generally very knowledgeable in these 5 key areas.
---
---
---
Start your journey to be
Get the best college for Chefs and Head Cooks
---
---
Discover the best colleges for your $$$
---
---
Find colleges have the highest earning grads
---
---
Yes, I'm sure
---
---
Chefs and Head Cooks

direct and may participate in the preparation, seasoning, and cooking of salads, soups, fish, meats, vegetables, desserts, or other foods. May plan and price menu items, order supplies, and keep records and accounts.

Salary

$52160

Waiters and Waitresses

take orders and serve food and beverages to patrons at tables in dining establishment.

Salary

$25830

Dining Room and Cafeteria Attendants

facilitate food service. Clean tables, remove dirty dishes, replace soiled table linens; set tables; replenish supply of clean linens, silverware, glassware, and dishes; supply service bar with food; and serve items such as water, condiments, and coffee to patrons.

Salary

$23950

Bartenders

mix and serve drinks to patrons, directly or through waitstaff.

Salary

$26780

Institution and Cafeteria Cooks

prepare and cook large quantities of food for institutions, such as schools, hospitals, or cafeterias.

Salary

$28290
---
Learn more about Chefs and Head Cooks
Find a college with the major you want

---
Related to Chefs and Head Cooks Requirements
Chefs and Head Cooks requirements, how to become Chefs and Head Cooks, degree required to be a Chef and Head Cook, Chefs and Head Cooks license and certifications, majors to be a Chef and Head Cook, is it hard to become a Chef and Head Cook and how long does it take