How Long Does It Take, What Degree Do You Need, and More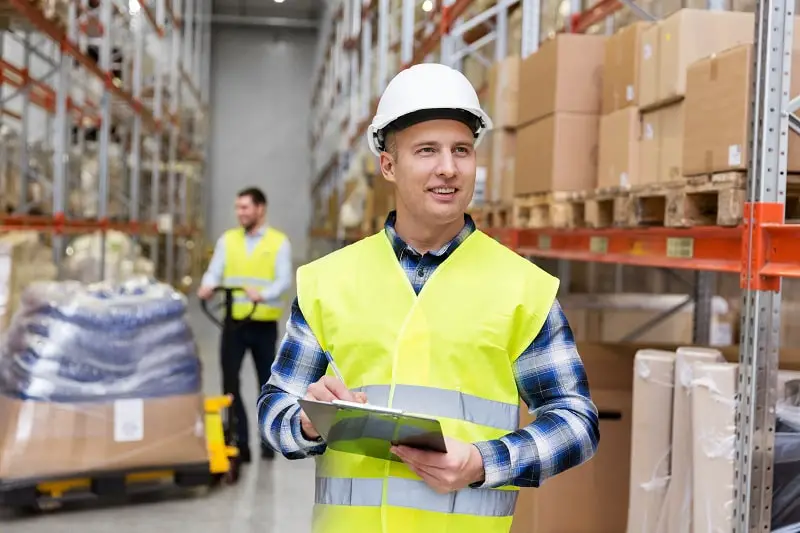 Cargo and Freight Agents expedite and route movement of incoming and outgoing cargo and freight shipments in airline, train, and trucking terminals and shipping docks. Take orders from customers and arrange pickup of freight and cargo for delivery to loading platform. Prepare and examine bills of lading to determine shipping charges and tariffs.
Education
No degree required
---
---
---
---
Table of contents
---
Summary
| | |
| --- | --- |
| Degree | No degree required |
| License or certification | Not required |
| Duration to become one | One to five years |
| Difficulty to become one | Easy |
Freight Agents typically need a high school diploma but those with Bachelor's Degrees may find employment more quickly and gain a competitive edge over other candidates. Common majors for Freight Agents include Logistics, Transportation, Business Management, and Supply Chain Management.
Freight Agents may obtain voluntary certification offered by the Transportation Intermediaries Association (TIA) to increase their career prospects.
---
Featured Schools
Cargo and Freight Agents Requirements
Step 1: Develop Your Math Skills in High School
High school students who are interested in becoming Freight Agents should work on their math skills. Math is an important subject for this career as Freight Agents need to calculate margins, capacity, weight, miles, and other factors when analyzing shipment needs. Understanding how to use spreadsheet software is also helpful for this career.
Step 2: Earn a Bachelor's Degree
Some employers prefer to hire Freight Agents with Bachelor's Degrees. A degree is not always required but provides more career opportunities. Aspiring Freight Agents often major in Logistics, Transportation, or Supply Chain Management. These fields of study cover topics such as financial accounting, statistics, economics, and communication.
Most programs also include courses on procurement, distribution, and negotiations. Students learn every aspect of the supply chain and techniques for improving business processes. The courses may cover the processes for tracking inventory, handling customer complaints, and assessing the shipping requirements of specific goods.
Individuals who do not want to commit to four years of college may consider obtaining an Associate's Degree. An Associate's Degree may not provide the same opportunities as a Bachelor's Degree but still offers an advantage compared to no formal education.
Step 3: Complete a Freight Broker Training Program
Freight Agents, which are also called Freight Brokers, may complete a training program to learn more about this job and its requirements. Training programs may include a single class or multiple classes offered over several weeks.
Completing a training program is not mandatory, but it offers more insight and fundamental knowledge about this career. Training programs are typically offered by independent training institutes. Some transportation and logistics companies also develop training programs.
The Transportation Intermediaries Association (TIA) also offers a training package for those who want to work in transportation and freight brokerage. The program includes one-on-one virtual coaching sessions and online coursework.
Step 4: Look for Internship Opportunities
Aspiring Freight Agents who attend college may find internship opportunities. Internships are often coordinated between the school and the employer to give students hands-on industry experience.
Students may work at logistics and transportation companies to gain experience in the freight brokerage industry. Interns typically handle basic tasks, such as administrative work and calculating shipping rates.
Step 5: Gain Entry-Level Work Experience
After finishing school, aspiring Freight Agents should enter the workforce. Those with a college degree may be able to find work as a Freight Agent immediately. However, most Freight Agents start with entry-level work in their chosen industry.
Common starting jobs include Freight Broker Assistant, Junior Freight Agent, and Sales Representative. Candidates with Bachelor's Degrees may also find work in related roles, such as Logistician or Supply Chain Analyst.
Many Freight Agent job listings require at least one year of relevant work experience. After meeting the requirements, candidates may be able to move from entry-level work to their chosen job.
Step 6: Obtain a Professional Certification
Freight Agents can obtain voluntary professional certifications to advance their careers. The Transportation Intermediaries Association (TIA) offers the Certified Transportation Broker (CTB) certification.
Candidates need to meet eligibility requirements before applying for the CTB program. The TIA uses a point system to determine eligibility. Candidates receive points based on their education and professional experience.
An Associate's Degree is worth two points while a Bachelor's Degree is worth three points. Up to six months of work experience counts as one point. Individuals with six months to one year of experience receive two points. An additional point is awarded for each additional year of experience. For example, if you have a Bachelor's Degree (three points), you only need six months to one year of work experience (two points).
The CTB program includes online coursework. The average completion time is between 60 and 180 hours. After completing the courses, students take a four-hour exam. Students who pass the exam receive their certification, which can lead to better job opportunities and improved marketability with customers.
Step 7: Look for Freight Agent and Freight Broker Positions
Aspiring Freight Agents should qualify for their chosen jobs after gaining suitable work experience. Professional certification also helps. Most Freight Agents work for logistics and transportation companies, including freight brokerage companies.
What degree do most Cargo and Freight Agents have
High School Diploma
We did a survey to ask other Cargo and Freight Agents what degree they had when they first became one. Here are the results.
High School Diploma
---
Associate's degree
---
Certificate
---
How long does it take
One to five years
Freight Agents often need at least one year of relevant work experience, typically working under a Freight Agent as an Assistant, Sales Representative, or Junior Agent. Some Freight Agents choose to earn a Bachelor's Degree, which may add four years to the process.
---
Learn more about Cargo and Freight Agents
Find a college with the major you want
---
---