How Long Does It Take, What Degree Do You Need, and More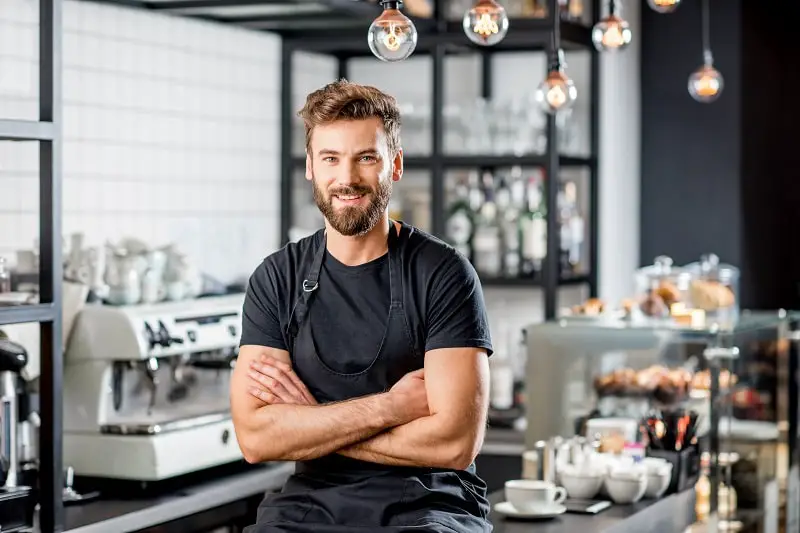 Baristas prepare or serve specialty coffee or other beverages. Serve food such as baked goods or sandwiches to patrons.
Education
No degree required
---
---
---
---
Table of contents
---
Summary
Baristas typically only need a high school diploma, but a college degree can help when seeking management or corporate positions. Baristas who want to advance into senior roles may major in Business Management, Business Administration, and related degrees. Baristas do not need any certifications or licenses but may obtain voluntary certification through the Barista Guild of America (BGA).
---
Featured Schools
Baristas Requirements
Step 1: Practice Brewing Coffee
High school students can start developing the skills needed to become a Barista by researching coffee terminology and brewing techniques. For example, Baristas should know the different types of coffee, such as espresso, latte, macchiato, cappuccino, and Americano.
Purchasing equipment to practice brewing is also helpful for developing the necessary skills for this job. Many Baristas know how to brew coffee manually using pour-over coffee makers.
Step 2: Get a Job at a Coffee Shop
In large cities, trendy cafes and coffee shops may not hire Baristas without previous work experience. Aspiring Baristas may need to start as Cashiers or Bussers.
As this job does not typically require any additional training or education, aspiring Baristas can start looking for work immediately after high school. Students may even start working part-time during high school. For those who cannot find a job at a coffee shop, apply for a customer service job. Working as a Cashier or Server at a restaurant or retail store still provides relevant work experience.
Step 3: Earn a College Degree
A college degree is not a necessary step for becoming a Barista. However, an Associate's degree or a Bachelor's degree can be helpful when trying to achieve promotions or become a Manager. Relevant majors include Business Administration, Business Management, Retail Management, Human Resource Management, Marketing, and Accounting. Completing general business courses may also provide Baristas with the skills and knowledge needed for managerial positions.
Another option is to attend college while working part-time at a coffee shop or a café. Students can develop their skills for future job advancement while still earning a living.
Step 4: Attend a Barista Training Workshop
Barista training courses and workshops provide practical training. Some coffee shops and cafes offer training for newly hired Baristas. However, completing a workshop before applying for a job shows initiative.
The workshops may last a single day or multiple days and typically cover the basics of brewing and serving coffee. Students learn how to operate commercial coffee machines and grinders.
Step 5: Apply for Barista Positions
After gaining work experience and possibly a college education, start applying for Barista jobs. Applicants may face stronger competition for available positions in major cities.
Individuals who struggle to find employment at their ideal café or coffee shop should consider applying for Barista jobs at major chains or franchises. Café chains often have training programs for newly hired Baristas and are willing to hire individuals with limited experience.
Step 6: Become a Certified Barista
Certificate programs are offered through a variety of vocational schools and specialized training centers. The most widely recognized certificate program is the Barista Guild of America (BGA) Certificate Program. The BGA certificate is administered by the BGA and the Specialty Coffee Association of America (SCAA).
Applicants need to complete several classes offered at regional SCAA workshops. The topics covered in the classes include espressos, cupping, coffee brewing, coffee extraction, and customer service. After completing the required classes, applicants must pass the BGA Level 1 Certification Test (CP190). The BGA allows experienced Baristas to take the CP190 test and the introduction to cupping course without completing the other classes.
The BGA and the SCAA also offer Level 2 Certification, which demonstrates a Barista's knowledge of advanced techniques and practices. The Level 2 program includes classes on the art of lattes, espresso bar efficiency, and an advanced course on grinding, dosing, tamping, and extracting.
Step 7: Advance Your Career
After working for several years, Baristas may start receiving job advancement opportunities. For example, a Barista may become a Supervisor at the coffee shop or café where they currently work.
The highest positions typically include Assistant Manager and General Manager. Both positions often require at least four to five years of experience. Employers may also require or prefer candidates with Bachelor's degrees.
Step 8: Pay Attention to Trends in the Coffee Industry
Baristas who want to stand out and excel at their jobs should pay attention to the latest changes in the coffee industry. This may include topics related to processes for harvesting coffee beans, new brewing methods, and other related developments.
What degree do most Baristas have
Less than a High School Diploma
We did a survey to ask other Baristas what degree they had when they first became one. Here are the results.
Less than a High School Diploma
---
High School Diploma
---
Certificate
---
How long does it take
0 to 4 years
Baristas do not typically need postsecondary education or any previous work experience. However, in major metro areas, popular cafes may prefer candidates with more experience or education. A Bachelor's degree is common for those who want to eventually manage a café or a coffee shop.
---
Find a college with the major you want
---
---