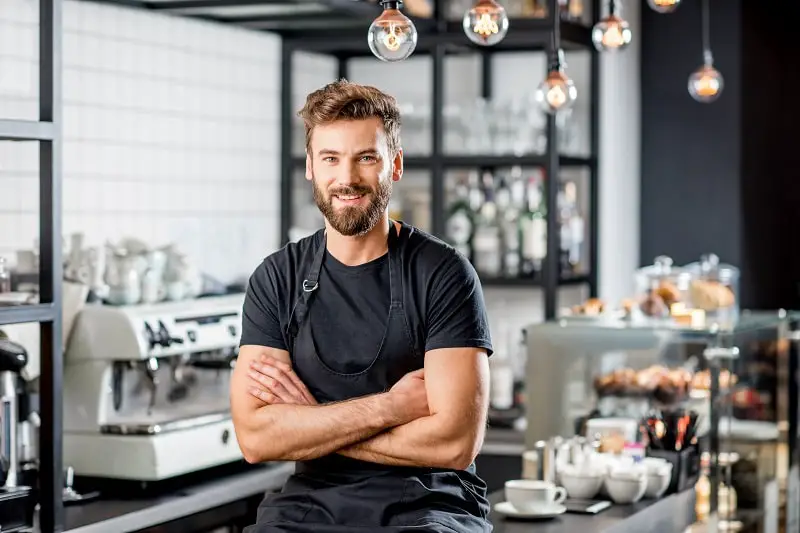 Baristas
prepare or serve specialty coffee or other beverages. Serve food such as baked goods or sandwiches to patrons.
---
How To Become a Barista
How long does it take, what degree do you need and more.
---
In this requirements guide for Baristas, you will find out what do you need to become a Barista, how hard is it, and what does it take to become one.
After reading this, you will be able to plan for your future if you want to be a Barista.
---
---
Recommended degree level
Less than a High School Diploma
We did a survey to ask other Baristas what degree they had when they became a Barista. Here are the results.
Less than a High School Diploma
---
High School Diploma
---
College Certificate
---
One of the most common questions that we always get is what major or degree do I need to become Baristas or what courses do I need to take.
We also asked Baristas what did they major in college or university and here are the top 5 most popular majors that came up.
---
---
---

Interested in becoming ? Find the right schools that can help you to become one. You will need some of your details to get you matched with the right college or university. This service is free thanks to our sponsors.
Questions to ask the university or college:
How many students are in the program?
Is your program accredited?
How many faculty members do you have? Do they hold the right credentials?
What is your job placement rate?
Does your school hold career fairs or other on-campus events with employers? How many employers typically attend?
How many of your students have at least one internship by graduation?
---
---
---
Improve Your
Test Score
Studying for a standardized test for your college admissions?
Improve your test scores on SAT, ACT, GRE, and GMAT.
Read more
---
---
---
Most of the time, you won't need any previous work-related skill, knowledge or experience. For example, you can become a waiter or waitress even if you have never worked as one before.
You may need anywhere between a few days to a few months of on-the-job training.
---
Related work experience required
None
None
---
6 months to 1 year
---
Up to 1 month
---
Job training
Up to 1 month
Up to 1 month
---
1 to 3 months
---
None
---
---
---
License and certifications
Do you need any license or certification
---
---
---
---
---
---
---
Start your journey to be
Get the best college for Baristas
---
---
Discover the best colleges for your $$$
---
---
Find colleges have the highest earning grads
---
---
Yes, I'm sure
---
---
Baristas

prepare or serve specialty coffee or other beverages. Serve food such as baked goods or sandwiches to patrons.

Salary

$23240

Bartenders

mix and serve drinks to patrons, directly or through waitstaff.

Salary

$26780

Fast Food Cooks

prepare and cook food in a fast food restaurant with a limited menu. Duties of these cooks are limited to preparation of a few basic items and normally involve operating large-volume single-purpose cooking equipment.

Salary

$22650

Restaurant Hosts and Hostesses

welcome patrons, seat them at tables or in lounge, and help ensure quality of facilities and service.

Salary

$23260

Dishwashers

clean dishes, kitchen, food preparation equipment, or utensils.

Salary

$23190
---
Learn more about Baristas
Find a college with the major you want

---
Related to Baristas Requirements
Baristas requirements, how to become Baristas, degree required to be a Barista, Baristas license and certifications, majors to be a Barista, is it hard to become a Barista and how long does it take