Zoologists and Wildlife Biologists study the origins, behavior, diseases, genetics, and life processes of animals and wildlife. May specialize in wildlife research and management. May collect and analyze biological data to determine the environmental effects of present and potential use of land and water habitats.
Make recommendations on management systems and planning for wildlife populations and habitat, consulting with stakeholders and the public at large to explore options.
Inventory or estimate plant and wildlife populations.
Disseminate information by writing reports and scientific papers or journal articles, and by making presentations and giving talks for schools, clubs, interest groups and park interpretive programs.
Check for, and ensure compliance with, environmental laws, and notify law enforcement when violations are identified.
---
Featured Schools
Average salary
$67760 per year
Average hourly wage
$33 per hour
---
Zoologists and Wildlife Biologists with little to no experience tend to make between $40290 and $50460 while the more experienced ones can earn over $79070 per year.
| Top 5 paying states | Hourly | Annual |
| --- | --- | --- |
| DC | $53 | $109,420 |
| MA | $42 | $87,950 |
| MD | $40 | $83,850 |
| CT | $38 | $78,830 |
| AK | $37 | $76,640 |
One of the easiest ways to increase your salary as a Zoologist and Wildlife Biologist is to move to a higher paying state like DC. Right now, the highest paying states for Zoologists and Wildlife Biologists are DC, MA, MD, CT and AK.
However, a higher pay at DC doesn't guarantee that you will make more because the living expenses at DC might be twice as high than where you are currently at now.
Three other factors that can increase your salary as a Zoologist and Wildlife Biologist is the degree you hold, the industry you work in, and lastly the company you work for.
---
Recommended degree level
Bachelor's degree
We asked other Zoologists and Wildlife Biologists what degree they had when they got the job and most of them said they had a Bachelor's Degree followed by a Master's Degree.
Other than that, we also asked them what did they major in and here are the most popular majors that came up.
Wildlife, Fish and Wildlands Science and Management
Zoology/Animal Biology
Entomology
Animal Physiology
Animal Behavior and Ethology
---
Here are some of the pros and cons of being a Zoologist and Wildlife Biologist.
PROS
Suitable for people who likes to solve problems mentally
Suitable for people who values achievements and are results-oriented
Very good salary
Demand for this career is growing
CONS
Not suitable for people who likes to help and teach others
It is very hard to get into this career. Extensive skill, knowledge, and experience is required for this career.
---
Is this job meaningful
75%
---
77% of Zoologists and Wildlife Biologists said they were satisfied with their job and 75% said they feel like their job is making other people's lives better.
---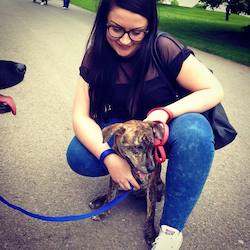 For most of the day, we are field-based, which means this is not the type of office work. When I was a young zoologist, I took lots of time following and observe the action, behaviour, and habit of animals (horse, donkey, dogs, cats, etc). My place of work sometimes is based in the place where … Read More
---
---
Best personality for this career
The Thinkers and The Builders
You can read more about these career personality types here.
People who are suitable for this job tends to like working with ideas, and require an extensive amount of thinking. They like searching for facts and figuring out problems mentally..
They also like work activities that include practical, hands-on problems and solutions. They like working with plants, animals, and real-world materials like wood, tools, and machinery.
---
---
Learn more about Zoologists and Wildlife Biologists
Find a college with the major you want
---
Related career information
Zoologists and Wildlife Biologists job description, Zoologists and Wildlife Biologists salary, Zoologists and Wildlife Biologists information, what is the job of a Zoologist and Wildlife Biologist like, pros and cons about Zoologists and Wildlife Biologists, colleges and universities for Zoologists and Wildlife Biologists, is Zoologists and Wildlife Biologists the right career for me, careers in Social Science and Humanities
Similar careers
Animal Behaviorist, Animal Biologist, Aquatic Biologist, Assistant Research Scientist, Black Bear Project Leader, Conservation Resources Management Biologist, Cryptozoologist, Dolphin Researcher, Ecologist, Entomologist
Additional resources
---