Day in the life of


Personal Trainer – Hannah Daugherty
Hannah Daugherty
Personal Trainer
Typically as a trainer, a good majority of the day can be spent one-on-one with clients. This can be in half hour or hour long sessions, and can go anywhere from 5am in the morning until 10pm at night (occasionally there will be training times outside those hours if you want them, at fitness centers that are open 24/7, but these are rare).
There will usually also be some time set aside at some point during the day for office work such as programming workouts (and referring to nutritionists/dieticians when and if needed), performing assessments, and scheduling time with prospective clients.
When you aren't training or working on programs, and especially if you are still building up a client base, then time is spent out on the fitness floor, doing prospecting. This means you can engage and interact with members (whether it be introducing yourself, helping them with a machine, assisting with correct form, answering questions, etc.) and essentially letting them know what you do and that you are available for more in-depth help if needed or required in order for them to reach their fitness goals. Some companies have a set amount of time that they would like you prospecting/following up with members/making phone calls, and other places are more lenient – it just depends on the fitness company.
Until you build up a solid base of clients and whatever type of training schedule you want, you might also fill your time with cleaning equipment, folding gym towels, putting equipment back in the proper places, and helping out in various other areas of the fitness center where needed (i.e. the front desk, the pool area).
Cons
I would say the biggest con that I had with training in both corporate and commercial fitness centers is the scheduling. If you are used to a 9-5 job, you might not get on a schedule like that with clients for quite some time, especially if you are building up your clientele. Some people like to train at 6am, while others prefer 8pm, and everywhere else in between. As time goes on it can be easier to consolidate training sessions appropriately, but when first starting out, you might have times all over the place, which can make for a long day at work.
Pros
Other than that though, I have found that working in a fitness center is a wonderful experience; not only do you get to meet – and subsequently, help – so many different people from various backgrounds, but you get to help them be advocates for themselves in regards to their health and wellness. Being able to see someone reach a goal that they never would have thought they could achieve is so amazingly rewarding, and it happens almost everyday. The health and wellness realm is also always changing, so the education that you gain is endless – even after being in this profession for over ten years, I'm still learning something new everyday!
Hannah Daugherty
Personal Trainer
---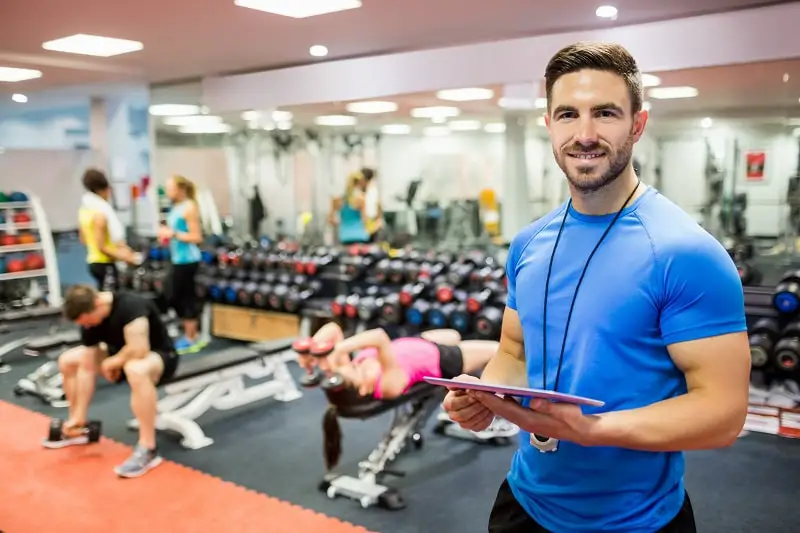 instruct or coach groups or individuals in exercise activities for the primary purpose of personal fitness. Demonstrate techniques and form, observe participants, and explain to them corrective measures necessary to improve their skills. Develop and implement individualized approaches to exercise.
Education:
Post-secondary certificate
Suitable Personality:



The Helper
---