Day in the life of


Jewellery Designer – Vasiliki Gkarmiri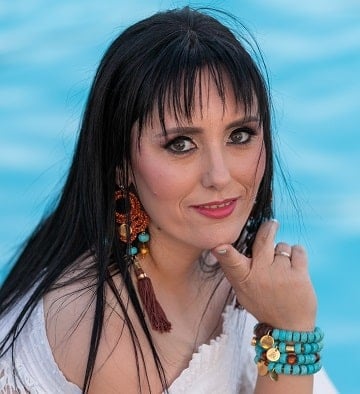 Vasiliki Gkarmiri
Jewellery Designer
Next Door Goddess
I'm a fashion jewellery designer/maker and co-founder of our handmade jewellery business. This means that pretty much everything needs to be done by me or my husband at this point (with the exception of a few key things we decided to outsource like the design of our website).
I start my day with a little morning ritual that includes revisiting my reason for co-founding up this company and my vision for its future. This is crucial as it informs every step that follows.
1. I check out our emails. They may be coming from customers, mentors, or publicity outreach. Especially regarding press, which is crucial for us right now, the early bird gets the worm so it's important that I stay on top of it. Press pitches aren't a "one size fits all" so I really need to hone in, see the stories we may be a good fit for, and then reach out to the reporters to see if we are, indeed.
2. I check out our website. Orders and analytics-I do this every day as I want to see changes in traffic, where it comes from, and everything that has to do with potential customers reaching our virtual doorstep. For example, we had a really good questionnaire up that is quick, fun, and informative but it looked like hardly anyone was noticing so we removed it from the Home Page as it was more clutter than useful. We decided to put it on a linktree on our Social Media instead and it's performing marginally better there. The next steps will be to try and tweak it until we reach the sweet spot of what our customers are looking for and what we can actually provide them with.
3. I take care of any orders and packages that need to go. We don't hold any inventory and everything is made by hand by me so this also means making the pieces in order to sell them. We don't run a sophisticated inventory program at this point so I also need to manually check on our elements inventory and see how many we have left and how many pieces I can actually make in total and update the website frequently. Sometimes the customers need to personalize their jewelry so I also make sure that goes as smoothly as possible. Some designs are really tricky to customize but I always do my best to cover our customer's needs.
4. USPS actually coming to pick packages up is a lifesaver right now but when our sales increase I'll need to go to the postal office as well.
5. Social Media. This is a biggie, batching REALLY works well but I haven't mastered it yet. I keep a calendar on dates I need to be posting as part of our marketing and sales campaigns (like Mother's day) and I am using some pre-made templates as they save a lot of time design-wise. For now, I just cross-post from IG to FB (not ideal but it's all I have time for). Social Media also includes looking for hashtags, searching for influencers and brands to work with, interact with other accounts AND find out what's new (maybe learn it too like Reels and Clubhouse). I don't post daily but I try to keep a 3 time per week minimum.
6. Writing our blog, newsletter, and email campaigns.
7. Sourcing design or packaging elements we may need-this is a small part of our business as it is set up right now but normally this is a big part of a jewelry business. Searching for reputable sellers and quality elements, especially when you're not physically there, has its own set of challenges. I'm always on the lookout for the different-or something that sparks an interest in me. Trade shows are way better but right now it's not easy for me to attend them.
8. Checking some key resources. Pantone colors, fashion blogs, and major publications are always a great way to stay informed with the trends on the market. My designs are fashionable but different. A main component of my design is color so it's good to know the trends-women buy accessories that go well with their clothes so this is crucial.
9. NOW is the time to design something new. I literally close my eyes and bring to mind scenes from the Greek landscape, the islands, the parties in Ios, fun times with my besties- the endless Greek summer but also the fascinating change of scenery in a country that really has 4 full blown seasons. I reach out to the beads in my design room and start creating a mini collection part by an image that I have in my head and part intuitively. I rarely if ever sketch and even when I do the final design will be different for sure. In a way, I feel like I just start to design with the intention of bringing the Goddess out in my customers-and then the design sort of brings itself to life. Sometimes things are easier, some others there are limitations in the elements I have available-but it always is an amazing process full of creativity, zen, fun, and enlightenment. I literally lose every sense of time when I design. I build the collection piece by piece, adding more as I go. I prefer launching mini collections to see how my customers react to them and tweak them accordingly, then add pieces as I go.
10. We're not finished yet! Photography is equally important so I do that part, too. Including dressing myself up as a model to photograph the jewelry on. Product photos, lifestyle photos, photos from the blog, and Social Media-I need every free space I can get on my phone
11. Get the photos on my PC, get them on a clear background (thank you Canva) and that pretty much is it, I'm not that good with Photoshop, and filters in Lightroom change the colors as well so I wouldn't recommend them.
12. Now the pieces are ready to go on the website which means pricing them out, writing the descriptions, forming the collections, and everything involved.
13. Personal development- check in with my mentors, other friend entrepreneurs, read a book or go through a course-this actually is a big part of running a business.
14. Other things-Keep an eye on accounting and any other matters that may need my husband's or my attention like the 30′ complimentary jewelry consultations we just launched.
15. I have to clean up after I design and it takes a lot of time, especially since I'm using multiple elements.
Now, these are a lot but life is really easier when you organize them in days. So I have a design day, a photography and website day, etc. The only thing that is there every day is checking out the emails, fulfilling the orders, and reaching out for press-all the rest are part of a bigger schedule and some, like accounting or marketing, are in wider time frames.
Pros
It is creative and fun
You evolve a lot as you are constantly pushed to grow as a business owner.
You are interacting with a lot of people
You can set your own schedule
You can work from home or in your own studio
You get to hang out with other creatives
You get hands-on experience in every aspect of running a business
You may get to see your work in magazines, blogs, or celebrities
It feels SO good when you see someone wearing something made by you, loving it and saying it makes them feel amazing
Every day you learn something new-literally
Cons
It can be very isolating if you're not surrounding yourself with other people or don't have a family
At first, the business will not be paying you so you may need to get a job, too. This means long hours.
It is extremely easy to actually work more as a business owner than you would as an employee. Burnout is always a lurking danger.
You don't move enough in this job you need to be mindful about taking breaks
There are several work-related health hazards depending on the medium you're using so you need to stay informed
It takes space
After a while of being your own boss, it may be difficult to go back to working for someone else
Retail is REALLY in crisis right now and new brands are coming out every single day. This is a very competitive market to be in, some would say it's oversaturated, so you need to have a unique perspective, niche, or marketing angle.
If you don't have a ninja mindset and resiliency skills you'd better build them because being a creative entrepreneur will test you to the core of your existence
Vasiliki Gkarmiri
Jewellery Designer
Next Door Goddess
---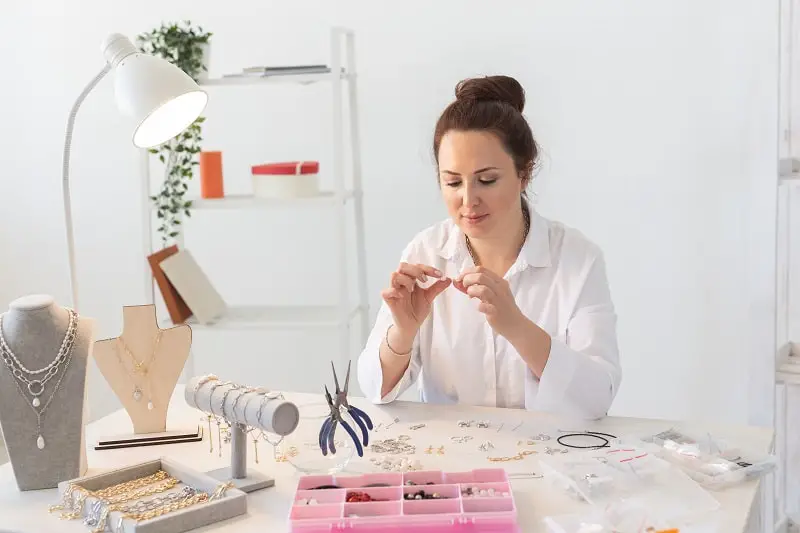 Jewelry Designers typically create wearable pieces of jewelry using various precious metals, gemstones, beads, and other materials. Jewelry Designers may create original pieces for clients or new designs for mass production.
Education:
No degree required
Suitable Personality:


The Artist
---