Day in the life of


Bench Jeweler – Elizabeth Arnold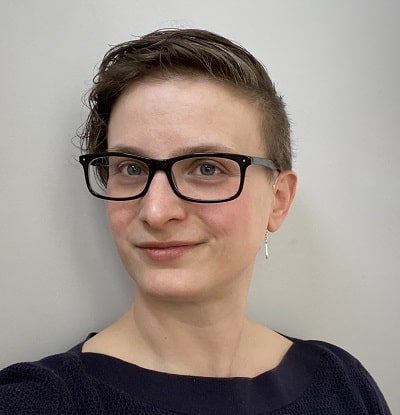 Elizabeth Arnold
Alloys by Arnold
My name is Elizabeth Arnold, and I am the owner of a small jewelry design and fabrication business Alloys by Arnold.
I am a jeweler/goldsmith who after getting a four-year degree in art went back to school for a two year jewelry fabrication program, then worked in a busy mid-size jewelry making studio for three years, and now work on building and selling my own designs.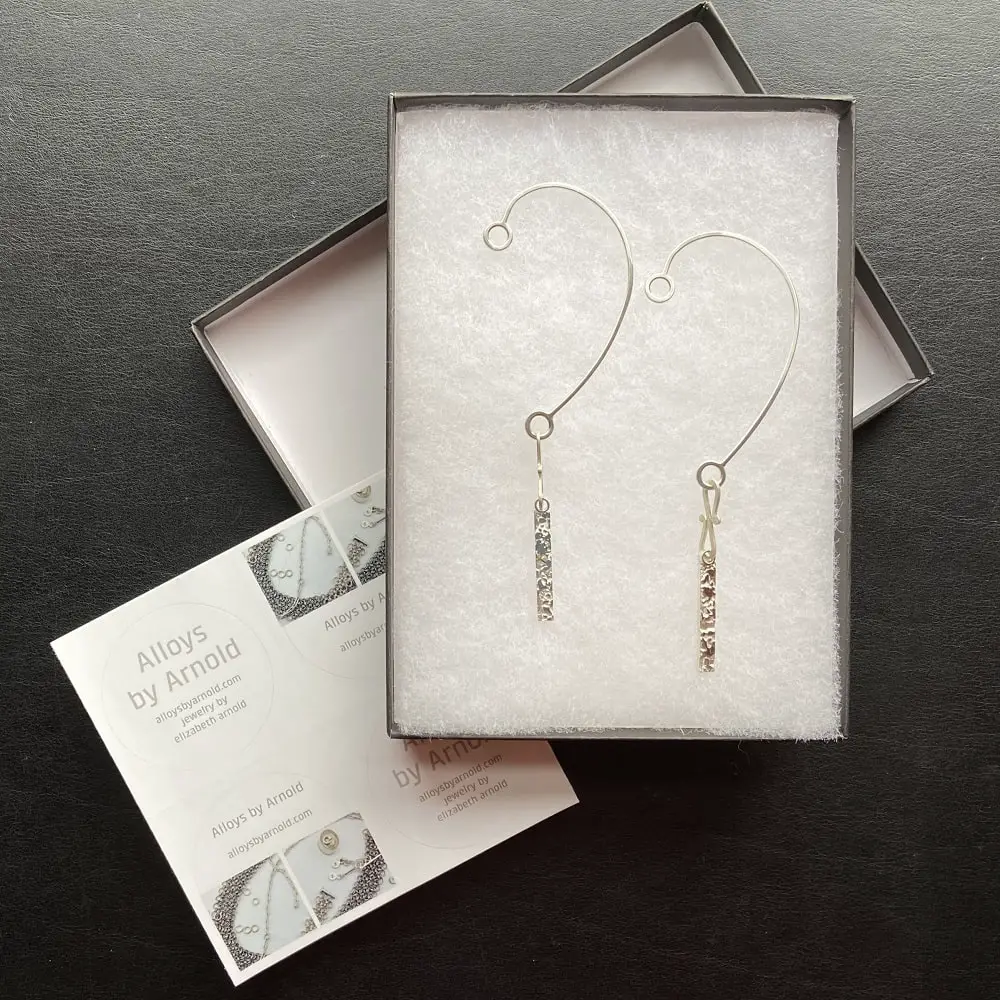 My typical day
Working for myself means I have a more flexible schedule, but I keep a standard routine. Mornings are for work that is related to running a business, afternoons are for making the jewelry itself.
Mornings
A typical morning will include:
A calendar check. Do I have appointments/classes/webinars today?
Checking all of my 'inboxes': my email of course, but also my Instagram DMs, Facebook comments, and any interactions on Pinterest.
Then it's time for an analytics review- how many visitors to my site in the last 24 hrs? What did they look at? What did they order? Also check in on any paid advertisements, such as the Google search ads- Is there anything I want to tweak? How much is it costing me?
Business Education- Mostly this means self-education on how to run a business in an online marketing/web design/social media sense, but it can also be legal nuts and bolts like taxes and budgeting.
Planning advertising/social media, which can mean photography, listing products to my website, or Instagram posts.
Final preparation of ordered items, and shipping of ordered items. Placing orders for materials from jewelry-specific retailers.
Over lunch, I like to review Instagram for inspiration and maintain/build contacts through interactions there.
Afternoons
Afternoon is studio time. If I am not already in the middle of a project, the first order of business is to sit down with my sketchbook and select a design I'd like to build. I then take that design and begin fleshing it out in my 'lab' notebook. My sketchbook is for ideas which can be impractical, poorly thought out, or actually impossible. The lab notebook is where I plot specifically how I might construct these ideas in reality, where I plot out step by step what I plan to do and then record the alterations to the plan based on what actually happens. It's also my reference for remaking a design in the future and keeps a running list of supplies I need to order.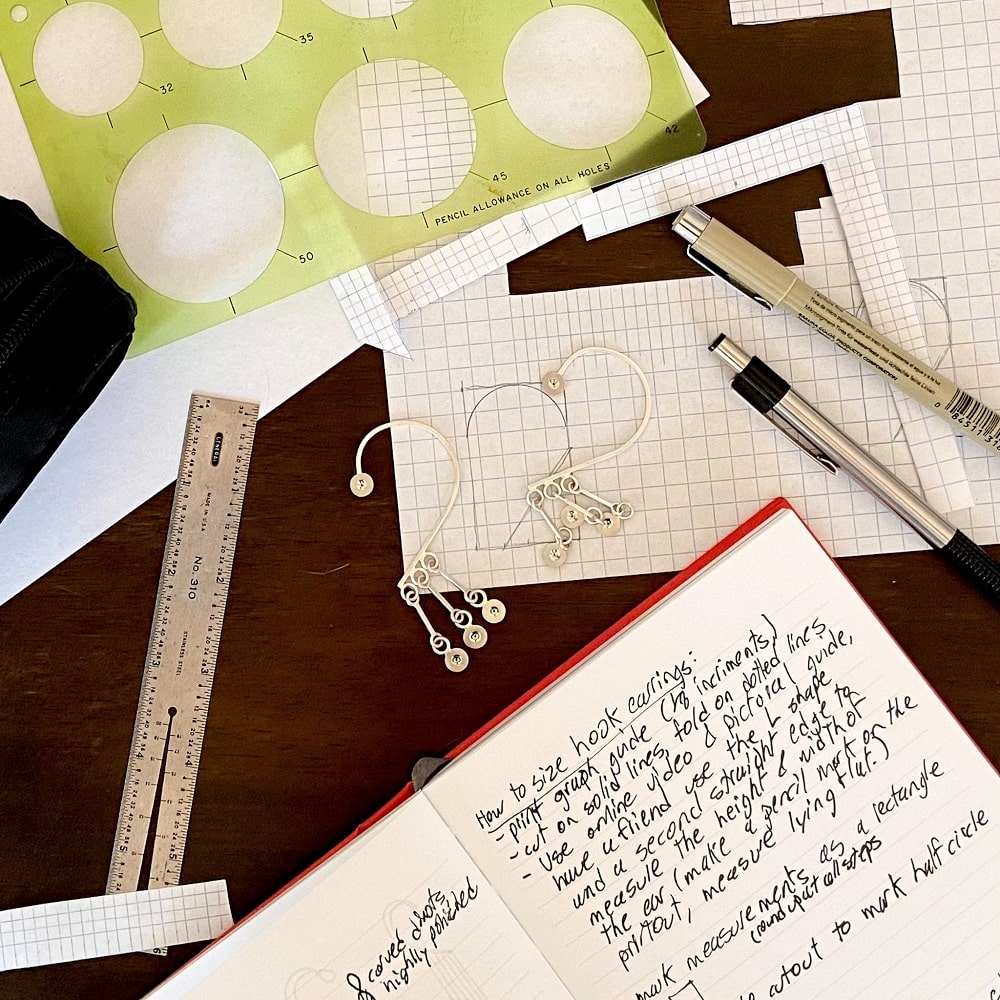 What I do on the bench is variable, but on any particular day I will be sawing, filing, annealing, soldering, forging, or stone-setting. These techniques use a variety of specialty-made and surprisingly mundane tools and require years of practice to build the skill to do properly. Sometimes my work for the day is education, expanding my skillset through seminars, tutorials, and experimentation.
I use walking my dog as a 'commute' to put a cap on my workday- a practice I would recommend for anyone working from home! She has a very good sense of time and won't let 'five more minutes' become an hour when I should really begin to wind down for the day.
Pros
Working with your hands every day. Although a substantial part of my time as a self-employed jeweler goes to business building, I also get to spend a lot of time in 'maker space'. For a person who gets great satisfaction from the process of making tiny things better with their hands, there is nothing more rewarding.
Working with interesting tools and techniques. Although my favorite tool of all time is a laser welder, my second-favorite tool is a burnisher. The first is incredibly modern and technologically complex, so much so that they are just starting to come down in price far enough to be showing up in medium size jewelers and educational spaces. The second has been used to make jewelry since the bronze age. The variety of tools and techniques you need to master as a jeweler is a constant source of novelty and engagement for me.
Bench Jewelers are in demand- there are actually more jobs available for a bench jeweler who can size, set, and polish than there are qualified jewelers.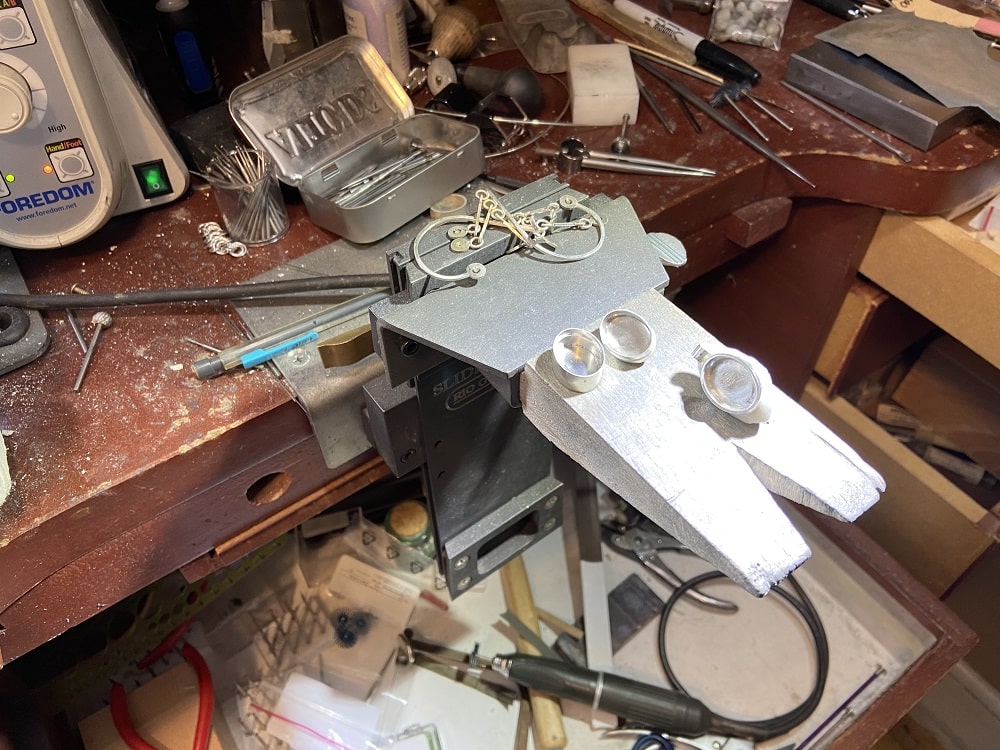 Cons
There are very few jobs for jewelers. If you want to work for someone else rather than be self-employed, you will need to either be already living in a large metro area or may have to move to find work. (I know, this seems at odds with my last 'pro' point. It's not. Even though there are few jobs, there are even fewer qualified jewelers.)
The job is repetitive in the extreme. If you cannot find joy in the 17th time you make a dull ring into a highly polished ring, or the satisfaction in seeing that your 47th solder seam of the day is strong and solid, this may not be the job for you. Additionally, you must pay attention to and prevent repetitive stress injuries.
The work itself is psychologically demanding. The pieces you make must be physically exact, you are working with valuable materials and there is no undo button. I have spent three days trying (and failing) to drill a hole the right way. I have cracked emeralds, lost small diamonds, and damaged gold rings beyond repair. This is a *normal* part of being a bench jeweler, and being able to manage your frustration is a necessary skill.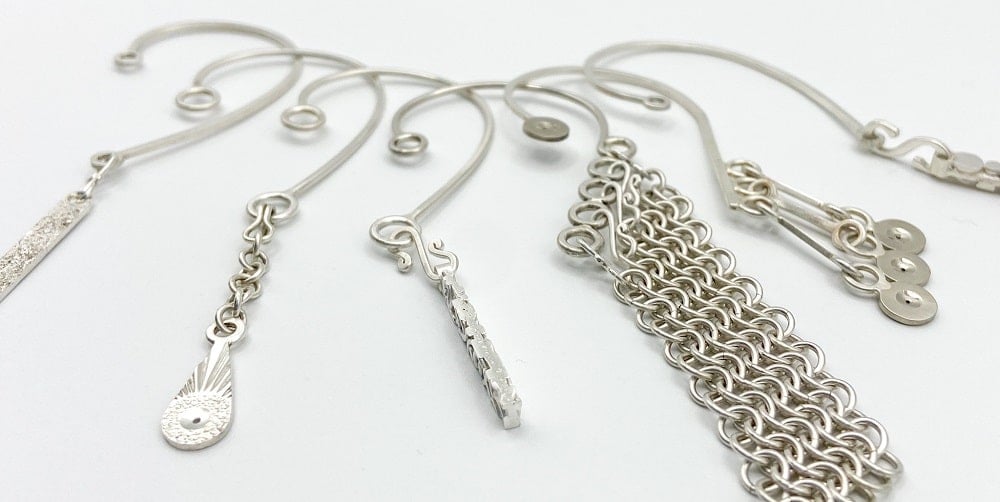 Advice for aspiring bench jewelers
If you are considering becoming a bench jeweler, the most important thing is to know yourself. Do you think making things is fun? Great. That's not enough. 'Fun' is a response to novelty, and quickly wears off in the day-to-day grind of a repetitive job like this. Do you think that making things, or improving on physical things that already exist is satisfying? That's better. Being satisfied with a job well done is a motivation that will stick around for years.
You also need excellent manual dexterity, patience when things break, and a willingness to continue learning even after 'school' is out. If this sounds like something you'd be interested in, start by taking an introductory jewelry-making class which includes soldering. This is a relatively cheap way to get some hands-on experience with an 'advanced' aspect of jewelry fabrication. This will give you valuable insight into whether you want to do more of this sort of thing, or whether the pressure and frustration of not having an undo button outweighs the satisfaction of getting it right.
In order to gain the skills to be employable or independent as a bench jeweler, you have essentially three routes: go through a formal jewelry fabrication program through an institution like North Bennet Street School (which is what I did), start working at a jewelry store as an apprentice (i.e. jewelry cleaner and errand-runner) and self-advocate to gain skills and responsibilities, or take classes to learn individual skills as you need them from local artisan's collectives and individual jewelers offering classes.
In all cases, you will want a small portfolio of your work available to prove that you have the skills you list in your resume.
Elizabeth Arnold
Alloys by Arnold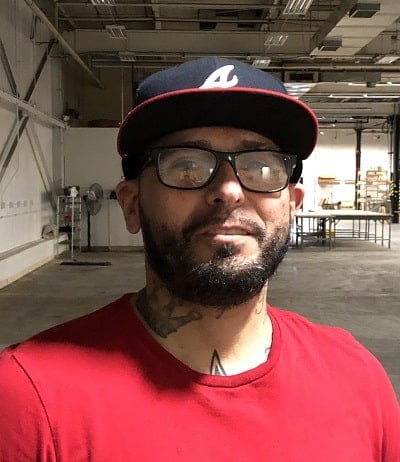 My typical day starts out with me arriving at the warehouse at 7:00 AM sharp. Then I immediately make sure that the boxes and packages are organized i …
Read More
---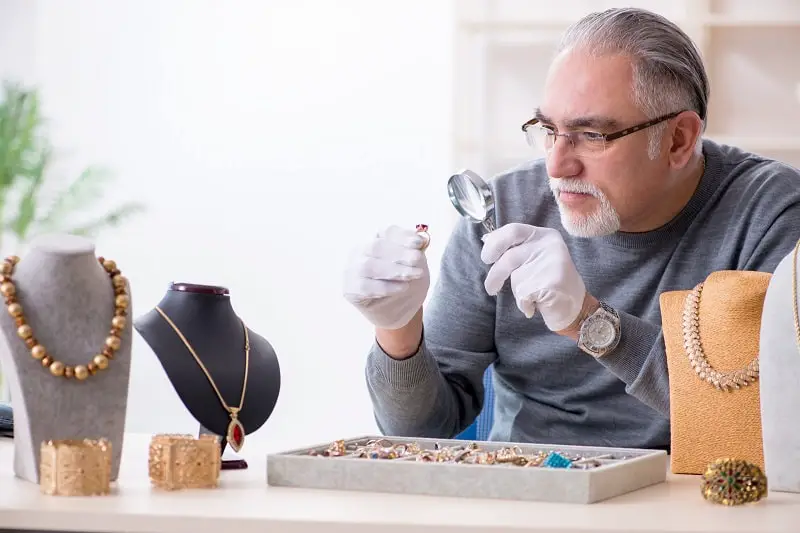 fabricate and repair jewelry articles. Make models or molds to create jewelry items.
Education:
No degree required
Suitable Personality:



The Builder
---