How Long Does It Take, What Degree Do You Need, and More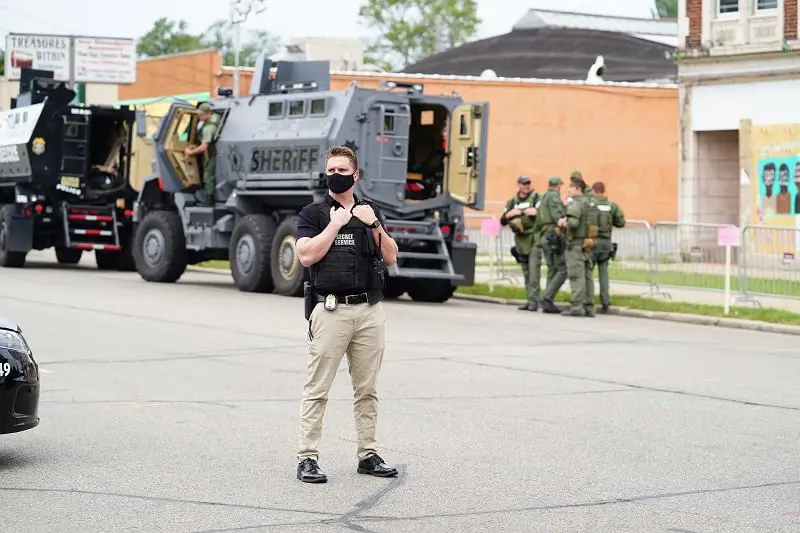 Sheriffs and Deputy Sheriffs enforce law and order in rural or unincorporated districts or serve legal processes of courts. May patrol courthouse, guard court or grand jury, or escort defendants.
Education
No degree required
---
---
---
---
Table of contents
---
Summary
| | |
| --- | --- |
| Degree | Sheriffs do not have a minimum educational requirement but often hold Bachelor's degrees |
| Degree field | Criminal Justice, Criminal Science, Law Enforcement, and related fields |
| Duration to become one | Seven to nine years. |
| Difficulty to become one | Medium |
As elected officials, Sheriffs do not have a minimum educational requirement but often hold Bachelor's degrees. Sheriffs often major in Criminal Justice, Criminal Science, Law Enforcement, and related fields.
Sheriffs do not need licenses or certifications but may need to work as a Certified Police Officer to gain the necessary work experience.
---
Featured Schools
Sheriffs and Deputy Sheriffs Requirements
Step 1: Study Criminal Justice in High School
Some high schools offer Criminal Justice or Criminology classes, which can provide students with useful knowledge for a career as a Sheriff. Students should also aim to maintain a good GPA to increase their chances of getting into their college of choice.
Step 2: Earn an Undergraduate Degree
Many municipalities and jurisdictions require Sheriffs to hold at least an Associate's degree before running for office. Some states may also accept a specific number of college credits in place of a degree.
Some Sheriffs hold Bachelor's degrees instead of Associate's degrees. A Bachelor's degree can improve an individual's job prospects. When facing a close election for Sheriff, having a Bachelor's degree may also give a candidate an advantage. Common majors for Sheriffs include Criminal Justice, Criminal Science, and Law Enforcement. Taking classes in Criminology, Psychology, Public Speaking, and Writing is also recommended.
Step 3: Complete Police Academy Training
Most Sheriffs start as Police Officers or Deputies at Sheriff departments, which requires training at a police academy. Depending on the department, police academy training may be available to newly hired Police Officers or those who plan on applying for positions in law enforcement.
Police academy training may take several months or longer, depending on the number of classes held each week. Some academies only hold classes two or three times a week and take up to six months to complete. Other academies provide extensive training over a shorter period.
Police training covers a wide range of topics, including self-defense, first aid, computer skills, defensive driving, traffic control, firearms training, and patrol procedures. Students also review local and state laws. The training may include classroom instruction, field exercises, physical exercise, and training activities. The field exercises often include mock crime scenes and allow students to practice arrest techniques, fingerprinting, and interrogation methods.
Step 4: Gain Law Enforcement Experience
Aspiring Sheriffs often need five years or more of law enforcement experience to be eligible to run for a Sheriff's election. Many Sheriffs begin their careers as Police Officers or Corrections Deputies. Police Officers work for local police departments while Corrections Deputies work for state or local jails or prisons.
Step 5: Apply for a Sheriff's Deputy Job
Becoming a Sheriff's Deputy before running for Sheriff is not a requirement. However, some voters may be more willing to vote for someone who has worked within the Sheriff's department. In some states, applicants need to work as Corrections Deputies before applying for Sheriff's Deputies positions.
Step 6: Review the Eligibility Requirements for Sheriffs
Each jurisdiction has separate eligibility requirements for those who want to run in an election for Sheriff. The eligibility requirements may include passing a written exam, completing an interview, and passing a background check. Many states also require applicants to be residents of the state for at least one year before running for Sheriff.
Step 7: Run for Sheriff in Your County
After meeting the eligibility requirements, apply to run for Sheriff in an upcoming election. In 42 states, Sheriffs are elected to four-year terms. In New Jersey, Sheriffs hold office for three years. In Massachusetts, Sheriffs are elected for six years. Arkansas and New Hampshire elect Sheriffs for two-year terms.
Individuals who meet the requirements typically need to file paperwork at the county courthouse. If the application to run is approved, the candidate can start campaigning for Sheriff. Campaigning is an exhaustive process that often involves meeting with the community. Candidates need to define their stance on various topics, including how to combat crime.
Running for Sheriff also typically requires candidates to hold interviews with the local press, pass out fliers, and raise funds for TV or radio advertisements. After the end of election day, the county tallies the votes and declares the winner of the race for Sheriff. The winning candidate then signs a contract and starts their term as Sheriff.
Step 8: Continue to Run Each Election Cycle
To maintain their position, Sheriffs must run for reelection during the next election cycle. As mentioned, residents may vote for Sheriff every two to six years. Four-year terms are the most common. When running for reelection, voters may consider the job performance of the Sheriff over the past term. Increases in crime or speeding may hurt a Sheriff's chance of reelection.
What degree do most Sheriffs and Deputy Sheriffs have
High School Diploma
We did a survey to ask other Sheriffs and Deputy Sheriffs what degree they had when they first became one. Here are the results.
High School Diploma
---
Post-secondary certificate
---
Associate's degree
---
How long does it take
Seven to nine years.
Sheriffs typically work in law enforcement for at least five years before running for office. They may also earn an Associate's degree or a Bachelor's degree, adding two to four years to the process.
---
Learn more about Sheriffs and Deputy Sheriffs
Find a college with the major you want
---
---