How Long Does It Take, What Degree Do You Need, and More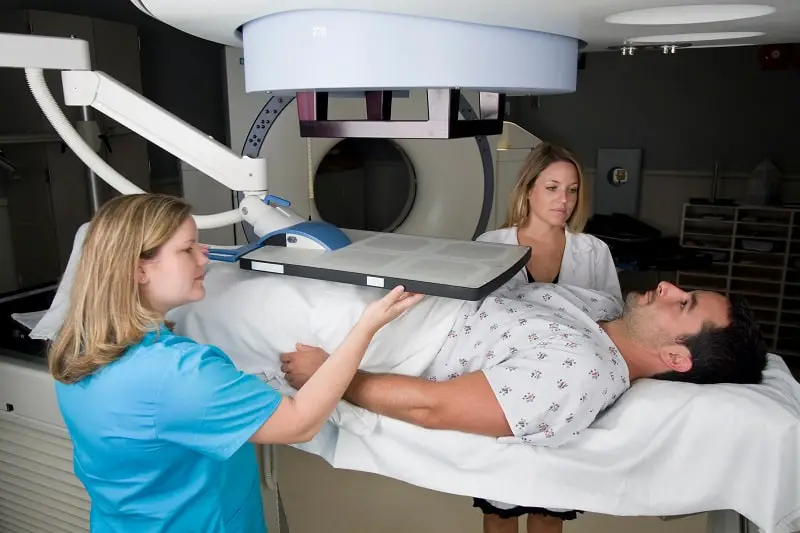 Radiation Therapists provide radiation therapy to patients as prescribed by a radiation oncologist according to established practices and standards. Duties may include reviewing prescription and diagnosis; acting as liaison with physician and supportive care personnel; preparing equipment, such as immobilization, treatment, and protection devices; and maintaining records, reports, and files. May assist in dosimetry procedures and tumor localization.
Education
Associate's degree
---
---
---
---
Table of contents
---
Summary
| | |
| --- | --- |
| Degree | Most Radiation Therapist positions require an Associate's Degree or a Bachelor's Degree. |
| Degree field | Aspiring Radiation Therapists typically enroll in Radiation Therapy programs that lead to undergraduate degrees. |
| License or certification | Most states require Radiation Therapists to become licensed, which involves passing a national certification exam. |
| Duration to become one | 2 to 4 years |
| Difficulty to become one | Medium |
---
Radiation Therapists Requirements
Step 1: Expand Your Medical Knowledge in High School
Radiation Therapy is a medical career that requires the use of scientific theories, technology, and the human body. You can start developing applicable skills in high school by taking the following courses:
Algebra
Computer Science
Physics
Human Anatomy
Physiology
Completing these courses gives you a head start in your education. You may also consider volunteering at a hospital or clinic to gain experience in a medical setting. These steps may improve your chances of getting accepted into the college or university of your choice.
Step 2: Enroll in a Radiation Therapy Program
Becoming a Radiation Therapist requires the completion of an accredited Radiation Therapy program.
There are several options for Radiation Therapy programs depending on your previous education. High school graduates may enroll in Radiation Therapy programs that lead to an Associate's Degree or a Bachelor's Degree. An Associate's Degree program typically takes two years to complete while a Bachelor's Degree program often takes four years.
There are close to 110 programs accredited by the American Registry of Radiologic Technologists (ARRT). The programs combine classroom courses and hands-on experience in clinical settings. Common courses and topics for Radiation Therapy programs include human anatomy, computer science, imaging technology, physiology, and oncology. Students learn about patient care, dosing, treatment planning, and Radiation Therapy procedures.
Those who already have an undergraduate degree or a graduate degree in a related field, such as Nursing, may complete a certificate program. Unlike an undergraduate program, certificate programs may only take one or two semesters to complete and are intended for those with experience or advanced education.
Step 3: Pass the ARRT Exam
Before applying for a state license, you need to pass the ARRT national exam. The exam is computer-based and completed at approved testing centers. The exam is scored on a scale of 1 to 99. You need a score of at least 75 to pass the exam. If you pass the exam, you become an ARRT-certified Radiation Therapist.
Step 4: Obtain a State License to Practice Radiation Therapy
Most states require Radiation Therapists to obtain a license. The requirements vary by state. However, you typically need to complete an accredited Radiation Therapy program and become ARRT-certified.
After obtaining ARRT certification, you may enroll in the ARRT state licensing exam. To sign up for the exam, you must apply to the state where you intend to work as a Radiation Therapist. The state licensing agency reviews your application and then informs you whether you are eligible to take the state exam.
The results of this exam are automatically submitted to the state licensing agency. This exam is separate from the certification exam that you take. According to the ARRT, about 75% of states require this additional step before becoming a Radiation Therapist.
Step 5: Earn CPR and Life Support Certification
While you do not need a Nursing background to become a Radiation Therapist, many employers require you to possess basic life-saving skills. You may need to hold certifications for Cardiopulmonary Resuscitation (CPR) and Basic Life Support (BLS). CPR and BLS courses are often offered through community colleges, vocational schools, community centers, and independent organizations.
Step 6: Apply for Entry-Level Radiation Therapy Positions
After obtaining your state license and additional certifications, start looking for entry-level positions in the Radiation Therapy field. Radiation Therapists tend to work in hospitals, clinics, and private practices. Some employers may prefer to hire candidates with at least one year of experience in a medical setting.
If you struggle to find employment as a Radiation Therapist, you may seek related work experience. For example, working as a technician allows you to help maintain medical equipment and gain hands-on experience. You may also seek administrative jobs or data management positions.
Step 7: Continue Your Education to Maintain Certification
The ARRT certification is only valid for two years. You must renew your credential every two years, which is completed by mail or through the ARRT's website. One of the requirements for maintaining your credential is to continue your education.
You must complete at least 24 credits of approved continuing education every two years. For Radiation Therapists who specialize in sonography, 16 out of the 24 credits must be related to your discipline. The ARRT maintains a list of approved courses that you can take to fulfill your continuing education requirements. The classes may be completed online or at a college.
Step 8: Choose a Specialization
Some Radiation Therapists choose to advance their careers by specializing in specific fields or subspecialties of Radiation Therapy, such as:
Sonography
Densitometry
Mammography
Pursuing one of these specialties requires the completion of another educational program accredited by the ARRT. As a certified Radiation Therapist, you may only need to complete a certificate program, which typically takes one or two semesters to complete. You also need to pass another ARRT exam for your subspecialty. This can lead to greater career opportunities or an increased chance of promotion.
Step 9: Consider Becoming a Medical Dosimetrist
A Medical Dosimetrist is part of the Radiation Oncology team, working with a Radiation Therapist and Oncology Nurses to deliver radiation therapy to cancer patients. Some Radiation Therapists choose to pursue this job after gaining years of work experience.
If you already obtained a Bachelor's Degree in a science-related field, you need to complete an accredited program for Medical Dosimetrists. The programs typically last one or two years. After completing the program, you must pass an exam to become certified by the Medical Dosimetrist Certification Board.
What degree do most Radiation Therapists have
Associate's degree
We did a survey to ask other Radiation Therapists what degree they had when they first became one. Here are the results.
Associate's degree
---
Bachelor's degree
---
Post-secondary certificate
---
How long does it take
2 to 4 years
For most individuals, becoming a Radiation Therapist takes two to four years. After earning an Associate's Degree or a Bachelor's Degree in Radiation Therapy and passing the ARRT exam, you may apply for a state license and start looking for work as a Radiation Therapist.
---
Learn more about Radiation Therapists