How Long Does It Take, What Degree Do You Need, and More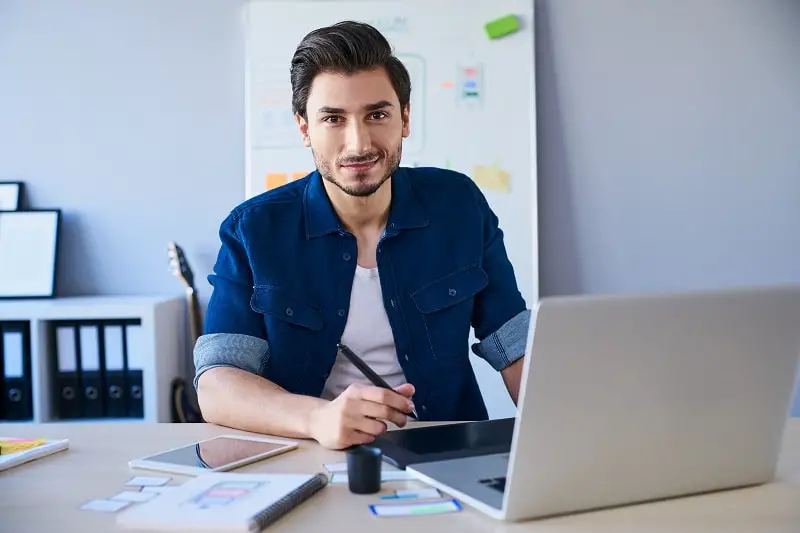 Graphic Designers design or create graphics to meet specific commercial or promotional needs, such as packaging, displays, or logos. May use a variety of mediums to achieve artistic or decorative effects.
Education
Bachelor's degree
---
---
---
---
Table of contents
---
Summary
| | |
| --- | --- |
| Degree | No degree required but most Graphic Designers hold a Bachelor's degree |
| Degree field | Graphic Design or a related field |
| License or certification | None required |
| Duration to become one | 2 to 4 years |
| Difficulty to become one | Hard |
---
Graphic Designers Requirements
Step 1: Brush up on Your Artistic Skills in High School
Graphic Designers require creativity and artistic aptitude. You can start developing these skills and traits in high school by taking art classes. You can also draw and design during your spare time.
Graphic Designers often rely on computer software to illustrate content for websites, marketing material, video games, and other mediums. However, they also start with rough sketches, which require basic drawing skills.
Along with practicing drawing and design, you can learn more about Graphic Design by reading blog articles and completing free online tutorials.
Step 2: Teach Yourself the Basics of Graphic Design
There are several paths to becoming a Graphic Designer, including the self-taught path. Some Graphic Designers do not have any formal training. They develop the necessary skills and knowledge through self-guided learning and practice.
You can teach yourself how to become a Graphic Designer using online courses, tutorials, and blog posts. You should also familiarize yourself with the most-used design software, such as Adobe Photoshop. Those who plan on attending college should also take the time to become more familiar with design techniques and software.
Step 3: Take a Graphic Design Course at a Community College
If you choose the self-taught path, you may expand your skills by taking a Graphic Design course at a local community college. Some colleges also offer technical programs that may only last for a single semester.
Taking courses at a community college is also a suitable option for those who want to earn degrees. Before committing to a two-year or four-year degree program, you can learn more about Graphic Design and ensure that it is the right career path.
Step 4: Earn an Associate's Degree in Graphic Design
Earning a degree can lead to full-time employment as a Graphic Designer. You can either obtain an Associate's Degree or a Bachelor's Degree in Graphic Design. An Associate's Degree typically takes two years to complete and covers the basic principles of Graphic Design.
With an Associate's Degree in Graphic Design, you learn the main skills needed for an entry-level Graphic Design position.
Step 5: Earn a Bachelor's of Arts in Graphic Design
A Bachelor's Degree program may take four years to complete. While it takes longer to complete compared to an Associate's Degree, employers tend to prefer candidates with a Bachelor's Degree.
Studying for a Bachelor's Degree also provides a more well-rounded education. Along with the principles of Graphic Design, you are likely to explore related topics and various specializations within this field.
For example, you may take elective courses in Illustration, Web Design, Animation, or Video Game Design. Other common courses include Marketing, Advertising, and Psychology, which help you understand how specific design techniques impact the way that people perceive your work.
You may also transfer credits from previous college courses, such as introductory Graphic Design courses from a community college. Another option is to look for online Bachelor's Degree programs, which make it easier to earn your education while working.
Step 6: Start Building Your Portfolio
Whether you attended college or taught yourself, you may struggle to find full-time employment as a Graphic Designer without previous work experience. Potential employers typically want to see an extensive portfolio with many examples of your Graphic Design skills.
Start building your portfolio by taking on small freelance projects. There are several ways to obtain your first paid gigs. You can advertise your services on an online job marketplace or actively look for clients in your local area. Another option is to offer your services for free to nonprofits.
Keep copies of the work that you complete and add them to your portfolio. You should keep high-resolution images of your completed projects to showcase your skills.
If you use an online job marketplace to seek freelance jobs, continue to build your online portfolio as well.
Step 7: Start Looking for Entry-Level Graphic Design Positions
After gaining work experience and building a portfolio through freelance projects, you may decide to look for full-time employment. This will be more difficult for those without a degree. However, with enough experience, you may find an entry-level position.
Entry-level positions for Graphic Designers may include Junior Graphic Designer, Design Assistant, Visual Designer, or Production Designer.
What degree do most Graphic Designers have
Bachelor's degree
We did a survey to ask other Graphic Designers what degree they had when they first became one. Here are the results.
Bachelor's degree
---
Associate's degree
---
Post-secondary certificate
---
How long does it take
2 to 4 years
The amount of time needed to become a Graphic Designer depends on your educational path. If you decide to skip college, you may start working as a Graphic Designer today. You can offer your freelance Graphic Design services using online job marketplaces. For those who choose to earn degrees, it may take two to four years, depending on whether you obtain an Associate's Degree or a Bachelor's Degree.
---
Learn more about Graphic Designers