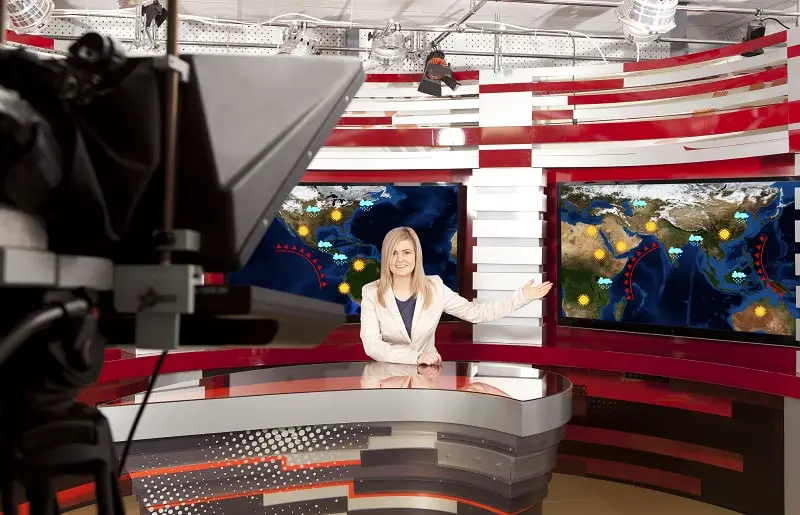 Broadcast News Analysts
Broadcast News Analysts analyze, interpret, and broadcast news received from various sources.
Education
Bachelor's degree
---
---
---
---
Broadcast News Analysts analyze, interpret, and broadcast news received from various sources.
Write commentaries, columns, or scripts, using computers.
Coordinate and serve as an anchor on news broadcast programs.
Edit news material to ensure that it fits within available time or space.
Examine news items of local, national, and international significance to determine topics to address, or obtain assignments from editorial staff members.
---
Average salary
$91990 per year
Average hourly wage
$44 per hour
---
Broadcast News Analysts with little to no experience tend to make between $27370 and $37970 while the more experienced ones can earn over $111610 per year.
| Top 5 paying states | Hourly | Annual |
| --- | --- | --- |
| WA | $59 | $122,060 |
| DC | $56 | $116,420 |
| NY | $54 | $111,340 |
| CA | $49 | $102,480 |
| FL | $49 | $102,180 |
One of the easiest ways to increase your salary as a Broadcast News Analyst is to move to a higher paying state like WA. Right now, the highest paying states for Broadcast News Analysts are WA, DC, NY, CA and FL.
However, a higher pay at WA doesn't guarantee that you will make more because the living expenses at WA might be twice as high than where you are currently at now.
Three other factors that can increase your salary as a Broadcast News Analyst is the degree you hold, the industry you work in, and lastly the company you work for.
---
Recommended degree level
Bachelor's degree
We asked other Broadcast News Analysts what degree they had when they got the job and most of them said they had a Bachelor's Degree followed by a High School Diploma.
Other than that, we also asked them what did they major in and here are the most popular majors that came up.
Journalism
Broadcast Journalism
Radio and Television
Political Communication
---
Here are some of the pros and cons of being a Broadcast News Analyst.
PROS
Suitable for people who likes to work with designs
Suitable for people who values relationships between co-workers and customers and wants to work in a friendly non-competitive environment
This career is perfect for people who love to work indoors.
Very high salary (top 25% highest paid careers)
CONS
Not suitable for people who likes practical and hands-on work
It is hard to get into this career. A considerable amount of work-related skill, knowledge, or experience is required for this career.
Long working hours (More than 40 hours per week)
---
Is this job meaningful
54%
---
68% of Broadcast News Analysts said they were satisfied with their job and 54% said they feel like their job is making other people's lives better.
---
Best personality for this career
The Artists and The Helpers
You can read more about these career personality types here.
People who are suitable for this job tends to like working with forms, designs and patterns. They often require self-expression and the work can be done without following a clear set of rules..
They also like working with, communicating with, and teaching people. They like helping or providing service to others.
---
---
Learn more about Broadcast News Analysts
---
Related career information
Broadcast News Analysts job description, Broadcast News Analysts salary, Broadcast News Analysts information, what is the job of a Broadcast News Analyst like, pros and cons about Broadcast News Analysts, colleges and universities for Broadcast News Analysts, is Broadcast News Analysts the right career for me, careers in Art, Entertainment and Sports
Similar careers
Anchor, Anchorman, Art Critic, Assignment Editor, Basketball Commentator, Broadcast Journalist, Broadcast Meteorologist, Broadcast Supervisor, Columnist/Commentator, Commentator
Additional resources
---