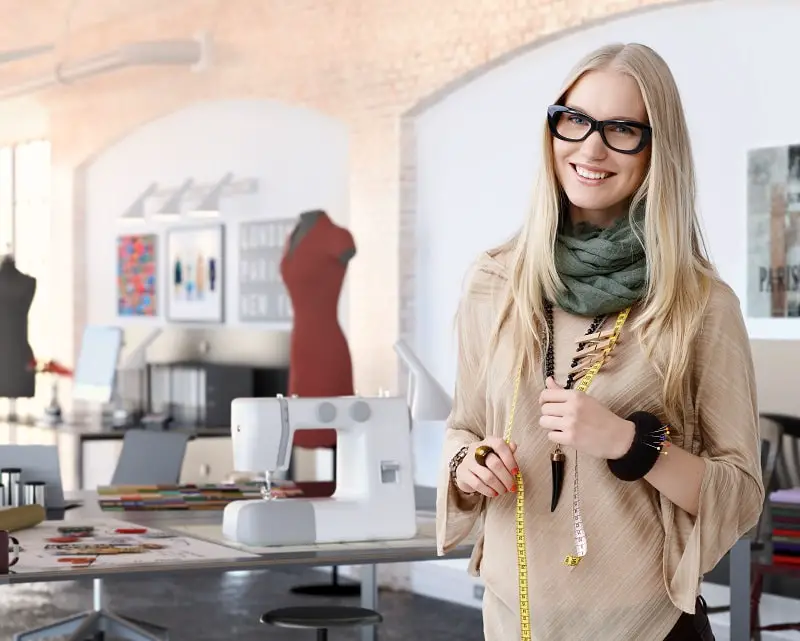 Fashion Designers
design clothing and accessories. Create original designs or adapt fashion trends.
---
Fashion Designers
Salary, Job Description, How To Become One, and More
---
In this career summary, you will find out what the job of a Fashion Designer is about and what it is like.
After reading this, you will have a good idea on what the job is about and decide if this is the right career for you.
---
---
Fashion Designers design clothing and accessories. Create original designs or adapt fashion trends.
---
---
---

Interested in becoming a Fashion Designer? Find the right schools that can help you to become one. This service is free thanks to our sponsors.
---
---
---
Improve Your
Test Score
Studying for a standardized test for your college admissions?
Improve your test scores on SAT, ACT, GRE, and GMAT.
Read more
---
---
---
Average salary
$87610 per year
Average hourly wage
$42 per hour
---
Fashion Designers with little to no experience tend to make between $36420 and $50710 while the more experienced ones can earn over $100780 per year.
| Top 5 paying states | Hourly | Annual |
| --- | --- | --- |
| AL | $47 | $98,380 |
| NY | $46 | $95,830 |
| CA | $46 | $95,250 |
| ME | $39 | $80,540 |
| MA | $37 | $77,990 |
One of the easiest ways to increase your salary as a Fashion Designer is to move to a higher paying state like AL. Right now, the highest paying states for Fashion Designers are AL, NY, CA, ME and MA.
However a higher pay at AL doesn't guarantee that you will make more because the living expenses at AL might be twice as high than where you are currently at now.
Three other factors that can increase your salary as a Fashion Designer is the degree you hold, the industry you work in and lastly the company you work for.
---
---
Recommended degree level
Associate's Degree (or other 2-year degree)
We asked other Fashion Designers what degree they had when they got the job and most of them said they had an Associate's Degree followed by a College Certificate.
Other than that, we also asked them what did they major in and here are the most popular majors that came up.
Apparel and Textile Manufacture
Textile Science
Fashion and Fabric Consultant
Fashion/Apparel Design
Costume Design
---
---
---
Here are some of the pros and cons of being a Fashion Designer.
PROS
Suitable for people who likes to work with designs
Suitable for people who values achievements and are results-oriented
This career is perfect for people who love to work indoors.
It is not too difficult to get into this career. Previous work-related skill, knowledge, or experience is required for this career.
Normal working hours (40 hours per week)
CONS
Not suitable for people who likes to follow routines
Demand for this career is declining
---
---
---
Is this job meaningful
26%
---
58% of Fashion Designers said they were satisfied with their job and 26% said they feel like their job is making other people's lives better.
---
---
Best personality for this career
The Artists and The Entrepreneurs
---
You can read more about these career personality types here.
People who are suitable for this job tends to like working with forms, designs and patterns. They often require self-expression and the work can be done without following a clear set of rules..
They also like starting up and carrying out projects. They like leading people and making many decisions. Sometimes they require risk taking and often deal with business.
---
---
Start your journey to be
a Fashion Designer
Get the best college for Fashion Designers
---
---
Discover the best colleges for your $$$
---
---
Find colleges have the highest earning grads
---
---
Yes, I'm sure
---
---
Merchandise Displayers

plan and erect commercial displays, such as those in windows and interiors of retail stores and at trade exhibitions.

Salary

$31850

Floral Designers

design, cut, and arrange live, dried, or artificial flowers and foliage.

Salary

$28900

Radio Operators

receive and transmit communications using radiotelephone equipment in accordance with government regulations. May repair equipment.

Salary

$44710

Umpires and Referees

officiate at competitive athletic or sporting events. Detect infractions of rules and decide penalties according to established regulations. Includes all sporting officials, referees, and competition judges.

Salary

$36440

Producers

plan and coordinate various aspects of radio, television, stage, or motion picture production, such as selecting script, coordinating writing, directing and editing, and arranging financing.

Salary

$89840
---
Learn more about Fashion Designers
Find a college with the major you want

---
Related career information
Fashion Designers job description, Fashion Designers salary, Fashion Designers information, what is the job of a Fashion Designer like, pros and cons about Fashion Designers, colleges and universities for Fashion Designers, is Fashion Designers the right career for me, careers in Art, Entertainment and Sports
Similar careers
Apparel Designer, Apparel Fashion Designer, Athletic Shoe Designer, Clothes Designer, Clothing Designer, Copyist, Costume Designer, Costume Director, Custom Furrier, Dance Costume Designer
Additional resources