How Long Does It Take, What Degree Do You Need, and More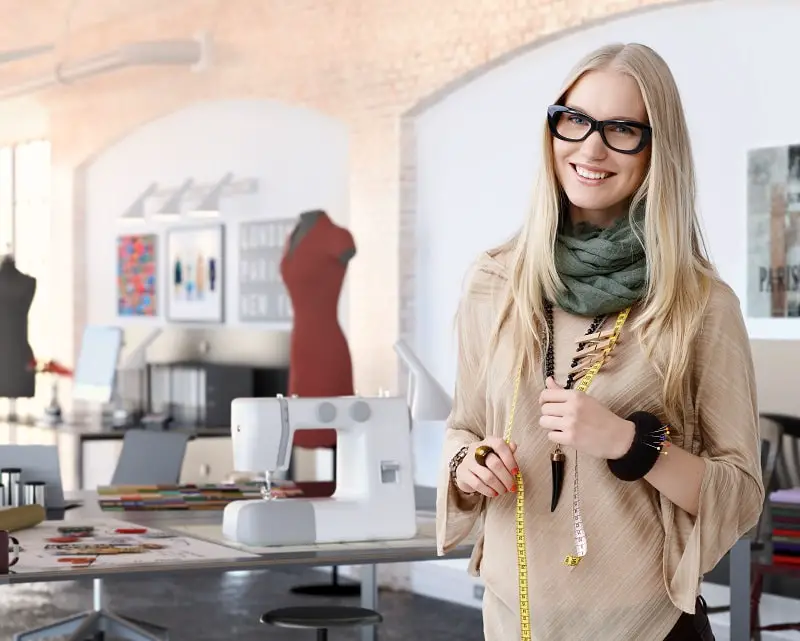 Fashion Designers design clothing and accessories. Create original designs or adapt fashion trends.
Education
Associate's degree
---
---
---
---
Table of contents
---
Summary
| | |
| --- | --- |
| Degree | Associate's or Bachelor's degree |
| Degree field | Fashion Design or Fashion Merchandising |
| Duration to become one | 4 years |
| Difficulty to become one | Medium |
To become a Fashion Designer, you will need a Bachelor's Degree in Fashion Design or Fashion Merchandising. You will learn about textiles, fabrics, and CAD (computer-aided design). While you are in school, you will be able to start building your portfolio with projects that you create.
Fashion Design students can go to a college that is accredited by the National Association of Schools of Art and Design, and you will need to take some basic art and design courses before you enter the program. You need to send in some examples of your skills in design before you are accepted.
---
Featured Schools
Fashion Designers Requirements
Step 1: Take Art Classes in High School
You will want to develop your artistic skills in high school, before you apply to college programs. Your artistic skills will play a critical role in your ability to be accepted into a Fashion Design program, so you should focus on this. You can even take art and design classes outside of high school if you have the opportunity.
Step 2: Earn a Bachelor's Degree in Fashion Design or Fashion Merchandising
Getting a college degree helps to introduce you to many concepts that are a part of fashion design. It prepares you for this career. You will learn about the history of fashion, visual merchandising, the techniques and materials used in design, and so much more. There are a lot of courses and you will learn so much about this industry.
When you earn your Bachelor's Degree in Fashion Design or Fashion Merchandising, you can take courses on any aspect of Fashion design from manufacture to design to sales. You need a strong understanding of fabrics and materials as well as artistic abilities. You need to take ideas and make them a physical reality. Your courses in college should help you grow as a designer.
Step 3: Get an Internship
It is common for people who want to become a Fashion Designer to participate in an internship with a design firm, a designer, or a manufacturing firm. During this internship, you will learn valuable skills that will help you to become more successful in the industry, and you can take what you learned in school and put it into practice.
This hands-on experience helps you to understand the differences in fabrics and designs and which ones work best for which people. You will often find that an internship is a part of the degree program in college, and it will introduce you to many people in the field.
Step 4: Get a Job
Once you receive your Bachelor's Degree and have some experience, it is time to find a job in the industry. The majority of designers work in New York and California. If you want to be a Fashion Designer, you can get a job working for a designer, a company, or a boutique. You will have an opportunity to use your skills to design clothing and to help people find the best clothing that will look good on them.
You can specialize in footwear and design shoes, or you can become a costume designer in film or theater. You might be looking to gain experience so that you can create your own brand one day, or you might want to work as part of a team for an existing brand. The best way to achieve your goals is to develop a great reputation and experience. You need to build your portfolio over time and make sure that you are working on your own designs whenever you have an opportunity.
It is important to remember than any job you have will help to guide you to your dream job. Ultimately, you need experience and contacts to reach your dreams, and your job will help you meet people in the industry. According to the US Bureau of Labor, demand for Fashion Designers is on the decline, so this is a competitive field and you will need to distinguish yourself. It is very important to keep your portfolio up to date so that you are prepared for opportunities that arise.
Step 5: Work to Advance Your Career
Once you are working in an entry level position as a Fashion Designer, you have several different options to advance your career. If you work as part of a large team, you could work toward a promotion to a management position within the company. You could also work to become the Chief Designer on your team.
Another option is to gain experience and work toward developing your own brand and selling your designs. You could sell them to a larger store or you could work toward opening your own boutique where you sell your designs.
Another way to advance is to work with a company that caters to upscale clients and creates custom designs for them. You could work as part of this team, and advance within this company. You might grow your own list of clients as you advance, which helps you to develop a positive reputation.
There are many ways to advance your career in Fashion Design, but you need to always keep a current portfolio of your work. You should learn as much as you can from the people you work with so that you gain the experience you need to move forward in your career.
What degree do most Fashion Designers have
Associate's degree
We did a survey to ask other Fashion Designers what degree they had when they first became one. Here are the results.
Associate's degree
---
Certificate
---
Bachelor's degree
---
How long does it take
4 years
It takes four years to get your Bachelor's Degree in Fashion Design. During this time, you can develop your portfolio and make contacts with people in the field. Often you will have an opportunity to do an internship while you are in school, which gives you hands-on practical experience in Fashion Design.
Although you will be able to find a job in Fashion Design once you finish college, it can take years to become established and recognized as a Designer in your own right. You will need to work hard to develop your portfolio and create your unique style, and you should learn as much as possible about the industry from the people you work with.
---
Find a college with the major you want
---
---