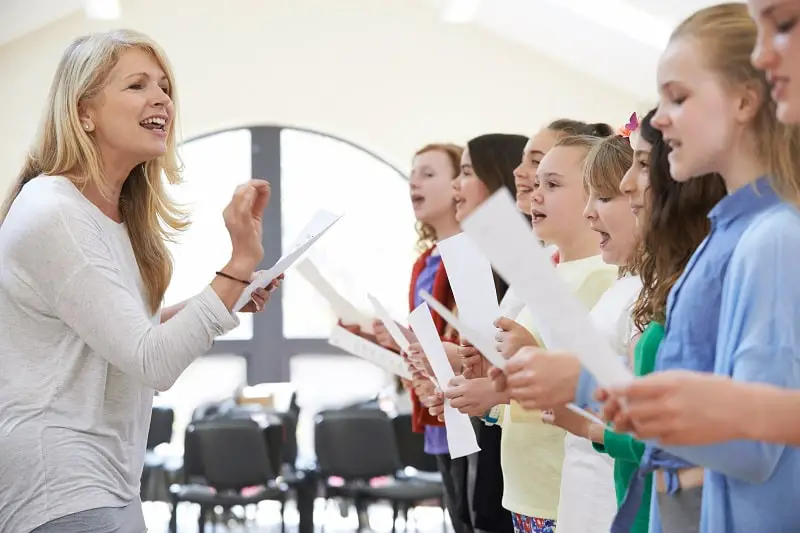 Music Directors
direct and conduct instrumental or vocal performances by musical groups, such as orchestras or choirs.
---
Music Directors
Salary, Job Description, How To Become One, and More
---
In this career summary, you will find out what the job of a Music Director is about and what it is like.
After reading this, you will have a good idea on what the job is about and decide if this is the right career for you.
---
---
Music Directors direct and conduct instrumental or vocal performances by musical groups, such as orchestras or choirs.
---
---
---

Interested in becoming a Music Director? Find the right schools that can help you to become one. This service is free thanks to our sponsors.
---
---
---
Improve Your
Test Score
Studying for a standardized test for your college admissions?
Improve your test scores on SAT, ACT, GRE, and GMAT.
Read more
---
---
---
Average salary
$59790 per year
Average hourly wage
$29 per hour
---
Music Directors with little to no experience tend to make between $21640 and $30950 while the more experienced ones can earn over $69770 per year.
| Top 5 paying states | Hourly | Annual |
| --- | --- | --- |
| MN | $43 | $88,570 |
| CT | $37 | $77,550 |
| DC | $37 | $77,220 |
| AL | $36 | $75,050 |
| GA | $35 | $73,470 |
One of the easiest ways to increase your salary as a Music Director is to move to a higher paying state like MN. Right now, the highest paying states for Music Directors are MN, CT, DC, AL and GA.
However a higher pay at MN doesn't guarantee that you will make more because the living expenses at MN might be twice as high than where you are currently at now.
Three other factors that can increase your salary as a Music Director is the degree you hold, the industry you work in and lastly the company you work for.
---
---
Recommended degree level
Bachelor's Degree
We asked other Music Directors what degree they had when they got the job and most of them said they had a PhD followed by a Bachelor's Degree.
Other than that, we also asked them what did they major in and here are the most popular majors that came up.
Religious/Sacred Music
Musical Theatre
Music Performance, General
Music Theory and Composition
Musicology and Ethnomusicology
---
---
---
Here are some of the pros and cons of being a Music Director.
PROS
Suitable for people who likes to work with designs
Suitable for people who values achievements and are results-oriented
Good salary (earns more than 50% compared to other careers)
Demand for this career is growing
CONS
Not suitable for people who likes to follow routines
It is hard to get into this career. A considerable amount of work-related skill, knowledge, or experience is required for this career.
---
---
---
Is this job meaningful
88%
---
80% of Music Directors said they were satisfied with their job and 88% said they feel like their job is making other people's lives better.
---
---
Best personality for this career
The Artists and The Entrepreneurs
---
You can read more about these career personality types here.
People who are suitable for this job tends to like working with forms, designs and patterns. They often require self-expression and the work can be done without following a clear set of rules..
They also like starting up and carrying out projects. They like leading people and making many decisions. Sometimes they require risk taking and often deal with business.
---
---
Start your journey to be
a Music Director
Get the best college for Music Directors
---
---
Discover the best colleges for your $$$
---
---
Find colleges have the highest earning grads
---
---
Yes, I'm sure
---
---
Set and Exhibit Designers

design special exhibits and movie, television, and theater sets. May study scripts, confer with directors, and conduct research to determine appropriate architectural styles.

Salary

$61020

Instrumental Musicians

play one or more musical instruments in recital, in accompaniment, or as members of an orchestra, band, or other musical group.

Salary

$

Radio Operators

receive and transmit communications using radiotelephone equipment in accordance with government regulations. May repair equipment.

Salary

$44710

Reporters

collect and analyze facts about newsworthy events by interview, investigation, or observation. Report and write stories for newspaper, news magazine, radio, or television.

Salary

$55530

Sound Engineering Technicians

operate machines and equipment to record, synchronize, mix, or reproduce music, voices, or sound effects in sporting arenas, theater productions, recording studios, or movie and video productions.

Salary

$63500
---
Learn more about Music Directors
Find a college with the major you want

---
Related career information
Music Directors job description, Music Directors salary, Music Directors information, what is the job of a Music Director like, pros and cons about Music Directors, colleges and universities for Music Directors, is Music Directors the right career for me, careers in Art, Entertainment and Sports
Similar careers
Artistic Director, Band Director, Band Leader, Band Master, Chancel Choir Director, Children's Choir Director, Choir Director, Choir Leader, Choir Teacher, Choirmaster
Additional resources