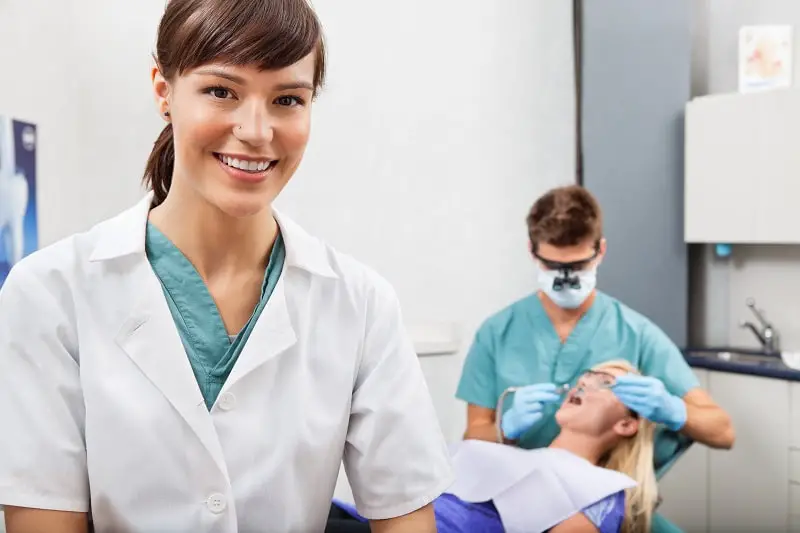 Dental Assistants
assist dentist, set up equipment, prepare patient for treatment, and keep records.
---
Dental Assistants
Salary, Job Description, How To Become One, and More
---
In this career summary, you will find out what the job of a Dental Assistant is about and what it is like.
After reading this, you will have a good idea on what the job is about and decide if this is the right career for you.
---
---
Dental Assistants assist dentist, set up equipment, prepare patient for treatment, and keep records.
---
---
---

Interested in becoming a Dental Assistant? Find the right schools that can help you to become one. This service is free thanks to our sponsors.
---
---
---
Improve Your
Test Score
Studying for a standardized test for your college admissions?
Improve your test scores on SAT, ACT, GRE, and GMAT.
Read more
---
---
---
Average salary
$39770 per year
Average hourly wage
$19 per hour
---
Dental Assistants with little to no experience tend to make between $26940 and $32200 while the more experienced ones can earn over $47070 per year.
| Top 5 paying states | Hourly | Annual |
| --- | --- | --- |
| MN | $24 | $49,880 |
| DC | $24 | $49,220 |
| NH | $23 | $48,760 |
| AK | $23 | $47,330 |
| ND | $22 | $46,640 |
One of the easiest ways to increase your salary as a Dental Assistant is to move to a higher paying state like MN. Right now, the highest paying states for Dental Assistants are MN, DC, NH, AK and ND.
However a higher pay at MN doesn't guarantee that you will make more because the living expenses at MN might be twice as high than where you are currently at now.
Three other factors that can increase your salary as a Dental Assistant is the degree you hold, the industry you work in and lastly the company you work for.
---
---
Recommended degree level
Post-Secondary Certificate
We asked other Dental Assistants what degree they had when they got the job and most of them said they had a Post-Secondary Certificate followed by an Associate's Degree.
Other than that, we also asked them what did they major in and here are the most popular majors that came up.
Dental Assisting/Assistant
---
---
---
Here are some of the pros and cons of being a Dental Assistant.
PROS
Suitable for people who likes to follow routines
Suitable for people who values relationships between co-workers and customers and wants to work in a friendly non-competitive environment
This career is perfect for people who love to work indoors.
It is not too difficult to get into this career. Previous work-related skill, knowledge, or experience is required for this career.
Short working hours (Less than 40 hours per week)
CONS
Not suitable for people who likes to work with designs
One of the lowest paying jobs
---
---
---
Is this job meaningful
73%
---
74% of Dental Assistants said they were satisfied with their job and 73% said they feel like their job is making other people's lives better.
---
---
Best personality for this career
The Organizers and The Builders
---
You can read more about these career personality types here.
People who are suitable for this job tends to like following set procedures and routines. They like working with data and details more than with ideas..
They also like work activities that include practical, hands-on problems and solutions. They like working with plants, animals, and real-world materials like wood, tools, and machinery.
---
---
Start your journey to be
a Dental Assistant
Get the best college for Dental Assistants
---
---
Discover the best colleges for your $$$
---
---
Find colleges have the highest earning grads
---
---
Yes, I'm sure
---
---
Ophthalmic Technologists

assist ophthalmologists by performing ophthalmic clinical functions and ophthalmic photography. Provide instruction and supervision to other ophthalmic personnel. Assist with minor surgical procedures, applying aseptic techniques and preparing instruments. May perform eye exams, administer eye medications, and instruct patients in care and use of corrective lenses.

Salary

$47450

Surgical Technologists

assist in operations, under the supervision of surgeons, registered nurses, or other surgical personnel. May help set up operating room, prepare and transport patients for surgery, adjust lights and equipment, pass instruments and other supplies to surgeons and surgeon's assistants, hold retractors, cut sutures, and help count sponges, needles, supplies, and instruments.

Salary

$49040

Exercise Physiologists

assess, plan, or implement fitness programs that include exercise or physical activities such as those designed to improve cardiorespiratory function, body composition, muscular strength, muscular endurance, or flexibility.

Salary

$54760

Clinical Nurse Specialists

plan, direct, or coordinate the daily patient care activities in a clinical practice. Ensure adherence to established clinical policies, protocols, regulations, and standards.

Salary

$75510

Dentists

examine, diagnose, and treat diseases, injuries, and malformations of teeth and gums. May treat diseases of nerve, pulp, and other dental tissues affecting oral hygiene and retention of teeth. May fit dental appliances or provide preventive care.

Salary

$175840
---
Learn more about Dental Assistants
Find a college with the major you want

---
Related career information
Dental Assistants job description, Dental Assistants salary, Dental Assistants information, what is the job of a Dental Assistant like, pros and cons about Dental Assistants, colleges and universities for Dental Assistants, is Dental Assistants the right career for me, careers in Healthcare and Medical
Similar careers
Certified Dental Assistant (CDA), Certified Registered Dental Assistant, Dental Aide, Dental Assistant (DA), Dental Nurse, Dental Office Manager, Dentist Attendant, Expanded Duty Dental Assistant (EDDA), Expanded Function Dental Assistant, Oral Surgery Assistant
Additional resources