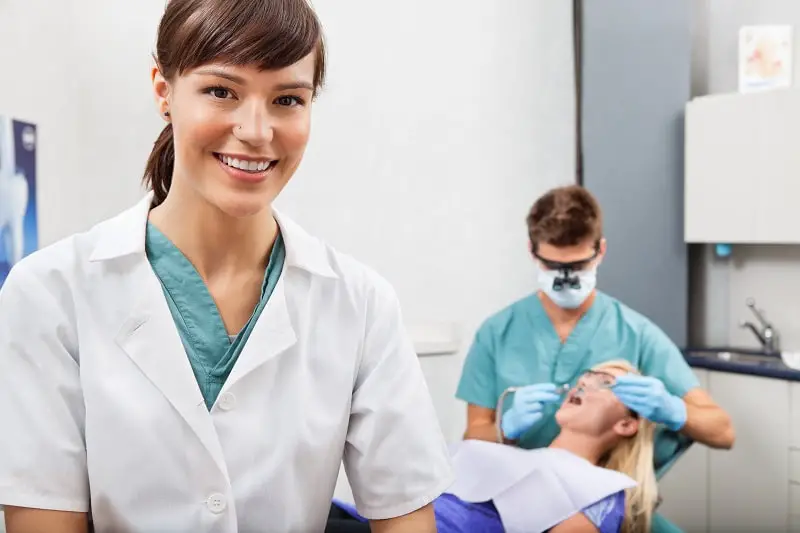 Dental Assistants
assist dentist, set up equipment, prepare patient for treatment, and keep records.
---
How To Become a Dental Assistant
How long does it take, what degree do you need and more.
---
In this requirements guide for Dental Assistants, you will find out what do you need to become a Dental Assistant, how hard is it, and what does it take to become one.
After reading this, you will be able to plan for your future if you want to be a Dental Assistant.
---
---
Recommended degree level
Post-Secondary Certificate
We did a survey to ask other Dental Assistants what degree they had when they became a Dental Assistant. Here are the results.
a Post-Secondary Certificate
---
Associate's Degree
---
High School Diploma
---
One of the most common questions that we always get is what major or degree do I need to become Dental Assistants or what courses do I need to take.
We also asked Dental Assistants what did they major in college or university and here are the top 5 most popular majors that came up.
---
There are several possible paths to becoming a dental assistant. Some states require assistants to graduate from an accredited program and pass a state exam. In other states, there are no formal educational requirements. High school students interested in a career as a dental assistant should take courses in biology, chemistry, and anatomy. Some states require assistants to graduate from an accredited program and pass a state exam.
---
---

Interested in becoming ? Find the right schools that can help you to become one. You will need some of your details to get you matched with the right college or university. This service is free thanks to our sponsors.
Questions to ask the university or college:
How many students are in the program?
Is your program accredited?
How many faculty members do you have? Do they hold the right credentials?
What is your job placement rate?
Does your school hold career fairs or other on-campus events with employers? How many employers typically attend?
How many of your students have at least one internship by graduation?
---
---
---
Improve Your
Test Score
Studying for a standardized test for your college admissions?
Improve your test scores on SAT, ACT, GRE, and GMAT.
Read more
---
---
---
You may need some previous work-related skill, knowledge or experience to be a Dental Assistant. For example, an electrician must complete three or four years of apprenticeship or several years of vocational training, and often must have passed a licensing exam, in order to perform the job.
Careers in this difficulty category will usually need 1 or 2 years of on-the-job training and informal training with experienced workers. These careers usually involve using communication and organizational skills to coordinate, supervise, manage, or train others to accomplish goals. Similar careers include hydroelectric production managers, travel agents, electricians, court reporters, and medical assistants.
---
Related work experience required
6 months to 1 year
6 months to 1 year
---
1 to 2 years
---
None
---
Job training
3 to 6 months
3 to 6 months
---
Up to 1 month
---
6 months to 1 year
---
---
---
License and certifications
Do you need any license or certification
Requirements vary by state
---
Some states require dental assistants to be certified; requirements vary by state. To obtain certification, dental assistants must pass the Certified Dental Assistant (CDA) exam from the Dental Assisting National Board (DANB). To take the exam, dental assistants must either have graduated from an accredited program or have a high school diploma, and complete the required amount of on-the-job training. Applicants must also have current certification in CPR (cardiopulmonary resuscitation). Some states require that dental assistants be licensed or register with DANB to complete regulated tasks, such as coronal polishing, in a dentist's office; requirements vary by state. In other states, there are no formal educational requirements to become an entry-level dental assistant. Contact state boards of dentistry for specific requirements.
---
---
We asked other Dental Assistants if they could only have 5 skills, what would they be. Here is what they said.
= Hot in-demand that most employers are looking for
---
---
---
Just like any other job, you will need certain know-hows to excel at your job. Dental Assistants are generally very knowledgeable in these 5 key areas.
---
---
---
Start your journey to be
Get the best college for Dental Assistants
---
---
Discover the best colleges for your $$$
---
---
Find colleges have the highest earning grads
---
---
Yes, I'm sure
---
---
Genetic Counselors

assess individual or family risk for a variety of inherited conditions, such as genetic disorders and birth defects. Provide information to other healthcare providers or to individuals and families concerned with the risk of inherited conditions. Advise individuals and families to support informed decisionmaking and coping methods for those at risk. May help conduct research related to genetic conditions or genetic counseling.

Salary

$80860

Nuclear Medicine Technologists

prepare, administer, and measure radioactive isotopes in therapeutic, diagnostic, and tracer studies using a variety of radioisotope equipment. Prepare stock solutions of radioactive materials and calculate doses to be administered by radiologists. Subject patients to radiation. Execute blood volume, red cell survival, and fat absorption studies following standard laboratory techniques.

Salary

$78870

Urologists

diagnose, treat, and help prevent benign and malignant medical and surgical disorders of the genitourinary system and the renal glands.

Salary

$203880

Physical Therapist Aides

under close supervision of a physical therapist or physical therapy assistant, perform only delegated, selected, or routine tasks in specific situations. These duties include preparing the patient and the treatment area.

Salary

$28500

Anesthesiologist Assistants

assist anesthesiologists in the administration of anesthesia for surgical and non-surgical procedures. Monitor patient status and provide patient care during surgical treatment.

Salary

$108430
---
Learn more about Dental Assistants
Find a college with the major you want

---
Related to Dental Assistants Requirements
Dental Assistants requirements, how to become Dental Assistants, degree required to be a Dental Assistant, Dental Assistants license and certifications, majors to be a Dental Assistant, is it hard to become a Dental Assistant and how long does it take