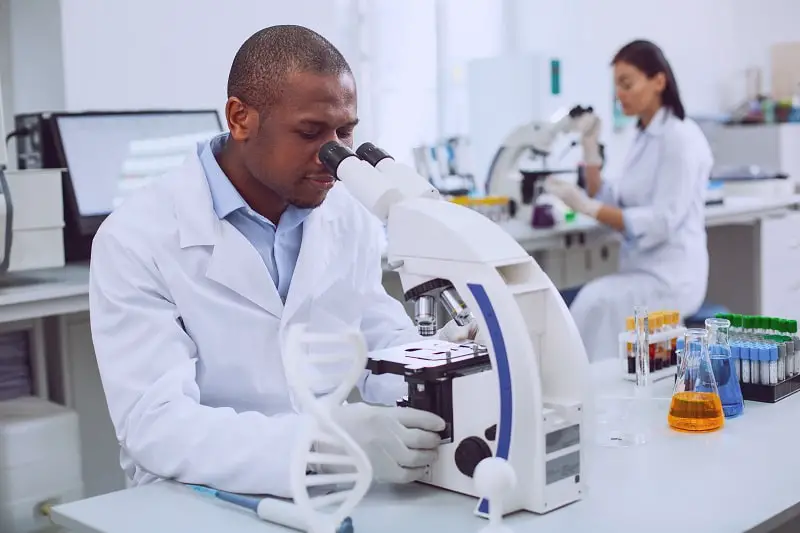 Cytogenetic Technologists
Cytogenetic Technologists analyze chromosomes or chromosome segments found in biological specimens, such as amniotic fluids, bone marrow, solid tumors, and blood to aid in the study, diagnosis, classification, or treatment of inherited or acquired genetic diseases. Conduct analyses through classical cytogenetic, fluorescent in situ hybridization (FISH) or array comparative genome hybridization (aCGH) techniques.
Education
Bachelor's degree
---
---
---
---
Cytogenetic Technologists analyze chromosomes found in biological specimens such as amniotic fluids, bone marrow, and blood to aid in the study, diagnosis, or treatment of genetic diseases.
Count numbers of chromosomes and identify the structural abnormalities by viewing culture slides through microscopes, light microscopes, or photomicroscopes.
Arrange and attach chromosomes in numbered pairs on karyotype charts, using standard genetics laboratory practices and nomenclature, to identify normal or abnormal chromosomes.
Analyze chromosomes found in biological specimens to aid diagnoses and treatments for genetic diseases such as congenital birth defects, fertility problems, and hematological disorders.
Examine chromosomes found in biological specimens to detect abnormalities.
---
Featured Schools
Average salary
$53880 per year
Average hourly wage
$26 per hour
---
Cytogenetic Technologists with little to no experience tend to make between $29910 and $38310 while the more experienced ones can earn over $66920 per year.
| Top 5 paying states | Hourly | Annual |
| --- | --- | --- |
| RI | $34 | $70,380 |
| AK | $32 | $67,280 |
| CT | $32 | $65,830 |
| NJ | $31 | $63,720 |
| OR | $31 | $63,650 |
One of the easiest ways to increase your salary as a Cytogenetic Technologist is to move to a higher paying state like RI. Right now, the highest paying states for Cytogenetic Technologists are RI, AK, CT, NJ and OR.
However, a higher pay at RI doesn't guarantee that you will make more because the living expenses at RI might be twice as high than where you are currently at now.
Three other factors that can increase your salary as a Cytogenetic Technologist is the degree you hold, the industry you work in, and lastly the company you work for.
---
Recommended degree level
Bachelor's degree
We asked other Cytogenetic Technologists what degree they had when they got the job and most of them said they had a Bachelor's Degree followed by a Post-Baccalaureate Certificate.
Other than that, we also asked them what did they major in and here are the most popular majors that came up.
Cytotechnology/Cytotechnologist
Clinical Laboratory Science/Medical Technology/Technologist
Histologic Technology/Histotechnologist
Cytogenetics/Genetics/Clinical Genetics Technology/Technologist
Clinical/Medical Laboratory Science and Allied Professions, Other
---
Here are some of the pros and cons of being a Cytogenetic Technologist.
PROS
Suitable for people who likes to solve problems mentally
Suitable for people who values achievements and are results-oriented
This career is perfect for people who love to work indoors.
Demand for this career is growing fast
Normal working hours (40 hours per week)
CONS
Not suitable for people who likes to start and carry out projects
It is hard to get into this career. A considerable amount of work-related skill, knowledge, or experience is required for this career.
---
Is this job meaningful
82%
---
74% of Cytogenetic Technologists said they were satisfied with their job and 82% said they feel like their job is making other people's lives better.
---
Best personality for this career
The Thinkers and The Builders
You can read more about these career personality types here.
People who are suitable for this job tends to like working with ideas, and require an extensive amount of thinking. They like searching for facts and figuring out problems mentally..
They also like work activities that include practical, hands-on problems and solutions. They like working with plants, animals, and real-world materials like wood, tools, and machinery.
---
---
Learn more about Cytogenetic Technologists
Find a college with the major you want
---
Related career information
Cytogenetic Technologists job description, Cytogenetic Technologists salary, Cytogenetic Technologists information, what is the job of a Cytogenetic Technologist like, pros and cons about Cytogenetic Technologists, colleges and universities for Cytogenetic Technologists, is Cytogenetic Technologists the right career for me, careers in Healthcare and Medical
Similar careers
Clinical Cytogeneticist Scientist (CCS), Clinical Laboratory Specialist in Cytogenetics (CLSp(CG)), Cytogenetic Technician, Cytogenetic Technologist, Cytogenetics Laboratory Manager (Cytogenetics Lab Manager), Cytologist, Genetic Technologist, Head of Cytogenetics, Lead Cytogenetic Technologist, Lead Technologist in Cytogenetics
Additional resources
---