Salary, Job Description, How To Become One, and Quiz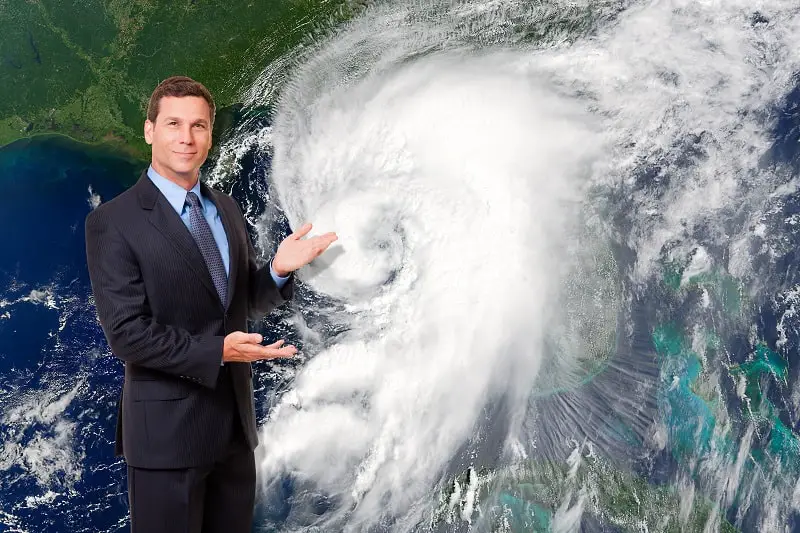 Broadcast Meteorologists
Broadcast Meteorologists present the weather forecast to the public through television, radio, and Internet stations. They often use computer-generated weather maps to illustrate weather patterns and discuss the chance of snow, rain, or severe weather.
Education
Bachelor's degree
---
---
If you enjoy the weather and public speaking, you may want to explore a career as a Broadcast Meteorologist. Weathermen and women are the ones responsible for letting the public know when to bundle up for colder weather or wake up early to clear snow from the driveway.
Working as a Broadcast Meteorologist can be a rewarding career with the potential for national exposure. However, not everyone is cut out for this job. It can be a demanding career and requires a strong level of commitment and self-motivation.
What they do
Broadcast Meteorologists present the weather forecast to the public through television, radio, and Internet stations. They often use computer-generated weather maps to illustrate weather patterns and discuss the chance of snow, rain, or severe weather.
Present the Weather Forecast on Air
One of the main responsibilities of a Broadcast Meteorologist is presenting the weather forecast on live television. Many local news programs broadcast the weather forecast every 10 to 15 minutes. You may appear on screen multiple times throughout the day or afternoon, depending on your shift.
When presenting the weather forecast, Broadcast Meteorologists typically stand in front of a green screen or a large LCD television. The use of LCD TVs to display weather maps has started to replace the use of green screens, which allowed editors to add a weather map behind the weather person.
Broadcast Meteorologists often present the forecast at set intervals throughout a news program. However, they may also need to remain on-call to deal with urgent weather events, such as the development of a severe storm or tornado in the viewing area.
Most of the reporting is completed from inside the studio. However, junior Broadcast Meteorologists may occasionally need to report from outdoor locations to give viewers a clearer view of the current weather conditions.
Review Weather Data and Patterns
Before presenting the forecast, Broadcast Meteorologists need to predict the weather. This involves reviewing weather data and patterns.
Broadcast Meteorologists have a variety of tools available for reviewing weather trends. They use maps, instruments, and modeling software to analyze the weather in a specific geographic area. The data is often entered into a computer program that helps evaluate the weather patterns for more accurate forecasts.
Broadcast Meteorologists review weather data each day before deciding how to present the forecast in a way that people can easily understand.
Predict Future Climate Trends and Forecasts
Along with presenting the current weather forecast, Broadcast Meteorologists need to predict future climate trends. They often try to predict the forecast for the coming weeks.
Broadcast Meteorologists may monitor weather patterns that are days away from affecting their local geographical area. By reviewing future climate trends, Broadcast Meteorologists are better prepared to predict the upcoming forecast.
Work with a Team of Meteorologists
Broadcast Meteorologists rarely work alone. They are often part of a team of Meteorologists that includes both on-air and off-air talent. The team may include several interns or entry-level Meteorologists who analyze weather patterns and assist with predicting the weather, along with senior Broadcast Meteorologists who provide on-air forecasts.
The team of Meteorologists works together to develop the weather predictions for the coming days or weeks. The Broadcast Meteorologist then condenses this information for the on-air presentation.
Before presenting the weather forecast on-air, the Broadcast Meteorologist and the rest of the team may also develop graphics and computer simulations. Graphics and simulations help the Meteorologist explain the forecast during the on-air presentation.
Explain Meteorology to Students
Many Broadcast Meteorologists participate in local outreach efforts coordinated with school districts. They may visit schools and explain their jobs to students. This often involves props, slideshows, or video presentations. Broadcast Meteorologists act as ambassadors for the local TV station while encouraging students to explore careers in science.
What is the job like
Pros
You Get to Help People Plan Their Days
People often rely on weather forecasts to plan when to perform yard work, go for a jog, and perform other outdoor activities.
You May Get Recognized
If you work on-air, you may start to get recognized out in public, which is often an exciting experience when it first occurs.
You May Gain National Exposure
Many Broadcast Meteorologists remain at local TV stations throughout their careers, but there is always the opportunity for a career on a national TV network or major news outlet.
You Get to Collaborate with Other Meteorologists
Broadcast Meteorologists often work as part of a team, allowing you to rely on others for advice.
Cons
People May Blame You When the Weather Is Bad
Residents tend to blame the weather person for bad weather or inaccurate weather forecasts.
Getting Time Off Is Not Always Easy
When working at a small TV station or radio station, you typically have a set schedule and may need to request time off months in advance.
Where they work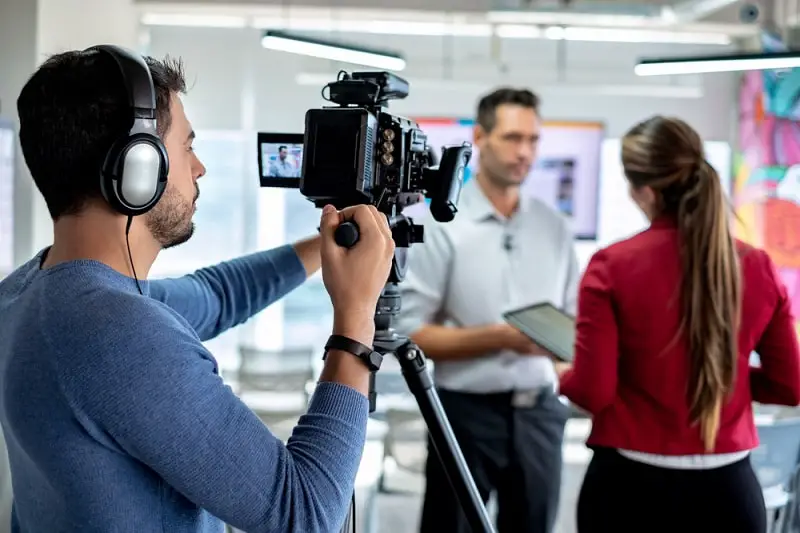 Television stations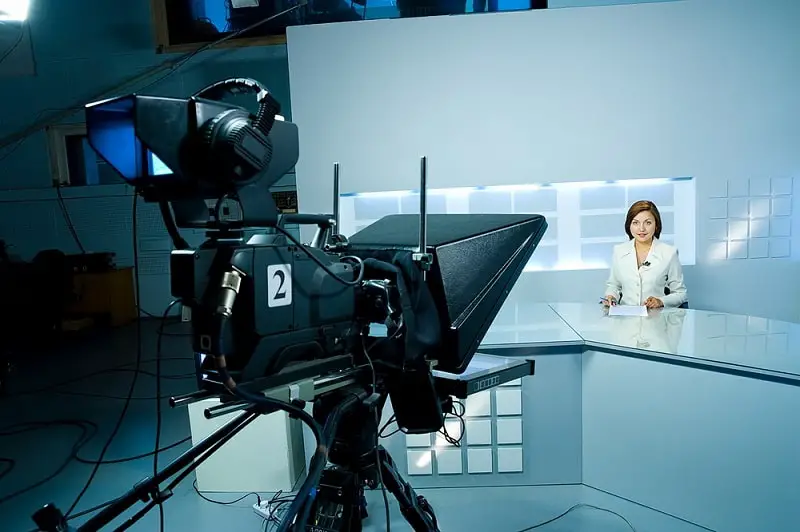 National media organizations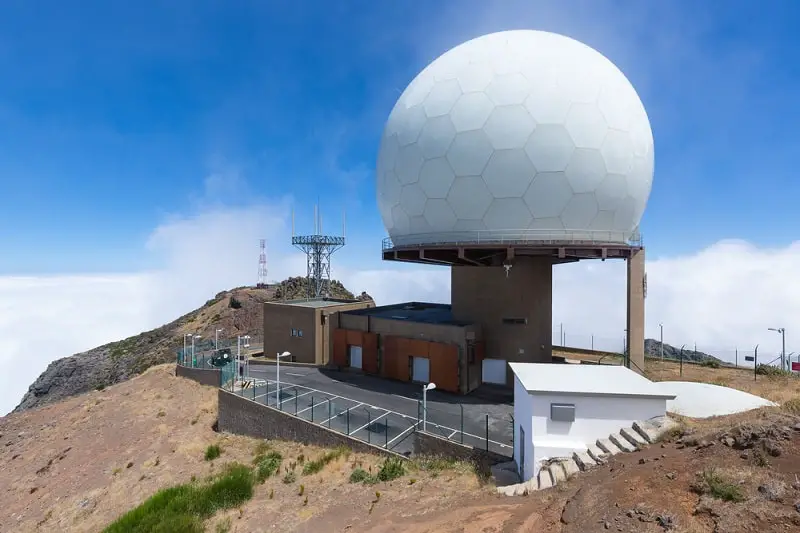 Satellite weather outlets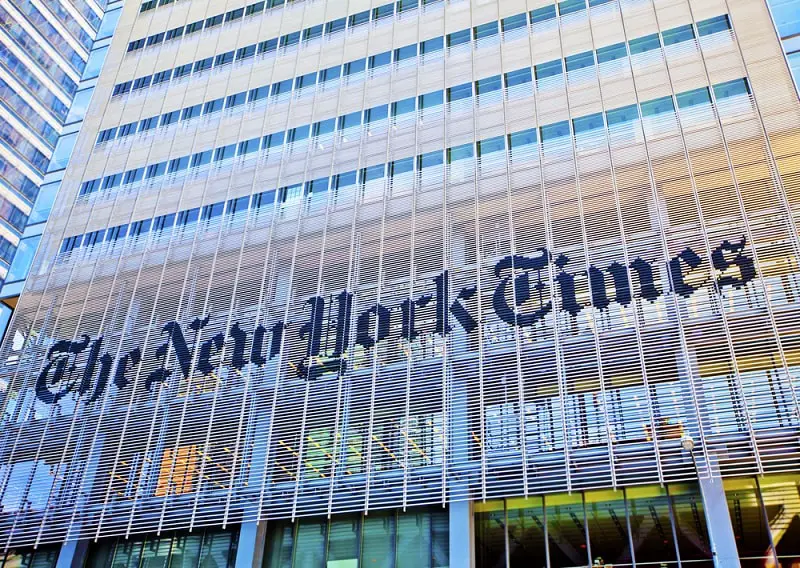 Online news outlets
---
---
Broadcast Meteorologists typically work for local TV stations. Experienced Broadcast Meteorologists may eventually work for national media organizations, television network morning shows, cable or satellite weather outlets, and radio stations. An increasing number of Broadcast Meteorologists also work for online news outlets.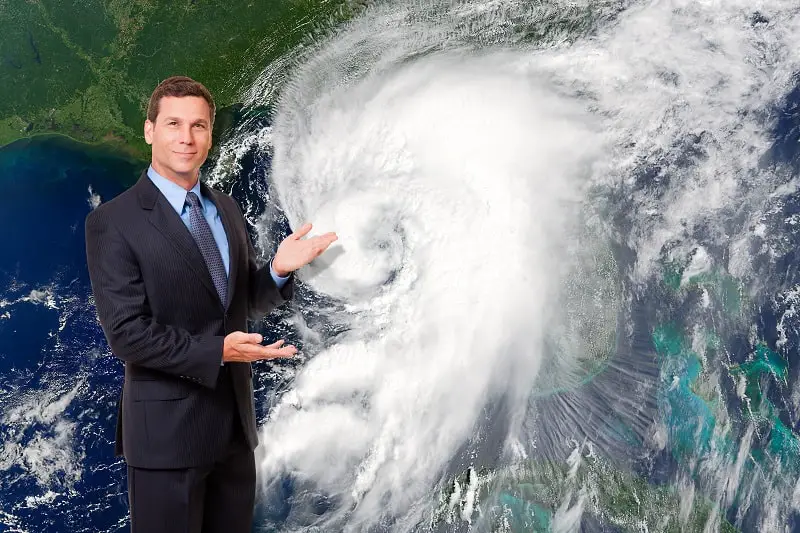 How to become one
Step 1: Study Science and Math in High School
Aspiring Broadcast Meteorologists should study science and math topics in high school. Physics, trigonometry, and chemistry are important subjects for this career.
Step 2: Earn a Bachelor's Degree
Most Broadcast Meteorologists earn a Bachelor's degree in Atmospheric Sciences or Meteorology. Students should also take courses in public speaking, speech, journalism, and communications.
Step 3: Look for Work in a Small Market
After graduating college, Broadcast Meteorologists typically start their careers at local radio stations or TV stations in smaller markets. Apply for positions at stations outside of major cities.
Step 4: Earn a Certified Broadcast Meteorologist (CBM) Designation
Some TV stations and radio stations only hire candidates who have earned the CBM designation from the American Meteorology Society (AMS).
Step 5: Excel at Your Job to Find New Opportunities
Broadcast Meteorologists who are successful in a small market may find it easier to gain employment in larger markets.
Should you become one
Best personality type for this career
You can read more about these career personality types here.
Broadcast Meteorologists require strong communication skills to ensure that their knowledge and weather predictions are effectively understood by the public. Working as a Broadcast Meteorologist also requires interpersonal skills, due to the need to collaborate with Producers and additional on-air talent. Broadcast Meteorologists are also typically passionate about science and weather. Problem-solving skills, mathematical abilities, and computer literacy are also essential traits for analyzing weather data and predicting the forecast.
Take this quiz to see if this is the right career for you.
---
Don't know which career to pursue?
Take the career quiz to find careers that match your personality type.
Take The Career Quiz