How Long Does It Take, What Degree Do You Need, and More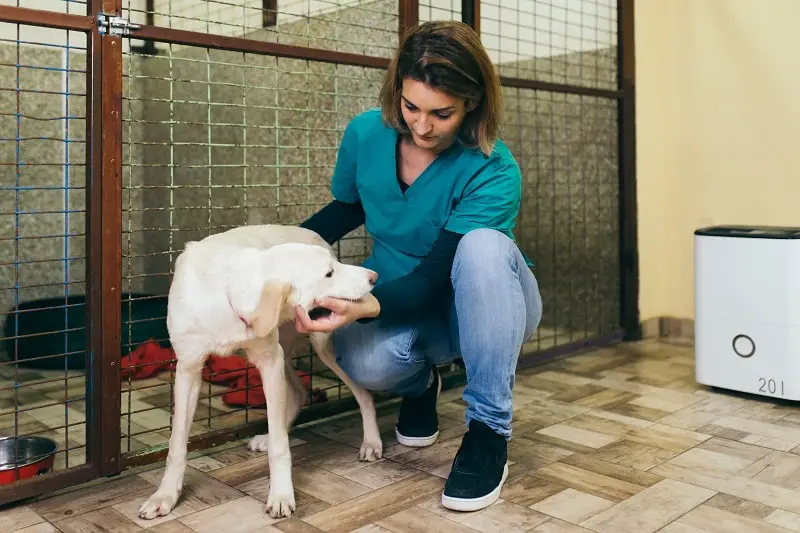 Animal Control Workers handle animals for the purpose of investigations of mistreatment, or control of abandoned, dangerous, or unattended animals.
Education
No degree required
---
---
---
---
Table of contents
---
Summary
| | |
| --- | --- |
| Degree | No degree required |
| Duration to become one | 1 to 4 years |
| Difficulty to become one | Easy |
Animal Control Workers typically need a high school diploma to enter this field but may need a Bachelor's degree for advancement. Animal Science and Veterinary Science are the most common majors for this field.
Animal Control Workers often obtain voluntary certifications through the National Animal Control Association (NACA).
---
Featured Schools
Animal Control Workers Requirements
Step 1: Volunteer at an Animal Shelter
High school students who are interested in becoming Animal Control Workers should consider volunteering at an animal shelter, clinic, or hospital. Due to the responsibilities of this job, aspiring Animal Control Workers should feel comfortable working with animals.
Try to find volunteer or work opportunities that provide interaction with a variety of animal species. Along with dogs and cats, Animal Control Workers may occasionally handle wildlife, such as birds, raccoons, and possums.
Aspiring Animal Control Workers who plan on going to college should also complete high school courses in biology, chemistry, and physics. Science courses are a major part of the college curriculum, requiring students to have a good understanding of these topics. 
Step 2: Earn a Bachelor's Degree
Earning a Bachelor's degree is typically an optional step for Animal Control Workers. While most employers accept candidates with a high school diploma, senior positions may require a Bachelor's degree.
About 24.7% of Animal Control Officers hold a Bachelor's degree. Common Bachelor's degrees for Animal Control Workers include Animal Science and Veterinary Science.
A Bachelor's degree program in Animal Science or Veterinary Science provides students with skills and knowledge related to animal management, nutrition, behavior, and physiology.
Students also typically complete internships at zoos, veterinary clinics, and animal hospitals. The hands-on experience and education provided by a college degree may lead to greater career opportunities for Animal Control Workers.
Step 3: Obtain the Required Training
Aspiring Animal Control Workers should review the training requirements for their local area. Training may be required by the state government, local government, or private employer.
For example, in the state of Michigan, Animal Control Workers need to complete 100 hours of training. Many other states have similar requirements. However, states may offer exceptions for Police Officers and individuals who have previously worked in this field.
Some jobs provide on-the-job training while others require potential employees to complete an accredited program through a third party. Animal Control courses are typically available through vocational schools, community colleges, and animal control associations.
This job occasionally requires Animal Control Workers to use nets, tranquilizer darts, nooses, and other equipment to capture uncontrolled animals. Due to the physical demands and responsibilities, some state or local animal control associations require candidates to receive firearms training or CPR training. You may also need to pass a physical exam.
Step 4: Look for Entry Level Jobs
After meeting the training requirements for your region, start looking for job opportunities. Local governments are the biggest employers of Animal Control Workers. Many cities and townships have local animal control agencies. 
Social advocacy organizations are the second-highest employer of Animal Control Workers. This includes nonprofit animal welfare services and shelters.
Some states also operate animal control agencies. For example, a state police department may have a dedicated animal control division. However, state government jobs account for less than 1% of all Animal Control jobs.
When entering this field, Animal Control Workers are typically paired with experienced workers to receive additional on-the-job training. You may work under direct supervision for several months before gradually receiving more responsibilities.
Step 5: Obtain Voluntary Certifications
Voluntary certifications are available for Animal Control Workers who want to advance their careers. The National Animal Control Association (NACA) is the leading certifying body in this field. Many managerial positions career the Animal Control Officer (ACO) certifications from the NACA.
There are two ACO certifications. Animal Control Workers must first complete the ACO Basic Course, which is an online course. The course typically takes 40 hours to complete. After passing a proctored exam, students receive the Basic Animal Control Officer certification.
After successfully completing the second NACA course, students receive the National Animal Control Officer certification. The second course is also available online and takes about 20 hours to complete.
Step 6: Pursue Continuing Education Opportunities
The NACA requires Animal Control Officers to complete Continue Education Units (CEUs) to maintain their certifications. To stay certified, members need to complete 10 CEUs per year.
Members are also required to recertify every three years. When recertifying, members must submit proof that they completed the 30 CEU requirements.
One CEU is equal to 60 minutes of an organized learning activity. Approved sources of CEUs include NACA conferences, classroom training, webinars, and online training.
What degree do most Animal Control Workers have
High School Diploma
We did a survey to ask other Animal Control Workers what degree they had when they first became one. Here are the results.
High School Diploma
---
Post-secondary certificate
---
Associate's degree
---
How long does it take
1 to 4 years
Some employers may hire entry-level Animal Control Workers with a high school diploma or equivalent and provide on-the-job training. However, some Animal Control Workers earn Bachelor's degrees, which often takes four years.
---
Learn more about Animal Control Workers
Find a college with the major you want
---
---