Plumbers assemble, install, or repair pipes, fittings, or fixtures of heating, water, or drainage systems, according to specifications or plumbing codes.
Assemble pipe sections, tubing, or fittings, using couplings, clamps, screws, bolts, cement, plastic solvent, caulking, or soldering, brazing, or welding equipment.
Install pipe assemblies, fittings, valves, appliances such as dishwashers or water heaters, or fixtures such as sinks or toilets, using hand or power tools.
Keep records of work assignments.
Fill pipes or plumbing fixtures with water or air and observe pressure gauges to detect and locate leaks.
---
Featured Schools
Average salary
$58150 per year
Average hourly wage
$28 per hour
---
Plumbers with little to no experience tend to make between $32100 and $40250 while the more experienced ones can earn over $71140 per year.
| Top 5 paying states | Hourly | Annual |
| --- | --- | --- |
| IL | $38 | $79,400 |
| AK | $36 | $75,520 |
| MN | $36 | $74,220 |
| NY | $35 | $73,820 |
| HI | $35 | $73,810 |
One of the easiest ways to increase your salary as a Plumber is to move to a higher paying state like IL. Right now, the highest paying states for Plumbers are IL, AK, MN, NY and HI.
However, a higher pay at IL doesn't guarantee that you will make more because the living expenses at IL might be twice as high than where you are currently at now.
Three other factors that can increase your salary as a Plumber is the degree you hold, the industry you work in, and lastly the company you work for.
---
Recommended degree level
Post-secondary certificate
We asked other Plumbers what degree they had when they got the job and most of them said they had a Post-Secondary Certificate followed by a High School Diploma.
Other than that, we also asked them what did they major in and here are the most popular majors that came up.
Pipefitting/Pipefitter and Sprinkler Fitter
Plumbing Technology/Plumber
Plumbing and Related Water Supply Services, Other
---
Here are some of the pros and cons of being a Plumber.
PROS
Suitable for people who likes practical and hands-on work
Suitable for people who values relationships between co-workers and customers and wants to work in a friendly non-competitive environment
This career is perfect for people who love to work outdoors.
It is not too difficult to get into this career. Previous work-related skill, knowledge, or experience is required for this career.
Normal working hours (40 hours per week)
CONS
Not suitable for people who likes to help and teach others
---
Is this job meaningful
63%
---
62% of Plumbers said they were satisfied with their job and 63% said they feel like their job is making other people's lives better.
---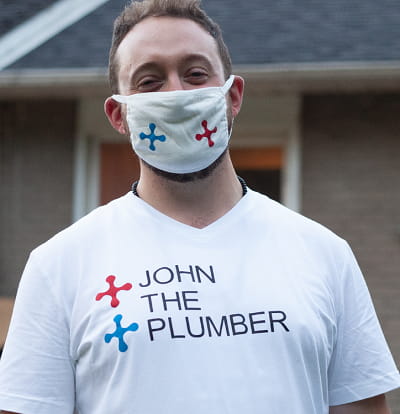 Jake Romano
John The Plumber
My name is Jake and I'm a manager at a service plumbing company called John The Plumber. We do service plumbing, not new builds. I'm not sure if this fits your requirements, but I'll answer nonetheless. My typical day I'll describe what it's like for residential service plumbers. The work day begins at 8AM. But … Read More
---
---
Best personality for this career
The Builders and The Organizers
You can read more about these career personality types here.
People who are suitable for this job tends to like work activities that include practical, hands-on problems and solutions. They like working with plants, animals, and real-world materials like wood, tools, and machinery..
They also like following set procedures and routines. They like working with data and details more than with ideas.
---
---
Find a college with the major you want
---
Related career information
Plumbers job description, Plumbers salary, Plumbers information, what is the job of a Plumber like, pros and cons about Plumbers, colleges and universities for Plumbers, is Plumbers the right career for me, careers in Construction and Extraction
Similar careers
Commercial Plumber, Drain Cleaner, Plumber, Drain Technician, Fire Control System Installer, Green Plumber, Heating Unit Installer, Hot Water Heater Installer, Journeyman Plumber, Maintenance Plumber, Master Plumber
Additional resources
---