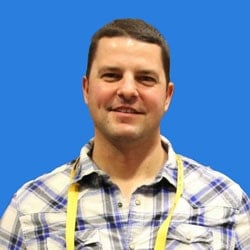 ---
As a general manager, you wear many hats. I am involved in purchasing, sales, inventory, and accounts receivable/payable. Therefore, I use math on a daily basis. Most of the math used is basic addition, subtraction, multiplication, and division. However, I do use fractions and percentages too. I also use more geometry than I ever thought I would.
The four basic math operations (addition, subtraction, multiplication, and division) are used every day in scenarios such as figuring material lists up for each crew, ordering and restocking inventory, taking deposits for new jobs, and figuring out balances for completed jobs. Percentages come in handing when figuring out profit margins for each project and for paying my sales team that who earn a commission based on the overall project amount. From time to time, geometry is used to figure out lengths of some fence lines that might not be specified on drawings or prints.
As just described above, a good math background will come in handy. Another skillset I would recommend is the ability to read and understand blueprints and site plans. My high school offered mechanical drafting and architecture classes. I really believe these classes have helped me in my career. Being able to understand prints drawn to scale, and pull measurements from them is crucial in the construction world. Know how to read and use a measuring tape. I know it sounds simple, but you would be surprised how many people cannot read a measuring tape. No matter what type of construction field you may enter, a measuring tape is always used.