Manhattan Prep GMAT Review
Rating: 4.8
There is something simultaneously exhilarating and scary about applying to graduate school. On one hand, you have a clear path forward to expand your career options. On the other, you have to take yet another standardized test. But for applicants to management or MBA programs, the GMAT is an inevitable part of the process. Fortunately, Manhattan Prep GMAT Review gives you a way to prepare for one of the most important tests in your academic career. (No pressure, though)
There are two things that set the Manhattan Prep GMAT Review apart from its competitors. First, the Connect app allows you to do GMAT review from your phone or mobile device. No more setting aside chunks of time at your laptop or desktop. Connect allows you to prep on the go in the "in-between" pockets of time you have throughout the day. Second, Manhattan Prep offers an adaptive learning process called Interact that zeroes in where you need a little more instruction and moves on from the topics you already know.
Reviewed by Jennifer H.
---
---
Who should buy this course
| | |
| --- | --- |
| | Six full-length practice tests. |
| | The available Math Basics course walks you through everything you forgot about math. |
| | Tailored content adapts with correct (or incorrect) answers. |
| | You don't know where to start in your preparation process. |
| | Test prep on-the-go is a priority. |
Who shouldn't buy this course
| | |
| --- | --- |
| | There is an expiration on test prep materials that don't allow you to prep for more than 6-9 months. |
| | The price tag includes a lot of unique features, but it is a hefty one. |
| | While comprehensive, this course is not for someone who only has a few weeks before they take the GMAT. |
---
---
---
What we like
Basic Math Review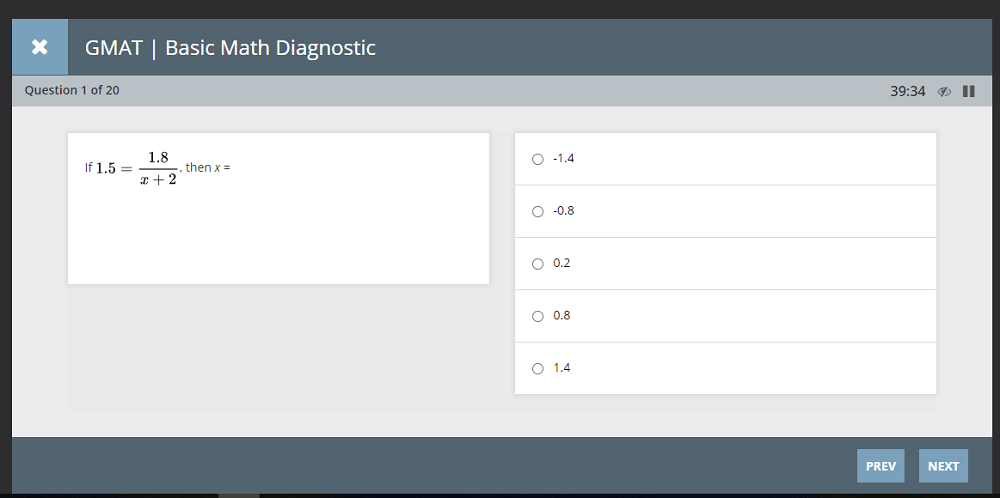 Arguably, one of the most feared sections of the GMAT is the quantitative (math) section. Whether you are just finishing your undergraduate degree or it has been a while since you sat in a math class, you likely need a refresher on quantitative reasoning. Manhattan PREP has you covered with their Basic Math Review. Adaptive and user-friendly, the Basic Math Review offers you instruction for every incorrect answer.
It also allows you to bypass further review on certain concepts, giving you a customized math review geared toward the areas where you feel the weakest.
Adaptive Instruction with Interact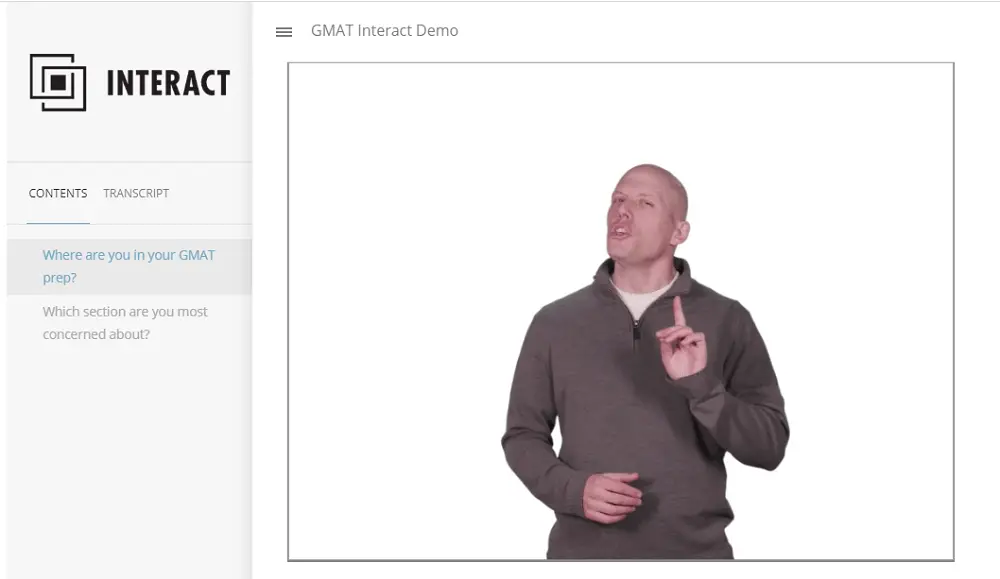 Once upon a time, the gold standard in test prep was the in-person class.
The Interact Model offers you all of the advantages of live, in-person tutoring in an on-demand format you can take anywhere. Designed to adapt to your prep needs, Interact asks questions based on your current understanding. Get the question right and you get to move on. Get it wrong and a window explaining the concept in more depth opens.
GMAT instructors who scored in the 99th percentile on the test explain the concept, the question, what the right answer is, and a testing strategy that will help you the next time you are asked a similar question. This highly adaptive method of review allows you to make the best use of your review time.
The Connect App
One of the biggest frustrations with test prep is the fact that you have to be chained to your laptop or desktop to make any progress. After classes or work, who wants to spend more time at the computer? That's why Manhattan Prep introduced the Connect app.
All of the best test prep features are featured on your smartphone or another mobile device, making it an ideal way to get ready for the GMAT.
Have 15 minutes on the train? You can answer the review questions.
Traveling for work? No need to break out the computer, just use your phone to take a practice test or review lessons.
The Connect app alone will help you stick to your test preparation schedule in the pockets of time throughout your day.
Plenty of Full-Length Practice Tests
The best way to be ready for the marathon of test day is to experience the marathon of test day. Not only does Manhattan Prep use a full-length test as a baseline for your preparation schedule, but it also offers 6 other full-length tests you can take at other points in your study process. These tests use the same interface, time length, and break procedures you will find on test day, but without the pressure of the testing environment.
Best of all, if you are planning on testing with accommodations, particularly with time accommodations, you can simulate that testing environment as well.
A Practice GMAT Whiteboard
Oh, the GMAT whiteboard. In an effort to eliminate paper waste and reduce the likelihood of cheating, GMAT no longer allows scratch paper in the GMAT. For those of us "of a certain age" the idea of losing the ability to use pencil and paper to figure out math problems or outline the analytical writing section is daunting. Fortunately, Manhattan Prep offers the same digital whiteboard you will see on test day.
Be warned: the digital whiteboard takes some getting used to. However, having a similar interface on which to practice will make test day much easier.
---
What we didn't like
The Pricetag
There is plenty of value associated with the Manhattan Prep GMAT review, but it does come with a hefty price tag. There are less expensive prep programs out there such as Magoosh that are better suited for quick reviews before your test. However, none of them come with access to the Connect app and the whiteboard.
There is a time limit
There are many people who like to spend as much time as possible reviewing for a standardized test. While some prep programs offer lifetime access to their materials, Manhattan Prep GMAT review is only good for 6 months. 30 and 45-day extensions are available, but if you are looking for a product you can use for a year or longer before you test, this is not the one for you.
---
How much does it cost
Interact GMAT Course
Perfect for the tester on the go, the Interact GMAT course is a comprehensive self-directed study tool.
Price: $549
Includes: More than 35 on-demand video lessons, 6 full-length practice tests, all books and online resources, and access to the Connect app.
Who should get this: This course is perfect for the self-directed learner who doesn't have time to invest in live or online classes. It is also ideal for the test taker who may need to squeeze their review into pockets of time.
Live GMAT Course
Ideal for anyone who needs some external accountability to stay on target for test day.
Price: $1399
Includes: All of the same tools as the Interact GMAT Course with 27 hours of live instruction, online or in-person classes, books, and online resources.
Who should get this: Ideal for anyone who has 2-3 months before the test, who has the time to invest in an intensive review. The added benefit of external accountability for completing practice tests, lessons, and assignments may push reluctant reviewers to spend the time they need on studying.
Private Tutoring
Need one-on-one instruction to get ready for the big day? This one's for you.
Price: $2450 for 10 hours of one-on-one instruction
Includes: Online or in-person individualized instruction tailored to your skill level and testing ability.
Who should get this: If you are looking to be tutored by instructors who scored in the 99th percentile on the GMAT, this is the option for you. Not only do you benefit from individualized instruction, but you also get to hear directly from the experts about what you can expect from the test.
GMAT Boot Camp
An intensive review process perfect for the last-minute test taker.
Price: $2699
Includes: 35 hours of comprehensive, accelerated, online or in-person instruction over the course of 2-3 weeks.
Who should get this: If you are hitting crunch time before the test, or if you decided last minute to take the GMAT, this option is perfect for you. The Boot Camp combines the best of book, online, and in-person instruction into an intense 2-3 week course that will help you get the score you want.
---
Rating criteria
| Criteria | Rating | What we think |
| --- | --- | --- |
| Usability | 5 | No other test prep product offers the features in a digital app that Manhattan Prep does. Having an on-the-go method to prepare for your test means more test prep prior to test day. |
| Instructors | 5 | See my previous comment about engaging instructors and sock puppets. |
| Practice exams | 4.5 | I can't think of a situation where you would want to take more than 6 full-length practice tests. But if you do, Manhattan Prep will cut you off at 6. |
| Video instructions | 5 | A lot of other prep programs out there have quality video instruction, but it lacks production value. Manhattan Prep not only takes the time to produce beautiful videos, but the instructors are also incredibly engaging. (You may even see a sock puppet or two.) |
| Practice questions | 4 | There are plenty of practice tests, but the majority of the practice questions are within the Interact interface. If you want to just run through a list of practice questions, that option is not immediately available. |
---
FAQ
Do they offer private tutoring?
Yes, there is a private tutoring option available from $255 per hour (2 hours minimum).
Is the course mobile-friendly?
Yes, their course is mobile-friendly and can be accessed from your desktop, laptop, tablet, and phone.
---
Conclusion
Manhattan Prep has really thought of everyone when they designed their GMAT review. From the busy student or professional who needs to review from their smartphone or device to the last-minute test-taker who needs an intensive three-week review, there is a product that fits every person's needs, timeline, and schedule.
Go to Manhattan Prep now
Free trial available
One of the highest rated GMAT prep course
Taught by the top 1% instructors
6 full-length practice tests
Free trial available
Start free trial
---
---