Magoosh GMAT Review
Rating: 4.6
I tend to have stress dreams about computer-adaptive testing. Usually, they involve sitting down at a computer, answering 3 questions, and suddenly having the test end with a score that hovers in the 100-200 range. Knowing the GMAT is a computer-adaptive test and my entire future rides on its results, means these stress dreams are a nearly nightly occurrence. That is why I decided to devote serious time and energy to test prep. Enter Magoosh.
Founded in 2009 by four UC Berkley students, Magoosh's biggest aim is to make test prep less tedious and more productive. With free integrated apps for any smart device and a 100% virtual test prep process, it turns traditional prep programs on their ear by offering two self-study products and one guided-study product for those who require a little more accountability and instruction. Within the self-study options, you can choose to review the math and integrated reasoning (IR) sections alone or elect the Premium review which includes math, IR, verbal, and the analytic writing assessment. All plans come with a full year of access as well as a score improvement guarantee if you have already taken the GMAT once and didn't get the score you wanted.
Since I have been out of school for a while, but didn't feel the need for additional tutoring, I opted for the Premium review.
Reviewed by Jennifer H.
---
---
Who should buy this course
| | |
| --- | --- |
| | You already have a basic knowledge of the material you will be tested on |
| | You are committed to test prep process |
| | You have already taken the GMAT once and didn't like your score |
| | You are short on prep time |
| | You have test anxiety |
Who shouldn't buy this course
| | |
| --- | --- |
| | You don't know what material you need to review |
| | You are not comfortable with online learning |
---
---
---
What we like
Magoosh offers a Score Guarantee
Like most test prep courses, Magoosh offers a 50+ point score improvement guarantee and it is by far one of the highest. Most other test prep courses only offer a 1+ point increase guarantee.
Once you sign up for Magoosh, simply send in your previous score and get to work. If you watch all the lesson videos, complete all the practice questions, and watch the video explanations for the questions you answer incorrectly and still don't improve your score by at least 50 points, Magoosh will give you your money back. Activating that guarantee takes a lot of work, but if you're committed to improving your score, it could pay off one way or another.
Video Explanations
The Magoosh practice questions are often accompanied by a video explanation, text explanation, and related lessons that can help solidify your skills. The video explanations after practice questions are by far the best part of the entire product. These short videos (usually less than 5 minutes) go into detail about why a particular answer is right.
All Lesson Videos are Captioned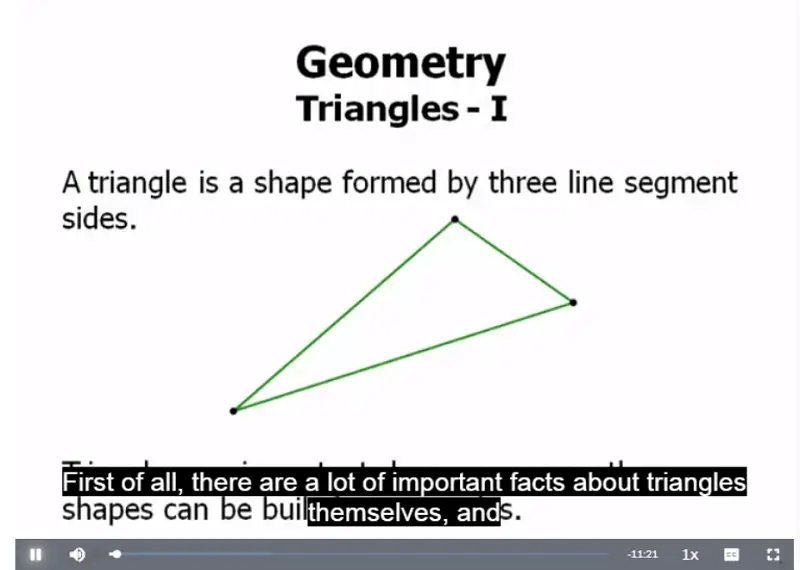 Not only is this feature helpful when you are not in a place to listen to the audio, but it also enables those who are deaf and hard of hearing to participate in test review.
Study Schedules Based on Your Timeline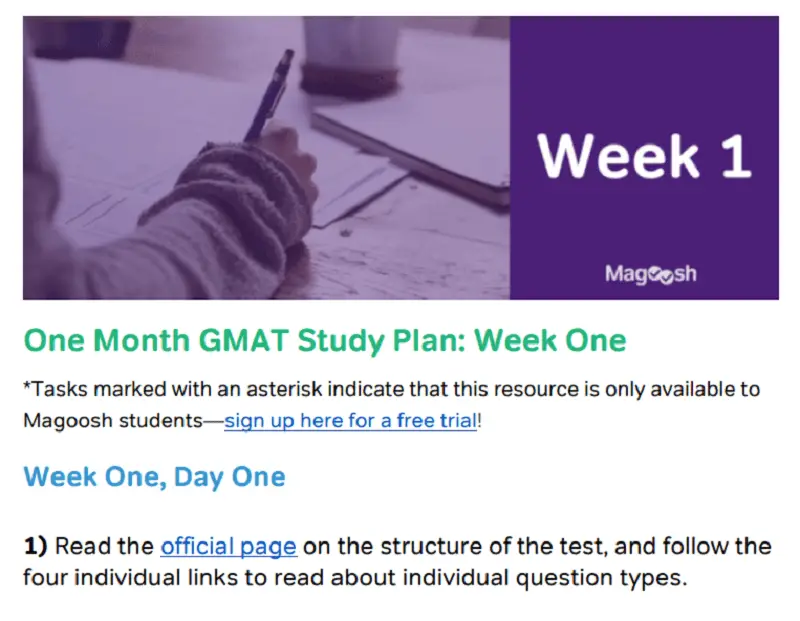 Reverse engineering a study schedule based on your testing date is necessary for success. It is also a pain. (Kudos to you if you love doing that sort of thing on a Saturday night.) Magoosh offers study plans based on 1-month, 3-month, and 6-month timelines and daily or weekly review sessions. There are also plans for beginner test takers or those who are taking the test for a second time.
An Accurate Score Predictor
Taking more than 200,000 test-takers into account, Magoosh can accurately predict your score based on how well you do on the program's practice questions. Not only does this score predictor help you prepare for test day, but it can also help you focus your review on areas that will boost your score. You may find (like I did) that your verbal score is just fine but it's your math score that needs a little help. Instead of spending hours going through lessons on the verbal section, you can focus your limited review time on the math and IR sections. And vice versa.
Practice With the Online Whiteboard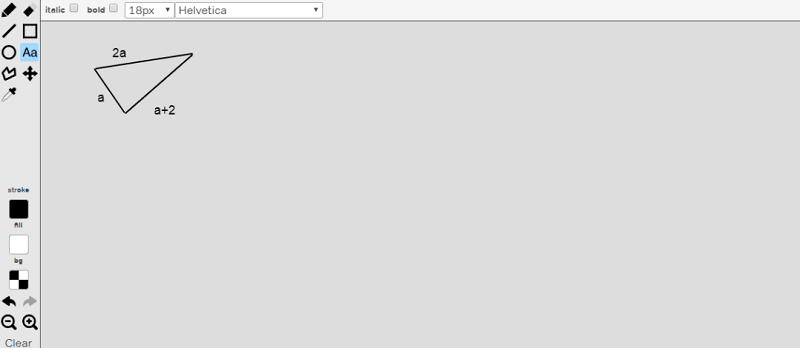 Yes, it's true you can no longer use scratch paper to figure out equations on the GMAT. Instead, you must use an online whiteboard for all of your calculations. Let's be honest, it takes some getting used to. For those of us who were raised on paper and pencil calculations, this is probably the biggest challenge the GMAT offers. Fortunately, Magoosh offers the same whiteboard technology you will encounter on test day.
Lessons, Lessons, Lessons
If the question explanations are the best part of the entire product, the lessons are a close second. These informative, self-contained mini-review sessions let you learn a little more about a particular section of the test. From a video on the GMAT vs the GRE to Fundamentals of Data Sufficiency, there are over 300 lessons available at the touch of a button.
The GMAT Prep Practice App
One of the biggest downfalls of test prep software is the fact that you have to be on your laptop or desktop to get anything done. Magoosh has taken away all excuses with its robust prep app, included in your plan. The app lets you access all of the same test questions, video explanations, and lesson videos you would on the web version. It also gives you access to your study schedules, tutor help, and helpful tips and tricks to make test day a breeze.
---
What we didn't like
The Production Value is Terrible
What Magoosh lacks in production value – in sound and video quality and how intuitive the website is – it makes up for in content. This is definitely a case of substance over style. Most of the videos sound like they were filmed with a laptop webcam, but the information is solid.
You Need a Lot of Self-Direction
Whether you opt for the Premium plan or the Tutoring + Premium, you are pretty much left to your own devices to study for the GMAT. This is great if you are a self-starter who doesn't need a lot of external accountability to get things done. It's terrible if you need someone checking in on you. Yes, the tutoring option allows you to set up online tutoring sessions with a GMAT instructor, but it doesn't offer the same direction an in-person prep course has.
---
How much does it cost
Math + IR
Looking for a math-only review that allows you to pick and choose what you study? This option is for you.
Price: $219
Includes: You get 1 year of access to 175 video lessons and more than 720 test questions that mirror the math and IR sections of the GMAT. You also have access to the infamous online whiteboard as well as study schedules that guide you through your review. There is also a +3 math score guarantee. If you complete the entire math course and still don't improve your score, you get your money back.
Who should get this: This is the perfect solution for those who have taken the GMAT before and only want to increase their math score. However, this option does not include full-length practice tests or a score predictor. If you have not yet taken the GMAT, or if you are not an English major, the Premium program is the better option.
Premium
Magoosh's flagship test prep product is the Premium GMAT review. For good reason.
Price: $249
Includes: 1-year access to more than 3,000 practice questions and 340 lesson videos including full-length practice tests. The Premium program also includes online whiteboard access, email assistance, and score predictor as well as the +50 score guarantee. If you complete the entire review and don't increase your score by at least 50 points, you get a full refund.
Who should get this: If you haven't taken the GMAT before, or if you took the test and want to improve both your math and verbal scores, this is the option for you. Just be aware that successful completion will require a lot of self-direction. While the schedules offer a guideline for how you can get through the program in the time you have, you will need to do the work.
Tutoring + Premium
For those who feel the need for a little more instruction, there is an option that combines tutoring and premium content.
Price: $799
Includes: In addition to all of the Premium content, the Tutoring + Premium plan also includes 6 hours of tutoring in 1-on-1 chat sessions. No group instruction, no wasted time in class. Just your questions answered with a qualified instructor. Best of all, these chat sessions are flexible, based on your schedule, and can start within a week of signing up.
Who should get this: This option is perfect for anyone who knows they will need a little more instruction than videos can offer. If you normally struggle in math or if English is your second language, this is a fantastic option to give you the help you need to get the score you want.
---
Rating criteria
| Criteria | Rating | What we think |
| --- | --- | --- |
| Value for money | 5 | It seems like the test prep world offers either quality instruction or quality question banks, but you will have to pay through the nose to get both. Magoosh has figured out a way to give you both at a price that won't break the bank. Even the tutoring option is considerably less than what you would spend for equivalent access at another test prep company. |
| Support | 4 | Email assistance is available on all three plans, meaning you are never alone if you are really stuck. But, the real value is in the content of the instructional videos throughout the course. These short nuggets of truth are the real gold mine. |
| Practice exams | 4 | Magoosh recommends taking 2 full-length practice tests before taking the actual GMAT, but they have more available if you need them. While they closely mirror what you find on test day, they are not the highlight of the program. |
| Video instructions | 4 | While the content is amazing, the production quality is almost distracting to what instructors are saying. The videos are short, but informative. Explanations offer great reasoning behind why an answer is right. The lessons offer a great review. But you are going to have to ignore the early 2000's sound quality. |
| Practice questions | 5 | With more than 1,300 practice questions, you would be hard-pressed to get through all of them and still have gaps in your knowledge. The way these questions are asked also perfectly mirrors what you will find on the GMAT. |
---
FAQ
How close are the questions to actual GMAT questions?
Very close. Magoosh's instructors have been teaching the GMAT for many years and know what the GMAT tests is like.
Do I have to pay a monthly fee?
No, you only pay once and you have access to the course for 1 year.
Is this course for me?
Based on my experience, Magoosh GMAT course is suited to these three types of individuals:
Self-learners: Those who prefer to study on their own time and at their own pace.
Individuals looking for more practice: Those who want additional practice after having completed the Official GMAT practice questions.
Video-lovers: Those who learns best through video instead of reading.
Busy professionals: Those who do not have much time and have other commitments such as work, marriage, etc.
---
Conclusion
Magoosh's GMAT prep is perfect for the self-directed learner who just needs to review a few things before test day. What is lacks in production value, it more than makes up for in high-quality test questions, full-length tests, and instructional content that will get you from now to the score you need.
Go to Magoosh now
20% OFF
Code
MAGOOSH20SALE
Best value for money GMAT course
Over 1300 practice questions
Over 340 video lessons
One full year of access
Claim discount
---
---