How Long Does It Take, What Degree Do You Need, and More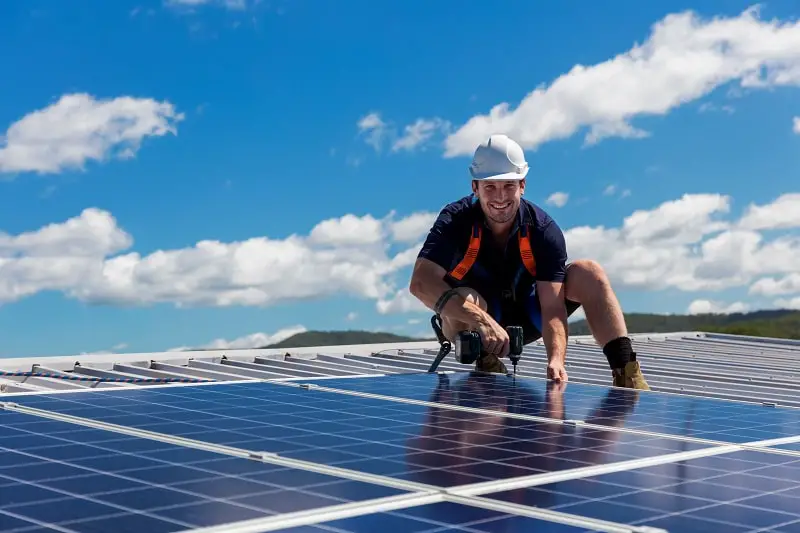 Solar PV Installers assemble, install, or maintain solar photovoltaic (PV) systems on roofs or other structures in compliance with site assessment and schematics. May include measuring, cutting, assembling, and bolting structural framing and solar modules. May perform minor electrical work such as current checks.
Education
No degree required
---
---
---
---
Recommended degree level
High School Diploma
We did a survey to ask other Solar Photovoltaic Installers what degree they had when they became a Solar Photovoltaic Installer. Here are the results.
High School Diploma
---
Associate's Degree
---
a Post-Secondary Certificate
---
One of the most common questions that we always get is what major or degree do I need to become Solar PV Installers or what courses do I need to take.
We also asked Solar PV Installers what did they major in college or university and here are the top 5 most popular majors that came up.
Solar Energy Technology
Roofer
Most solar photovoltaic (PV) installers receive training at a technical school or community college. Most PV installers take courses at local community colleges and trade schools to learn about solar panel installation. Courses range from basic safety and PV knowledge to system design.
---
You may need some previous work-related skill, knowledge or experience to be a Solar Photovoltaic Installer. For example, a bank teller would benefit from experience working directly with the public.
Careers in this difficulty category need anywhere from a few months to one year of on-the-job training.
---
Related work experience required
6 months to 1 year
6 months to 1 year
---
None
---
1 to 2 years
---
Job training
Up to 1 month
Up to 1 month
---
3 to 6 months
---
6 months to 1 year
---
---
License and certifications
Do you need any license or certification
Recommended but not required
Although not mandatory, Solar Photovoltaic Installers may obtain certification from the North American Board of Certified Energy Practitioners. Certification can demonstrate professionalism and basic PV knowledge to employers.
---
We asked other Solar PV Installers if they could only have 5 skills, what would they be. Here is what they said.
= Hot in-demand that most employers are looking for
---
Just like any other job, you will need certain know-hows to excel at your job. Solar PV Installers are generally very knowledgeable in these 5 key areas.
---
---
Learn more about Solar PV Installers
---
Related to Solar Photovoltaic Installers Requirements
Solar Photovoltaic Installers requirements, how to become Solar PV Installers, degree required to be a Solar Photovoltaic Installer, Solar Photovoltaic Installers license and certifications, majors to be a Solar Photovoltaic Installer, is it hard to become a Solar Photovoltaic Installer and how long does it take
---