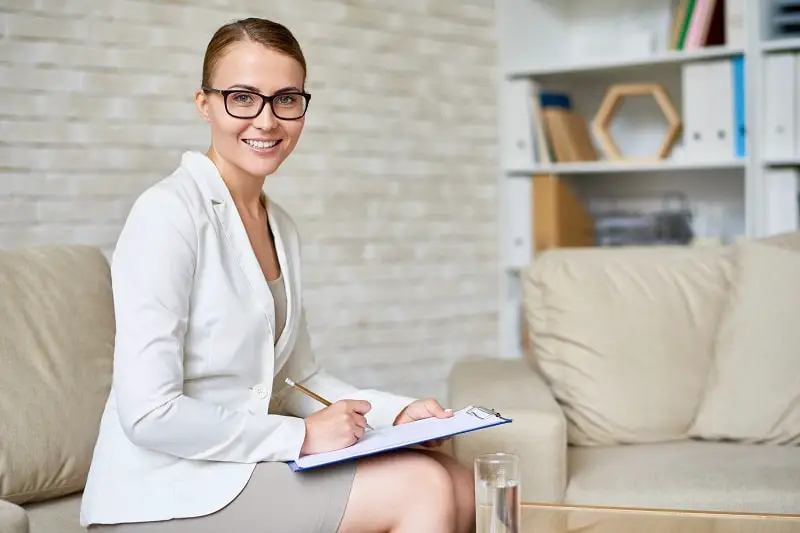 Psychiatrists
diagnose, treat, and help prevent disorders of the mind.
---
How To Become a Psychiatrist
How long does it take, what degree do you need and more.
---
In this requirements guide for Psychiatrists, you will find out what do you need to become a Psychiatrist, how hard is it, and what does it take to become one.
After reading this, you will be able to plan for your future if you want to be a Psychiatrist.
---
---
Recommended degree level
Post-Doctoral Training
We did a survey to ask other Psychiatrists what degree they had when they became a Psychiatrist. Here are the results.
Post-Doctoral Training
---
PhD
---
Master's Degree
---
One of the most common questions that we always get is what major or degree do I need to become Psychiatrists or what courses do I need to take.
We also asked Psychiatrists what did they major in college or university and here are the top 5 most popular majors that came up.
Psychiatry Residency Program
Addiction Psychiatry Residency Program
Child and Adolescent Psychiatry Residency Program
Forensic Psychiatry Residency Program
Geriatric Psychiatry Residency Program
---
Psychiatrists have demanding education and training requirements. Almost all Psychiatrists complete at least 4 years of undergraduate school, 4 years of medical school, and, depending on their specialty, 3 to 8 years in internship and residency programs. Most applicants to medical school have at least a bachelor's degree, and many have advanced degrees. Although no specific major is required, all students must complete undergraduate work in biology, chemistry, physics, mathematics, and English.
---
---

Interested in becoming ? Find the right schools that can help you to become one. You will need some of your details to get you matched with the right college or university. This service is free thanks to our sponsors.
Questions to ask the university or college:
How many students are in the program?
Is your program accredited?
How many faculty members do you have? Do they hold the right credentials?
What is your job placement rate?
Does your school hold career fairs or other on-campus events with employers? How many employers typically attend?
How many of your students have at least one internship by graduation?
---
---
---
You will need an extensive amount of skill, knowledge and experience to be a Psychiatrist. Many require more than five years of experience. For example, a surgeon must complete four years of college and an additional five to seven years of specialized medical training to be able to do their job.
Careers in this difficulty category may need some on-the-job-training, but most of these careers assume that the person will already have the required skills, knowledge, and work-related experience and training. These careers usually involve coordinating, training, supervising, or managing the activities of others to accomplish goals. Very advanced communication and organizational skills are required. Similar careers include pharmacists, lawyers, astronomers, biologists, neurologists, and veterinarians.
---
Related work experience required
4 to 6 years
4 to 6 years
---
6 to 8 years
---
1 to 2 years
---
Job training
Up to 1 month
Up to 1 month
---
None
---
1 to 3 months
---
---
---
License and certifications
Do you need any license or certification
Required
---
All states require Psychiatrists to be licensed; requirements vary by state. To qualify for a license, candidates must graduate from an accredited medical school, complete residency training in their specialty, and pass written and practical exams. All Psychiatrists must pass a standardized national licensure examination. M.D.s take the U.S. Medical Licensing Examination (USMLE). D.O.s take the Comprehensive Osteopathic Medical Licensing Examination (COMLEX-USA). For specific state information about licensing, contact your state's medical board.
---
---
We asked other Psychiatrists if they could only have 5 skills, what would they be. Here is what they said.
= Hot in-demand that most employers are looking for
---
---
---
Just like any other job, you will need certain know-hows to excel at your job. Psychiatrists are generally very knowledgeable in these 5 key areas.
---
---
---
Start your journey to be
Get the best college for Psychiatrists
---
---
Discover the best colleges for your $$$
---
---
Find colleges have the highest earning grads
---
---
Yes, I'm sure
---
---
Occupational Therapy Assistants

assist occupational therapists in providing occupational therapy treatments and procedures. May, in accordance with State laws, assist in development of treatment plans, carry out routine functions, direct activity programs, and document the progress of treatments. Generally requires formal training.

Salary

$60410

Endoscopy Technicians

maintain a sterile field to provide support for physicians and nurses during endoscopy procedures. Prepare and maintain instruments and equipment. May obtain specimens.

Salary

$39110

Massage Therapists

perform therapeutic massages of soft tissues and joints. May assist in the assessment of range of motion and muscle strength, or propose client therapy plans.

Salary

$45880

Pharmacy Technicians

prepare medications under the direction of a pharmacist. May measure, mix, count out, label, and record amounts and dosages of medications according to prescription orders.

Salary

$34020

Occupational Therapists

assess, plan, organize, and participate in rehabilitative programs that help build or restore vocational, homemaking, and daily living skills, as well as general independence, to persons with disabilities or developmental delays.

Salary

$85350
---
Learn more about Psychiatrists
Find a college with the major you want

---
Related to Psychiatrists Requirements
Psychiatrists requirements, how to become Psychiatrists, degree required to be a Psychiatrist, Psychiatrists license and certifications, majors to be a Psychiatrist, is it hard to become a Psychiatrist and how long does it take