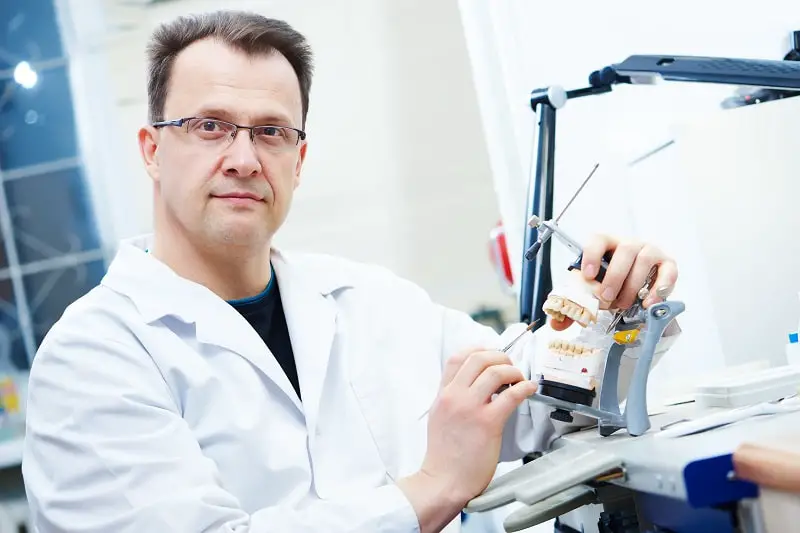 construct oral prostheses to replace missing teeth and other oral structures to correct natural and acquired deformation of mouth and jaws, to restore and maintain oral function, such as chewing and speaking, and to improve appearance.
Education:
Doctoral degree
Suitable Personality:



The Thinker
---
---
Table of contents
| | |
| --- | --- |
| Degree | Doctoral degree |
| License or certification | Prosthodontists need to earn a state license. |
| Duration to become one | 11 to 12 years |
| Difficulty to become one | Very Hard |
Prosthodontists typically require a Doctoral degree from an accredited dental school. Before enrolling in dental school, Prosthodontists often earn Bachelor's degrees in Science-related fields such as Biology or Chemistry.
Prosthodontists need to earn a state license and complete a three-year residency program.
Featured Schools
Prosthodontists Requirements
Step 1: Take Science Courses in High School
Aspiring Prosthodontists should focus on science in high school. Biology, chemistry, and other science courses provide students with a head start on subjects that they will explore in more detail during college.
Step 2: Earn a Bachelor's Degree
Step 3: Pass the Dental Admission Test
Pass the dental admission test (DAT) to qualify for dental school. Students need to take the test at least one year before applying to a dental school.
The test consists of four sections covering reading comprehension, natural sciences, quantitative reasoning, and perceptual skills. The American Dental Association (ADA) is responsible for administering the test.
Step 4: Earn a Doctoral Degree
Dental schools provide four-year programs for aspiring Dentists and specialty dental fields, such as Prosthodontics. The completion of a dental program earns students a Doctor of Dental Surgery (DDS) degree or a Doctor of Dental Medicine (DDM) degree.
During the first two years of study, students take courses that cover the basics of dental sciences and procedures. The courses include instruction in a classroom setting and laboratories.
The final two years of dental school focus on clinical studies. Students begin completing clinical work in medical settings, such as dental clinics. Some dental schools may also operate their own clinics. During their clinical studies, aspiring Prosthodontists work in groups. They learn how to treat patients and diagnose dental issues under the supervision of licensed Prosthodontists.
Step 5: Obtain a License to Practice
After graduating from dental school, you may apply for a state license. The regulations vary from state to state. However, no matter the state, candidates need to pass the National Board Dental (NBD) exams.
The NBD exams include a written exam to test your general knowledge of oral health. You also need to pass a clinical exam.
Step 6: Complete a Residency Program
After passing the NBD exams, students start their residency training. Residency programs typically last three years and are offered through dental schools and dentistry departments at universities and colleges throughout the country.
During a residency program, Prosthodontists work with patients and treat moderate to complex oral health issues. Students also receive hands-on training in specialty fields such as fixed, implant, and removable prosthodontics and maxillofacial prosthetics.
Residency programs often have limited sizes with just a handful of students accepted to a program each quarter. Some students place their names on waiting lists for acceptance to the residency programs of their choice.
Step 7: Become a Board-Certified Prosthodontist
Many students entering this field choose to start the path to becoming board certified during their residency training. Becoming a board-certified Prosthodontist is not always a requirement but it can enhance your career prospects. Some private practices may also prefer to hire board-certified candidates.
Board certification requires candidates to pass four exams administered by the American Board of Prosthodontics (ABP). After passing the exams, you can use "board-certified" in your title.
Step 8: Start Looking for Work as a Prosthodontist
After completing a residency program or becoming board-certified, start looking for work in your chosen field. Prosthodontists often work at private dental practices and dental laboratories that specialize in dental restoration, including the creation of implants, veneers, and crowns.
Step 9: Continue Your Education
If you choose to become board certified, you need to continue your education to qualify for recertification every eight years. Some states may also require Prosthodontists to earn continuing education (CE) credits to maintain their state licenses.
Prosthodontists can earn CE credits from qualifying schools or training programs that are approved by the American Dental Association (ADA) and the Continuing Education Recognition Program (CERP).
What degree do most Prosthodontists have
Doctoral degree
We did a survey to ask other Prosthodontists what degree they had when they first became one. Here are the results.
Post-Doctoral Training
---
Doctoral degree
---
First Professional degree
---
How long does it take
11 to 12 years
Prosthodontists need to earn a four-year undergraduate degree, complete a four-year Doctoral program, and finish a three-year residency program.
---
Find a college with the major you want
---
---