How Long Does It Take, What Degree Do You Need, and More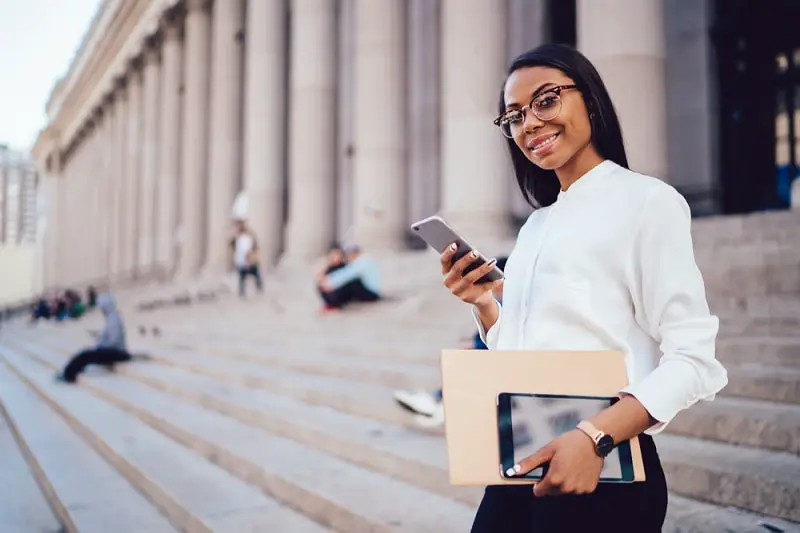 Paralegals and Legal Assistants assist lawyers by investigating facts, preparing legal documents, or researching legal precedent. Conduct research to support a legal proceeding, to formulate a defense, or to initiate legal action.
Education
Associate's degree
---
---
---
---
Table of contents
---
Summary
| | |
| --- | --- |
| Degree | Associate's degree |
| Degree field | Paralegal Studies or Criminal Justice |
| Duration to become one | Two to four years |
| Difficulty to become one | Medium |
Paralegals typically earn an Associate's degree or a Bachelor's degree before entering this field.
Most Paralegals major in Paralegal Studies or Criminal Justice. Some employers may prefer to hire applicants who have earned a voluntary Paralegal certification from a national or local Paralegal organization.
---
Featured Schools
Paralegals and Legal Assistants Requirements
Step 1: High Schoolers Can Develop Essential Skills
High school students who wish to become Paralegals should learn more about the requirements of this career, including important skills. Paralegals need to have strong communication, interpersonal, organizational, research, and computer skills.
Taking computer classes and excelling in English can help in this career. Paralegals organize and maintain documents, arrange evidence, conduct research for lawyers to review. These tasks require Paralegals to be able to research and organize information using computer software.
Step 2: Earn a Postsecondary Degree
There are no legal requirements for this career. The standards are set by law firms and attorneys. However, most employers prefer to hire candidates with at least an Associate's degree. Some law firms may also prefer a Bachelor's degree.
Employers typically want candidates who have completed a Paralegal program approved by the American Bar Association (ABA). ABA-approved Paralegal programs include two-year programs at community colleges, four-year programs at colleges and universities, and certificate programs offered through various vocational schools.
When studying for a postsecondary degree, aspiring Paralegals often major in Paralegal Studies, especially when earning an Associate's degree. When completing a Bachelor's degree program, Paralegals may major in a related field and earn a certificate in Paralegal Studies.
The American Association for Paralegal Education (AAfPE) provides recommendations for the minimum educational requirements for Paralegals. According to the AAfPE, Paralegals should earn an Associate's degree or a Bachelor's degree. If the degree is not directly related to Paralegal Studies, the AAfPE recommends the completion of a certificate program, which typically takes 18 months to complete.
For example, you may earn a Bachelor's in Criminal Justice and complete courses in Legal Research and Legal Writing. After earning your Bachelor's degree, you may complete a Paralegal certificate program.
Step 3: Gain Experience in a Law Office or Office Setting
Many law firms prefer to hire applicants who have previous experience in a law firm or an office setting. Working in the front office of a dental clinic or joining the administrative staff at a private business may provide the experience needed by a prospective employer.
You may also gain experience through an internship while completing your Paralegal education. Many certificate programs and Paralegal Studies programs provide formal internship opportunities with local law firms.
Step 4: Apply for a Job as a Paralegal
Aspiring Paralegals may begin applying for jobs after graduating with an Associate's degree or a Bachelor's degree. Law firms often train new employees on the job and may even hire applicants with no previous legal education or experience. However, the competition for Paralegal positions may vary from one region to another.
If you struggle to obtain a job in your local area, you may need to search for jobs in nearby cities and towns. Expanding your job search may result in more opportunities for those entering this field. You can also expand your job search to include positions for Legal Assistants and Legal Secretaries. These positions have lower educational and work experience requirements as Legal Assistants have fewer responsibilities compared to Paralegals.
While working as a Legal Assistant may not be your ideal career choice, it can provide the training and experience needed to find a job as a Paralegal in regions with limited employment opportunities.
Step 5: Earn a Voluntary Paralegal Certification
Licensing and certification are not required for Paralegals. However, many employers prefer candidates who have earned a voluntary certification from a national or local Paralegal organization.
The National Association of Legal Assistants (NALA) is one of the largest organizations dedicated to Paralegals and Legal Assistants. NALA offers a Certified Paralegal (CP) certification that is recognized by law firms throughout the world and the ABA.
To earn the certification, applicants must already complete a Paralegal training course or degree program. You also need to pass the CP exam, which offers a comprehensive assessment of your knowledge of federal laws and procedures. The CP certification is not a requirement but can increase your career prospects. According to NALA, Paralegals with the CP credential earn $4880 more compared to non-certified Paralegals.
The National Federation of Paralegal Associations (NFPA) also offers professional certifications for Paralegals. You can obtain the CORE Registered Paralegal (CRP) credential or the PACE Registered Paralegal (RP) credential.
The CRP credential is for new Paralegals who want to demonstrate that they meet the educational requirements for the job. The RP credential is for experienced Paralegals with several years of experience and showcases your commitment to the profession.
The Association for Legal Professionals (NALS) offers the Accredited Legal Professional (ALP) and Certified Legal Professional (CLP) credentials. These voluntary certifications may also increase your employability and help you develop useful skills by continuing your education.
Step 6: Consider Becoming an Attorney
Working closely with Lawyers and learning more about the legal profession may lead you to consider a career as a Lawyer. Many Paralegals choose to become Lawyers as they already have significant knowledge of the laws and legal procedures.
The path to becoming an Attorney depends on your existing education. If you already have a Bachelor's degree, you can take the Law School Admission Test (LSAT) and begin applying to law schools to earn your Juris Doctorate.
If you obtained an Associate's degree instead of a Bachelor's degree, look for an Associate-to-Bachelor's program in Legal Studies or Criminal Justice. Instead of taking four years, it may only take one to two years to earn your Bachelor's degree.
After obtaining the Juris Doctorate (JD) degree, you must pass the Bar Exam in your state to begin working as a lawyer.
What degree do most Paralegals and Legal Assistants have
Associate's degree
We did a survey to ask other Paralegals and Legal Assistants what degree they had when they first became one. Here are the results.
Associate's degree
---
Bachelor's degree
---
Post-secondary certificate
---
How long does it take
Two to four years
Paralegals typically earn an Associate's degree or a Bachelor's degree, which can take two to four years to complete. After graduating with a postsecondary degree, aspiring Paralegals can begin applying for jobs in this field.
---
Learn more about Paralegals and Legal Assistants
Find a college with the major you want
---
---