How Long Does It Take, What Degree Do You Need, and More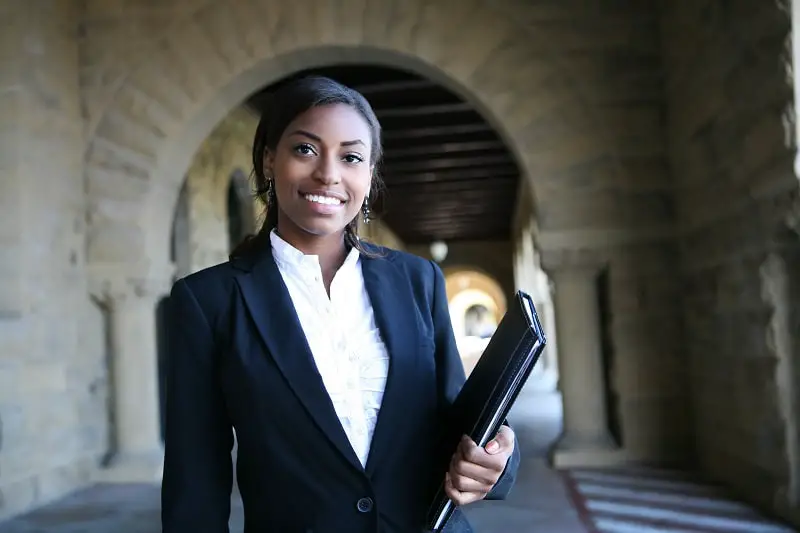 Judicial Law Clerks assist judges in court or by conducting research or preparing legal documents.
Education
Juris Doctor (J.D.) degree
---
---
---
---
Table of contents
---
Summary
Most people with this job have at least a bachelor's degree in legal studies or a related field, and in higher courts, most have attended law school, passed a bar exam, and have a license to practice law. Many begin their careers while still attending law school through internships, and then progress into higher courts after completing their studies.
---
Featured Schools
Judicial Law Clerks Requirements
Step 1: Earn a Bachelor's Degree from a Prestigious University
It is extremely rare for a judicial law clerk not to hold a bachelor's degree. Therefore, it is the first and one of the most important steps to take if a person wants to pursue this career. The best majors include legal studies, political science, philosophy, history, and economics.
While earning an undergraduate degree, it is important to focus on making oneself a good candidate for law school. Besides earning excellent grades, work on writing skills, build relationships with professors who can write recommendations, and consider interning or working over the summer in the legal field. Finally, become involved in extracurriculars such as mock trial and student government.
Step 2: Apply to Law School
Most judicial law clerks have either completed or are attending law school. While we have listed this as the second step, many people will apply to law school during their junior and senior years of college.
All top law schools require results from the LSAT (Law School Aptitude Test) exam. We highly recommend taking a preparatory course or hiring a tutor to help prepare for this test.
In addition to LSAT results, law school applications require transcripts, recommendations, and a personal statement. Law school admissions are extremely competitive; be prepared to apply to several to broaden chances of acceptance.
Law school rankings matter. Time and again, studies have shown that students who attend the best law schools obtain the best jobs and earn the highest income in their field.
Step 3: Attend Law School and Earn a JD
The next step is to attend law school, which is a huge commitment in terms of time (full-time law programs are typically three years), money, and energy. Nearly 40% of students who enter law school do not complete their course of study.
It is important not only to perform well in classes in law school, but also to make excellent connections within the field. As soon as the first year, law students begin working in firms and courts to prepare for their eventual careers. This is not different for aspiring judicial law clerks.
Step 4: Intern or Work as a Law Clerk
Beginning in the second year of law school, students are typically required to work in the field in some capacity, and many begin sooner. Anyone hoping for a career as a judicial law clerk should seek these internships and work opportunities from the outset, and then continue to work within them throughout their remainder of their time as a law student.
Step 5: Prepare for and Pass the Bar Exam
Once a person has completed law school, they hold a JD, or Juris Doctor. This does not mean that they are licensed to practice law. In order to do that, they also must pass the bar exam in their particular state or jurisdiction.
Approximately 25% of bar exams administered result in failure. Therefore, it is very important to be adequately prepared. Many hopeful lawyers spend months studying for the bar exam after completing their studies in law school.
Step 6: Work as a Judicial Law Clerk
By the time a person passes the bar exam, chances are good that they have already begun step six: working as a judicial law clerk. However, job opportunities will open in abundance once they do. Most higher courts and reputable judges will not even consider applicants who aren't "barred," and sometimes all that is available before that time is unpaid internships.
Step 7: Proceed to Higher Courts
Most judicial law clerks begin in lower courts or working for local judges or firms. It is important to work hard in these positions and maintain excellent connections in the legal and political world. The highest position that a judicial law clerk can hold is working for the Supreme Court of the United States.
What degree do most Judicial Law Clerks have
Doctoral degree
We did a survey to ask other Judicial Law Clerks what degree they had when they first became one. Here are the results.
Doctoral degree
---
First Professional degree
---
High School Diploma
---
How long does it take
4 to 7 years
Some judicial law clerks work with a bachelor's degree, but for most it takes at least seven years (four in college, three in law school) to become a judicial law clerk.
---
Learn more about Judicial Law Clerks
Find a college with the major you want
---
---