How Long Does It Take, What Degree Do You Need, and More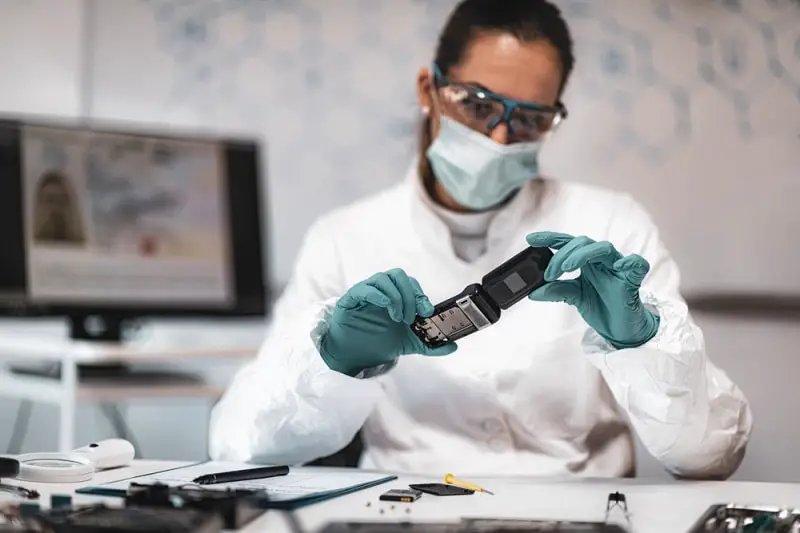 Forensic Science Technicians collect, identify, classify, and analyze physical evidence related to criminal investigations. Perform tests on weapons or substances, such as fiber, hair, and tissue to determine significance to investigation. May testify as expert witnesses on evidence or crime laboratory techniques. May serve as specialists in area of expertise, such as ballistics, fingerprinting, handwriting, or biochemistry.
Education
Bachelor's degree
---
---
---
---
Recommended degree level
Bachelor's Degree
We did a survey to ask other Forensic Science Technicians what degree they had when they became a Forensic Science Technician. Here are the results.
Bachelor's Degree
---
College Certificate
---
Associate's Degree
---
One of the most common questions that we always get is what major or degree do I need to become Forensic Science Technicians or what courses do I need to take.
We also asked Forensic Science Technicians what did they major in college or university and here are the top 5 most popular majors that came up.
Forensic Chemistry
Forensic Science and Technology
Forensic science technicians typically need at least a bachelor's degree in a natural science, such as chemistry or biology. Students who major in forensic science should ensure that their program includes extensive course work in mathematics, chemistry, and biology.
---
Featured Schools
You will need a considerable amount of work-related skill, knowledge or experience to be a Forensic Science Technician. For example, an accountant must complete 4 years of college and work for several years in accounting to be considered qualified.
Careers in this difficulty category will usually need several years of work-related experience, on-the-job training, and/or vocational training. These careers usually involve coordinating, supervising, managing, or training others. Similar careers include sales managers, database administrators, chemists, and art directors.
---
Related work experience required
2 to 4 years
2 to 4 years
---
None
---
6 months to 1 year
---
Job training
3 to 6 months
3 to 6 months
---
2 to 4 years
---
1 to 3 months
---
---
License and certifications
Do you need any license or certification
Recommended but not required
A range of licenses and certifications are available to help credential and aid in the professional development of many types of Forensic Science Technicians. Certifications and licenses are not typically necessary for entry into the occupation. Credentials can vary widely because standards and regulations vary considerably from one jurisdiction to another.
---
We asked other Forensic Science Technicians if they could only have 5 skills, what would they be. Here is what they said.
= Hot in-demand that most employers are looking for
---
Just like any other job, you will need certain know-hows to excel at your job. Forensic Science Technicians are generally very knowledgeable in these 5 key areas.
---
---
Learn more about Forensic Science Technicians
Find a college with the major you want
---
Related to Forensic Science Technicians Requirements
Forensic Science Technicians requirements, how to become Forensic Science Technicians, degree required to be a Forensic Science Technician, Forensic Science Technicians license and certifications, majors to be a Forensic Science Technician, is it hard to become a Forensic Science Technician and how long does it take
---