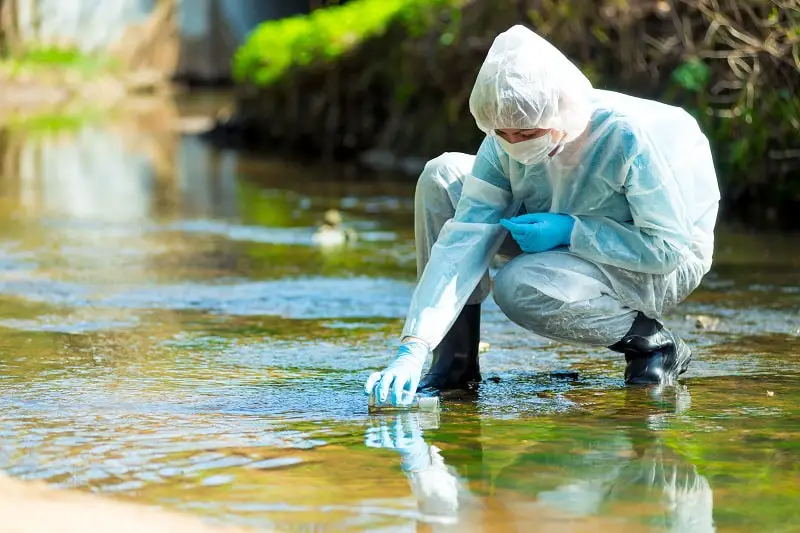 Health Environmental Scientists and Specialists
conduct research or perform investigation for the purpose of identifying, abating, or eliminating sources of pollutants or hazards that affect either the environment or the health of the population. Using knowledge of various scientific disciplines, may collect, synthesize, study, report, and recommend action based on data derived from measurements or observations of air, food, soil, water, and other sources.
---
How To Become a Health Environmental Scientist and Specialist
How long does it take, what degree do you need and more.
---
In this requirements guide for Health Environmental Scientists and Specialists, you will find out what do you need to become a Health Environmental Scientist and Specialist, how hard is it, and what does it take to become one.
After reading this, you will be able to plan for your future if you want to be a Health Environmental Scientist and Specialist.
---
---
Recommended degree level
Bachelor's Degree
We did a survey to ask other Health Environmental Scientists and Specialists what degree they had when they became a Health Environmental Scientist and Specialist. Here are the results.
Bachelor's Degree
---
Master's Degree
---
First Professional Degree
---
One of the most common questions that we always get is what major or degree do I need to become Health Environmental Scientists or what courses do I need to take.
We also asked Health Environmental Scientists what did they major in college or university and here are the top 5 most popular majors that came up.
Environmental Studies
Environmental Science
Marine Sciences
Environmental Chemistry
Environmental Health
---
For most jobs, environmental scientists and specialists need at least a bachelor's degree in a natural science or a science-related field, such as biology, chemistry, physics, geosciences, or engineering. However, a master's degree may be needed for advancement. Environmental scientists and specialists who have a doctoral degree make up a small percentage of the occupation, and this level of training is typically needed only for the relatively few postsecondary teaching and basic research positions.
---
---

Interested in becoming ? Find the right schools that can help you to become one. You will need some of your details to get you matched with the right college or university. This service is free thanks to our sponsors.
Questions to ask the university or college:
How many students are in the program?
Is your program accredited?
How many faculty members do you have? Do they hold the right credentials?
What is your job placement rate?
Does your school hold career fairs or other on-campus events with employers? How many employers typically attend?
How many of your students have at least one internship by graduation?
---
---
---
Improve Your
Test Score
Studying for a standardized test for your college admissions?
Improve your test scores on SAT, ACT, GRE, and GMAT.
Read more
---
---
---
You will need a considerable amount of work-related skill, knowledge or experience to be a Health Environmental Scientist and Specialist. For example, an accountant must complete 4 years of college and work for several years in accounting to be considered qualified.
Careers in this difficulty category will usually need several years of work-related experience, on-the-job training, and/or vocational training. These careers usually involve coordinating, supervising, managing, or training others. Similar careers include sales managers, database administrators, chemists, and art directors.
---
Related work experience required
4 to 6 years
4 to 6 years
---
None
---
1 to 2 years
---
Job training
6 months to 1 year
6 months to 1 year
---
1 to 2 years
---
3 to 6 months
---
---
---
License and certifications
Do you need any license or certification
Not required
---
No license or certification required for Environmental Scientists and Specialists (including Health)
---
---
We asked other Health Environmental Scientists if they could only have 5 skills, what would they be. Here is what they said.
= Hot in-demand that most employers are looking for
---
---
---
Just like any other job, you will need certain know-hows to excel at your job. Health Environmental Scientists are generally very knowledgeable in these 5 key areas.
---
---
---
Start your journey to be
Get the best college for Health Environmental Scientists
---
---
Discover the best colleges for your $$$
---
---
Find colleges have the highest earning grads
---
---
Yes, I'm sure
---
---
Epidemiologists

investigate and describe the determinants and distribution of disease, disability, or health outcomes. May develop the means for prevention and control.

Salary

$75690

Survey Researchers

plan, develop, or conduct surveys. May analyze and interpret the meaning of survey data, determine survey objectives, or suggest or test question wording. Includes social scientists who primarily design questionnaires or supervise survey teams.

Salary

$63240

Foresters

manage public and private forested lands for economic, recreational, and conservation purposes. May inventory the type, amount, and location of standing timber, appraise the timber's worth, negotiate the purchase, and draw up contracts for procurement. May determine how to conserve wildlife habitats, creek beds, water quality, and soil stability, and how best to comply with environmental regulations. May devise plans for planting and growing new trees, monitor trees for healthy growth, and determine optimal harvesting schedules.

Salary

$63150

Food Science Technicians

perform standardized qualitative and quantitative tests to determine physical or chemical properties of food or beverage products.

Salary

$44170

Precision Agriculture Technicians

apply geospatial technologies, including geographic information systems (GIS) and Global Positioning System (GPS), to agricultural production or management activities, such as pest scouting, site-specific pesticide application, yield mapping, or variable-rate irrigation. May use computers to develop or analyze maps or remote sensing images to compare physical topography with data on soils, fertilizer, pests, or weather.

Salary

$52940
---
Learn more about Health Environmental Scientists and Specialists
Find a college with the major you want

---
Related to Health Environmental Scientists and Specialists Requirements
Health Environmental Scientists and Specialists requirements, how to become Health Environmental Scientists, degree required to be a Health Environmental Scientist and Specialist, Health Environmental Scientists and Specialists license and certifications, majors to be a Health Environmental Scientist and Specialist, is it hard to become a Health Environmental Scientist and Specialist and how long does it take