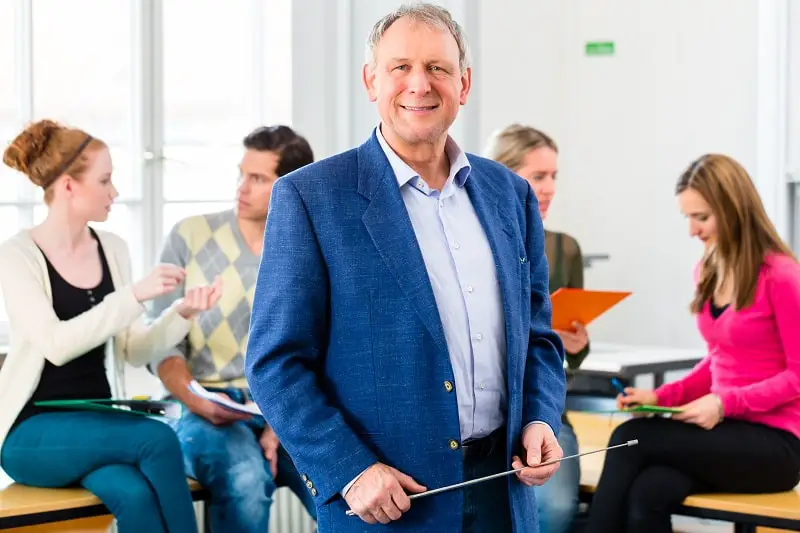 Postsecondary Education Teachers
teach courses pertaining to education, such as counseling, curriculum, guidance, instruction, teacher education, and teaching English as a second language. Includes both teachers primarily engaged in teaching and those who do a combination of teaching and research.
---
How To Become a Postsecondary Education Teacher
How long does it take, what degree do you need and more.
---
In this requirements guide for Postsecondary Education Teachers, you will find out what do you need to become a Postsecondary Education Teacher, how hard is it, and what does it take to become one.
After reading this, you will be able to plan for your future if you want to be a Postsecondary Education Teacher.
---
---
Recommended degree level
PhD
We did a survey to ask other Postsecondary Education Teachers what degree they had when they became a Postsecondary Education Teacher. Here are the results.
PhD
---
Master's Degree
---
Bachelor's Degree
---
One of the most common questions that we always get is what major or degree do I need to become Education Professors or what courses do I need to take.
We also asked Education Professors what did they major in college or university and here are the top 5 most popular majors that came up.
Education
Learning Sciences
Agricultural Teacher Education
Art Teacher Education
Business Teacher Education
---
Education Teachers, Postsecondary who work for 4-year colleges and universities are most often required to have a doctoral degree in their field. However, a master's degree may be enough for some postsecondary teachers at community colleges.
---
---

Interested in becoming ? Find the right schools that can help you to become one. You will need some of your details to get you matched with the right college or university. This service is free thanks to our sponsors.
Questions to ask the university or college:
How many students are in the program?
Is your program accredited?
How many faculty members do you have? Do they hold the right credentials?
What is your job placement rate?
Does your school hold career fairs or other on-campus events with employers? How many employers typically attend?
How many of your students have at least one internship by graduation?
---
---
---
Improve Your
Test Score
Studying for a standardized test for your college admissions?
Improve your test scores on SAT, ACT, GRE, and GMAT.
Read more
---
---
---
You will need an extensive amount of skill, knowledge and experience to be a Postsecondary Education Teacher. Many require more than five years of experience. For example, a surgeon must complete four years of college and an additional five to seven years of specialized medical training to be able to do their job.
Careers in this difficulty category may need some on-the-job-training, but most of these careers assume that the person will already have the required skills, knowledge, and work-related experience and training. These careers usually involve coordinating, training, supervising, or managing the activities of others to accomplish goals. Very advanced communication and organizational skills are required. Similar careers include pharmacists, lawyers, astronomers, biologists, neurologists, and veterinarians.
---
Related work experience required
None
None
---
4 to 6 years
---
2 to 4 years
---
None
---
Up to 1 month
---
4 to 10 years
---
---
---
License and certifications
Do you need any license or certification
Requirements vary by job tasks
---
Education Teachers, Postsecondary who prepare students for an occupation that requires a license, certification, or registration, may need to have—or they may benefit from having—the same credential. Postsecondary nursing teachers, for example, might need a nursing license. And postsecondary education teachers might need a teaching license, often referred to as teacher certification.
---
---
We asked other Education Professors if they could only have 5 skills, what would they be. Here is what they said.
= Hot in-demand that most employers are looking for
---
---
---
Just like any other job, you will need certain know-hows to excel at your job. Education Professors are generally very knowledgeable in these 5 key areas.
---
---
---
Start your journey to be
Get the best college for Education Professors
---
---
Discover the best colleges for your $$$
---
---
Find colleges have the highest earning grads
---
---
Yes, I'm sure
---
---
Adult Basic Education Instructors

teach or instruct out-of-school youths and adults in remedial education classes, preparatory classes for the General Educational Development test, literacy, or English as a Second Language. Teaching may or may not take place in a traditional educational institution.

Salary

$58110

Philosophy and Religion Professors

teach courses in philosophy, religion, and theology. Includes both teachers primarily engaged in teaching and those who do a combination of teaching and research.

Salary

$82420

Archivists

appraise, edit, and direct safekeeping of permanent records and historically valuable documents. Participate in research activities based on archival materials.

Salary

$56400

Preschool Special Education Teachers

teach preschool school subjects to educationally and physically handicapped students. Includes teachers who specialize and work with audibly and visually handicapped students and those who teach basic academic and life processes skills to the mentally impaired.

Salary

$61610

Instructional Designers

develop instructional materials and products and assist in the technology-based redesign of courses. Assist faculty in learning about, becoming proficient in, and applying instructional technology.

Salary

$67490
---
Learn more about Postsecondary Education Teachers
Find a college with the major you want

---
Related to Postsecondary Education Teachers Requirements
Postsecondary Education Teachers requirements, how to become Education Professors, degree required to be a Postsecondary Education Teacher, Postsecondary Education Teachers license and certifications, majors to be a Postsecondary Education Teacher, is it hard to become a Postsecondary Education Teacher and how long does it take