How Long Does It Take, What Degree Do You Need, and More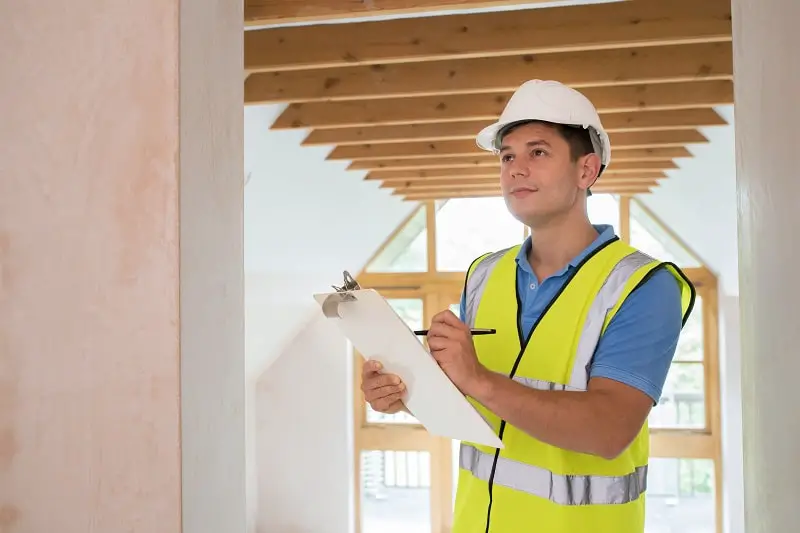 Construction and Building Inspectors inspect structures using engineering skills to determine structural soundness and compliance with specifications, building codes, and other regulations. Inspections may be general in nature or may be limited to a specific area, such as electrical systems or plumbing.
Education
Post-secondary certificate
---
---
---
---
Table of contents
---
Summary
| | |
| --- | --- |
| Degree | Building Inspectors typically require at least a high school diploma but some employers may prefer candidates who have earned an Associate's Degree or completed a Building Inspection certificate program. |
| Degree field | Suitable fields of study for Associate's Degrees include Engineering, Construction Technology, Drafting, and Building Inspection Technology. |
| License or certification | Most states require Building Inspectors to obtain a state-issued license. |
| Duration to become one | 3+ years |
| Difficulty to become one | Medium |
---
Featured Schools
Construction and Building Inspectors Requirements
Step 1: Take Relevant Electives in High School
Aspiring Building Inspectors can start developing their skills and knowledge in high school by taking helpful electives. The available electives vary at each school so some of the following options may not be available:
Electricity
Industrial arts
Drafting
Carpentry
Blueprint reading
These are also topics that students may explore in their spare time. Use online resources to learn more about blueprint reading and construction activities. You should also ensure that you have a valid driver's license before pursuing this career as Building Inspectors often need to drive to remote work sites to perform inspections.
Step 2: Earn an Associate's Degree
Earning an Associate's Degree is optional for Building Inspectors but may increase your career prospects. Some employers prefer to hire candidates with an Associate's Degree in a related field such as:
Building Inspection Technology
Building Safety and Code Administration
Construction Technology
Drafting
Engineering
Architecture
Many of these programs offer a combination of class instruction and hands-on training. You may also find internship opportunities through a college program. Internships allow you to gain work experience and may translate to a job offer after you earn your degree.
Associate's Degrees may also be necessary for those seeking work experience in related fields. Before becoming a Building Inspector, you may choose to work as an Engineer, Plumber, Electrician, or Architect to obtain experience. Many of these fields require an Associate's Degree and the completion of industry-specific training programs.
Obtaining a degree in Building Inspection Technology or Building Safety and Code Administration may allow you to seek employment as a Building Inspector with limited experience. You may even obtain employment directly after graduating.
Step 3: Complete a Building Inspection Certificate Program
As with the previous step, completing a Building Inspection certificate program may be optional. However, earning a certificate from a college or vocational school demonstrates your knowledge of building codes and construction regulations, which is more attractive to potential employers.
Relevant certificate programs include Building Inspection Technology, Concrete Construction Technology, and Electrical Inspection. Some schools also offer a certificate in Building Code Enforcement. The duration of the program varies, with most certificate programs requiring 15 to 32 credit hours of classroom learning and hands-on training.
Step 4: Gain Work Experience in the Construction Industry
Employers tend to seek Building Inspectors with several years of experience in the construction industry or a related field. Building Inspectors should be intimately familiar with the regulations and codes for residential and commercial construction projects. This knowledge typically comes from years of work experience.
Seek entry-level jobs based on your education and qualifications. For example, if you earned an Associate's Degree in Engineering, look for junior Engineering positions such as Mechanical Engineer, Field Engineer, or Test Technician.
If you did not obtain an Associate's Degree, look for jobs that place you on construction sites. Entry-level construction jobs are often listed as Entry-Level Laborer, Construction Laborer, or General Laborer.
Step 5: Obtain a State Certification for Building Inspectors
Most states require Building Inspectors to obtain a state-issued certification or professional license. The requirements for becoming licensed or certified vary by state but they typically require you to pass an exam.
The exams are often based on the certification exams maintained by the American Society of Home Inspectors. Common topics for the exams include building code administration, building planning, floor construction, public safety, and roof-ceiling construction. The exams contain multiple-choice questions and are completed online through a third-party testing organization. After passing the exam, you may receive a license or certificate in the mail.
Step 6: Apply for Building Inspector Positions
You may start applying for Building Inspector positions after obtaining a state-issued license or certification. Depending on your experience in the construction industry, you may need to start with entry-level Building Inspector positions.
Some companies may pair you with an experienced Building Inspector. After a specific number of inspections or a set timeframe, the company may allow you to perform inspections without supervision. Employers may also have specialized training programs for new Building Inspectors. The training programs typically involve on-the-job training and the completion of coursework.
Step 7: Earn a Professional Certification
Along with the required state-issued certification or license, some Building Inspectors obtain voluntary certification from one of several professional associations. A professional certificate shows that you are dedicated to your profession.
You typically need several years of experience in the field before qualifying for certification. However, the requirements vary. The most obtained professional certifications for Building Inspectors include:
Certified Electrical Inspector (CEI)
Commercial Building Inspector B2
Residential Building Inspector B1
Certified Professional Inspector
You may obtain one or more certifications depending on your career goals and employment needs. For example, if you exclusively inspect commercial construction projects, you may not benefit from a Residential Building Inspector certificate.
The CEI certification process is administered by the International Association of Electrical Inspectors (IAEI). This certification is intended for professional Electricians looking to become Building Inspectors. The International Code Council administers the Commercial Building Inspector and Residential Building Inspector certifications. These certifications require you to pass an exam, which is typically completed online.
The Certified Professional Inspector certificate is offered through the International Association of Certified Home Inspectors and accredited by the US Department of Education. You must first pass an online exam, become a member of the association, and complete a mock inspection report.
What degree do most Construction and Building Inspectors have
Post-secondary certificate
We did a survey to ask other Construction and Building Inspectors what degree they had when they first became one. Here are the results.
Post-secondary certificate
---
Bachelor's degree
---
Certificate
---
How long does it take
3+ years
The path to becoming a Building Inspector may take three years or longer. If you complete a training program or earn an Associate's Degree, you may spend another year or two on your education beyond high school. You also typically need several years of experience in the construction industry before qualifying for a state-issued Building Inspector license.
---
Learn more about Construction and Building Inspectors
Find a college with the major you want
---
---