How Long Does It Take, What Degree Do You Need, and More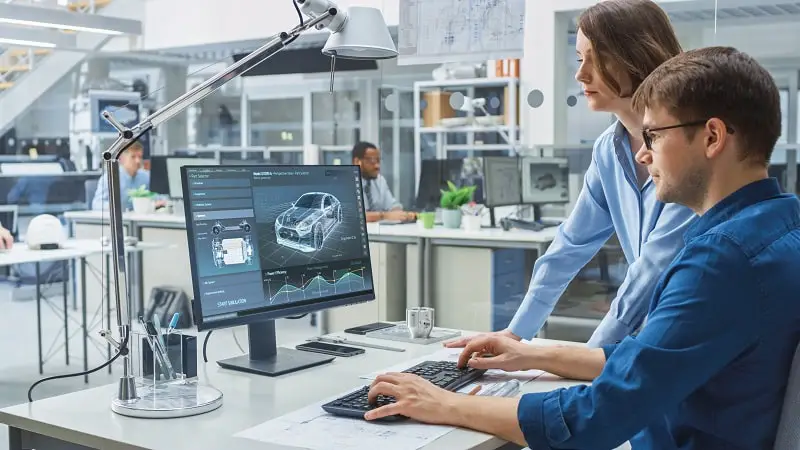 Commercial and Industrial Designers design and develop manufactured products, such as cars, home appliances, and children's toys. Combine artistic talent with research on product use, marketing, and materials to create the most functional and appealing product design.
Education
Bachelor's degree
---
---
---
---
Table of contents
---
Summary
| | |
| --- | --- |
| Degree | Bachelor's degree |
| Degree field | Industrial Design, Architecture, Engineering, or a design-related field of study |
| License or certification | Not required |
| Duration to become one | Four to six years |
| Difficulty to become one | Hard |
Industrial Designers typically need at least a Bachelor's Degree for entry-level jobs. Most Industrial Designers major in Industrial Design, Architecture, Engineering, or a design-related field of study.
Industrial Designers do not require certifications or licenses but may obtain voluntary certifications to demonstrate their competence.
---
Commercial and Industrial Designers Requirements
Step 1: Take Relevant Courses in High School
Some high schools offer industrial design classes, which can help prepare students for this career. The class may be called "Industrial Arts" or "Shop Class" and incorporate industrial design, metalworking, and woodworking.
Aspiring Industrial Designers also benefit from taking classes in art, computer-aided design (CAD), or graphic design. Math is another helpful subject, as Industrial Designers need to perform calculations and work with numbers to complete industrial design projects.
Step 2: Earn a Bachelor's Degree
Industrial Designers need a Bachelor's Degree to find entry-level work. Most Industrial Designers major in Industrial Design, Architecture, Engineering, or a design-related or engineering-related field of study.
Some employers may prefer to hire candidates who graduated from a college program accredited by the National Association of Schools of Art and Design. The national organization accredits over 360 programs at colleges and universities.
Industrial Design is the most common major and includes courses in computer-aided design (CAD), 3D modeling, and drawing. Students may also complete courses in business and manufacturing methods. Students who choose a different major should still take core Industrial Design courses, including CAD and 3D modeling courses.
Step 3: Build a Professional Portfolio
Students who major in Industrial Design often have the chance to start compiling a professional portfolio. The portfolio may contain examples of work completed in class and projects completed through internships. After entering the workforce, Industrial Designers should continue to update their portfolios to reflect their latest work.
Most portfolios are managed electronically. Industrial Designers typically upload their projects online, making the portfolio easier to share with potential employers.
Portfolios should showcase every step of a project, including the initial sketches and designs. The portfolio should also focus on completed projects instead of random drawings and ideas. Employers are more interested in concrete examples of a student's work rather than their ideas.
Step 4: Complete an Internship Program
Internships are not required but may make it easier for college graduates to find work. Relevant internships are often offered to students in Industrial Design programs. However, students who choose other majors can still seek internships.
Internships allow students to develop skills and techniques through hands-on experience. Students also gain connections that may result in job opportunities after college. Many college programs require students to wait until their third year to pursue internships. Most internships last two to three months.
Step 5: Consider Earning a Master's Degree
Aspiring Industrial Designers who want to reach the top of their field may consider earning a Master's Degree. Some employers prefer to hire candidates with advanced degrees. A Master's Degree may also be required for senior positions or faster advancement.
A Master of Fine Arts in Industrial Design is a common choice for those seeking advanced degrees. It includes additional training and more time in a studio working on design projects. Students also attend lectures and explore advanced topics, such as product research and ethics.
Graduate students may also focus on a specific area of Industrial Design. Industrial Designers help develop products for a variety of industries. Focusing on a specific industry can better prepare Industrial Designers for a successful career.
Some of the areas of specialty for Industrial Designers include toy design, automotive design, and ergonomic design. Toy design involves the development of toys with specific goals in mind, such as developing creativity or motor skills.
Automotive designers focus on the design of automobiles and may require additional courses. Students interested in working in the automobile industry may need to take courses in Automotive Engineering, Transportation Design, Mechanics, Electronics, Materials Technology, and Manufacturing Practices.
Ergonomic design involves the design of products that work better with the human body. They may help design furniture, computers, and other equipment. Additional courses for ergonomic design include Biomechanics, Mathematics, and Psychology.
A Master's of Business Administration (MBA) is another common choice for those who already have a Bachelor's Degree in Industrial Design. An MBA helps students understand the business side of working in this field, such as meeting the needs of clients, managing other people, and performing market research.
Step 6: Look for Entry-Level Industrial Design Jobs
Industrial Designers enter the workforce with entry-level jobs. Common job titles include Junior Industrial Designer and Associate Industrial Designer.
About 33% of Industrial Designers work for manufacturers while 22% are self-employed. However, becoming a self-employed Industrial Designer typically requires years of experience to gain the necessary contacts and skills.
Step 7: Advance Your Career with Voluntary Certifications
Industrial Designers may earn voluntary professional certifications to demonstrate their skills and knowledge. The available certifications are mostly related to the technologies used for this profession, such as AutoCAD.
Autodesk is the company behind AutoCAD and offers a variety of certifications for this field. Industrial Designers often start with the Autodesk Certified User certificate, followed by the Autodesk Moldflow Insight certifications and the AutoCAD Certified Professional certificate.
Most of the professional certifications available to Industrial Designers require two years of education and two years of relevant work experience.
What degree do most Commercial and Industrial Designers have
Bachelor's degree
We did a survey to ask other Commercial and Industrial Designers what degree they had when they first became one. Here are the results.
Bachelor's degree
---
Certificate
---
Associate's degree
---
How long does it take
Four to six years
Industrial Designers tend to seek entry-level jobs immediately after college, which may take four to six years depending on whether the student earns a Bachelor's Degree or a Master's Degree.
---
Learn more about Commercial and Industrial Designers