How Long Does It Take, What Degree Do You Need, and More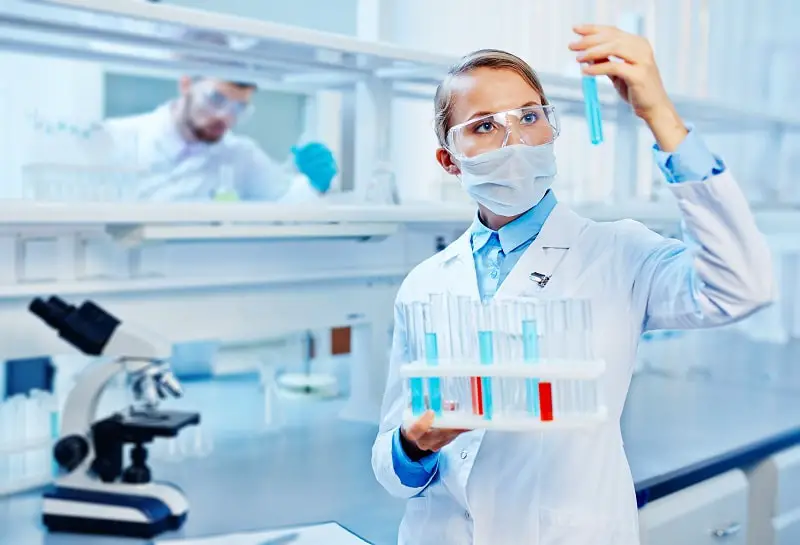 Chemists conduct qualitative and quantitative chemical analyses or experiments in laboratories for quality or process control or to develop new products or knowledge.
Education
Bachelor's degree
---
---
---
---
Table of contents
---
Summary
| | |
| --- | --- |
| Degree | Bachelor's degree |
| Degree field | Chemistry, Physical Science, and related Science degrees |
| License or certification | Not required but specialized positions, such as Biomedical Chemist or Hazardous Waste Chemist, may require licensing |
| Duration to become one | 4 to 9 years |
| Difficulty to become one | Hard |
Chemists typically need a Bachelor's Degree to seek work in this profession, but research positions and teaching jobs may require a Master's Degree or a PhD. Common majors include Chemistry, Physical Science, and related Science degrees.
General Chemists do not need a license or certification, but specialized positions, such as Biomedical Chemist or Hazardous Waste Chemist, may require licensing.
---
Featured Schools
Chemists Requirements
Step 1: Study the Highest Levels of Science
Most high school students need to complete Biology and Chemistry before graduating. If possible, students should try to take higher levels of science, such as Physics, AP Chemistry, or Environmental Science.
Completing AP classes and maintaining a high GPA can increase a student's chances of getting accepted to competitive Chemistry programs. Students may also consider participating in extracurricular activities to improve their college applications. For example, students may participate in summer programs or compete in science fairs.
Step 2: Earn a Bachelor's Degree
A Bachelor's Degree is the minimum educational requirement for Chemists, according to the BLS. The most common major is Chemistry, but Chemists may choose related fields of study, such as Physical Science or Materials Science.
Chemistry programs typically include coursework in organic, inorganic, analytical, and physical chemistry. Students will also take classes in physics, math, and biological sciences. Computer science courses may also be included in the program.
While Chemists do not need licenses or certifications, they may later obtain voluntary certifications to demonstrate their knowledge. Some certifications require applicants to hold degrees from programs approved by the American Chemical Society.
Step 3: Decide on a Branch of Chemistry
Chemists typically need to choose a specialization before entering the workforce. The specialization often determines the types of jobs available to the Chemist. Examples include Analytical Chemists, Medicinal Chemists, Organic Chemists, Physical Chemists, Theoretical Chemists, and Inorganic Chemists.
Analytical Chemists study the structure and composition of substances. They attempt to develop new methods for monitoring food safety, pharmaceutical production, and pollution control.
Medicinal Chemists specialize in developing chemical compounds for use in pharmaceutical drugs. They work with teams of Engineers and Scientists to produce new drugs more effectively.
Organic Chemists study organic substances to develop commercial products, such as plastic materials or new pharmaceuticals. Inorganic Chemists study inorganic substances to improve products. Physical Chemists often work with Materials Scientists to develop new materials.
Theoretical Chemists attempt to predict the outcomes of experiments. They typically assist other Scientists and Chemists involved in research and development projects.
Step 4: Consider Earning a Master's Degree
Earning a Master's Degree is becoming more common for Chemists. While many employers only require a Bachelor's Degree, there is limited demand for Chemists, which creates a more competitive job market for recent graduates.
Due to the limited availability of jobs, many Chemists now choose to earn Master's Degrees. Chemists with Master's Degrees may also find it easier to advance to managerial positions or positions with greater responsibility.
Students who earn a Master's Degree in Chemistry may choose a concentration. Common concentrations of Chemistry include organic, analytical, physical, and inorganic chemistry. Other options include biochemistry, nuclear chemistry, environmental chemistry, and polymer chemistry.
Biochemistry is a popular concentration, as it opens the doors to jobs in medicine and research. Some students choose to earn a Master's of Business Administration (MBA) with a minor in Biochemistry, which can help Chemists obtain management positions.
Most Master's Degree programs take four years to complete. However, some schools offer five-year programs that allow students to work toward a Bachelor's Degree and a Master's Degree at the same time.
Step 5: Look for Internships and Work-Study Programs
Employers tend to favor candidates who have previous experience, which is why students should try to complete internships or work-study programs during college. Students gain hands-on experience before attempting to enter the workforce.
Internships and work-study programs are often arranged through the college or university and partnerships with local businesses in the industry.
Students who cannot find suitable internships or work-study programs may try volunteering. Volunteer opportunities may not provide financial compensation, but they give students practical experience.
Step 6: Consider Earning a Phd
A PhD is not typically a requirement for this job. However, Chemists who want to pursue other job opportunities, such as becoming a Chemistry Professor, may choose to go back to school and earn their Doctorate in Chemistry.
Earning a PhD in Chemistry may take several years. Students often spend two to three years working on research projects and another year or two finalizing their dissertation.
Step 7: Look for Entry-Level Jobs
Chemists typically start working immediately after finishing college, as this job does not often require any professional certifications or licenses. About 33% of Chemists work in the chemical manufacturing industry. Chemists are also frequently in the pharmaceutical industry.
Other common employers include forensic labs, biotechnology companies, quality control labs, cosmetic companies, food packaging companies, and nonprofit organizations. Some Chemists work for universities, colleges, or the government.
Chemists who struggle to find employment may consider looking for work as a Lab Technician. Lab Technicians gain laboratory experience and get their foot in the door, which may make it easier to obtain the next job opening for a Chemist.
Step 8: Join Professional Organizations
Joining professional organizations can improve a resume and help aspiring Chemists find new job opportunities. Some of the most popular organizations include the American Chemical Society (ACS) and the Biochemical Society.
What degree do most Chemists have
Bachelor's degree
We did a survey to ask other Chemists what degree they had when they first became one. Here are the results.
Bachelor's degree
---
Master's degree
---
Associate's degree
---
How long does it take
4 to 9 years
Chemists need at least a Bachelor's Degree, which often takes four years to complete. Some positions may require a PhD, which may add four to five years of coursework and research.
---
Find a college with the major you want
---
---