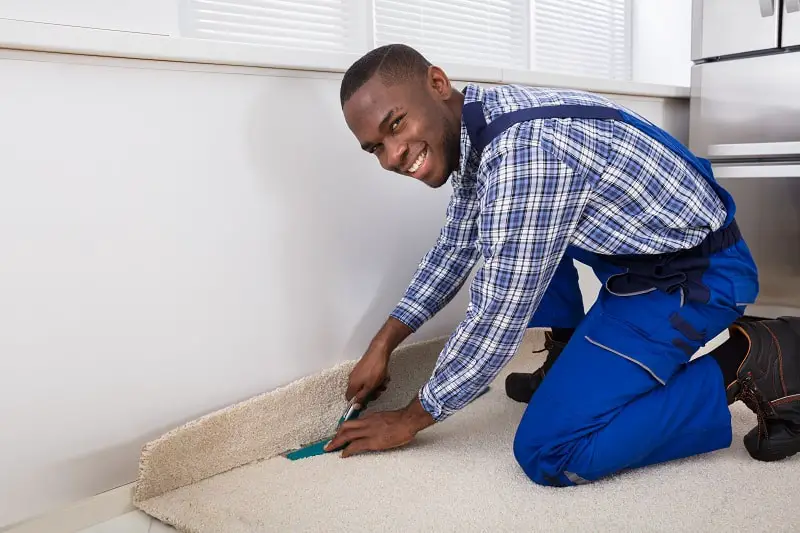 Carpet Installers
lay and install carpet from rolls or blocks on floors. Install padding and trim flooring materials.
---
Carpet Installers
Salary, Job Description, How To Become One, and More
---
In this career summary, you will find out what the job of a Carpet Installer is about and what it is like.
After reading this, you will have a good idea on what the job is about and decide if this is the right career for you.
---
---
Carpet Installers lay and install carpet from rolls or blocks on floors. Install padding and trim flooring materials.
---
---
---

Interested in becoming a Carpet Installer? Find the right schools that can help you to become one. This service is free thanks to our sponsors.
---
---
---
Improve Your
Test Score
Studying for a standardized test for your college admissions?
Improve your test scores on SAT, ACT, GRE, and GMAT.
Read more
---
---
---
Average salary
$44550 per year
Average hourly wage
$21 per hour
---
Carpet Installers with little to no experience tend to make between $22560 and $29560 while the more experienced ones can earn over $55640 per year.
| Top 5 paying states | Hourly | Annual |
| --- | --- | --- |
| MA | $32 | $67,320 |
| HI | $29 | $60,260 |
| MN | $27 | $56,210 |
| DE | $26 | $54,740 |
| NJ | $25 | $52,230 |
One of the easiest ways to increase your salary as a Carpet Installer is to move to a higher paying state like MA. Right now, the highest paying states for Carpet Installers are MA, HI, MN, DE and NJ.
However a higher pay at MA doesn't guarantee that you will make more because the living expenses at MA might be twice as high than where you are currently at now.
Three other factors that can increase your salary as a Carpet Installer is the degree you hold, the industry you work in and lastly the company you work for.
---
---
Recommended degree level
High School Diploma (or GED)
We asked other Carpet Installers what degree they had when they got the job and most of them said they had a High School Diploma followed by less than a High School Diploma.
Other than that, we also asked them what did they major in and here are the most popular majors that came up.
Carpet, Floor, and Tile Worker
---
---
---
Here are some of the pros and cons of being a Carpet Installer.
PROS
Suitable for people who likes practical and hands-on work
Suitable for people who values relationships between co-workers and customers and wants to work in a friendly non-competitive environment
This career is perfect for people who love to work indoors.
It is easy to get into this career. Some previous work-related skill, knowledge, or experience is required for this career.
CONS
Not suitable for people who likes to work with designs
Salary is below average
Long working hours (More than 40 hours per week)
---
---
---
Is this job meaningful
57%
---
69% of Carpet Installers said they were satisfied with their job and 57% said they feel like their job is making other people's lives better.
---
---
Best personality for this career
The Builders and The Entrepreneurs
---
You can read more about these career personality types here.
People who are suitable for this job tends to like work activities that include practical, hands-on problems and solutions. They like working with plants, animals, and real-world materials like wood, tools, and machinery..
They also like starting up and carrying out projects. They like leading people and making many decisions. Sometimes they require risk taking and often deal with business.
---
---
Start your journey to be
a Carpet Installer
Get the best college for Carpet Installers
---
---
Discover the best colleges for your $$$
---
---
Find colleges have the highest earning grads
---
---
Yes, I'm sure
---
---
Pile-Driver Operators

operate pile drivers mounted on skids, barges, crawler treads, or locomotive cranes to drive pilings for retaining walls, bulkheads, and foundations of structures, such as buildings, bridges, and piers.

Salary

$64360

Floor Sanders and Finishers

scrape and sand wooden floors to smooth surfaces using floor scraper and floor sanding machine, and apply coats of finish.

Salary

$39890

Fence Erectors

erect and repair fences and fence gates, using hand and power tools.

Salary

$37650

Mechanical Insulation Workers

apply insulating materials to pipes or ductwork, or other mechanical systems in order to help control and maintain temperature.

Salary

$53180

Tile and Marble Setters

apply hard tile, marble, and wood tile to walls, floors, ceilings, and roof decks.

Salary

$45950
---
Learn more about Carpet Installers
Find a college with the major you want

---
Related career information
Carpet Installers job description, Carpet Installers salary, Carpet Installers information, what is the job of a Carpet Installer like, pros and cons about Carpet Installers, colleges and universities for Carpet Installers, is Carpet Installers the right career for me, careers in Construction and Extraction
Similar careers
Carpet Floor Layer Apprentice, Carpet Installer, Carpet Installer Helper, Carpet Jack, Carpet Journeyman, Carpet Layer, Carpet Mechanic, Carpet Tile Layer, Commercial Carpet Installer, Commercial Floor Covering Installer
Additional resources