How Long Does It Take, What Degree Do You Need, and More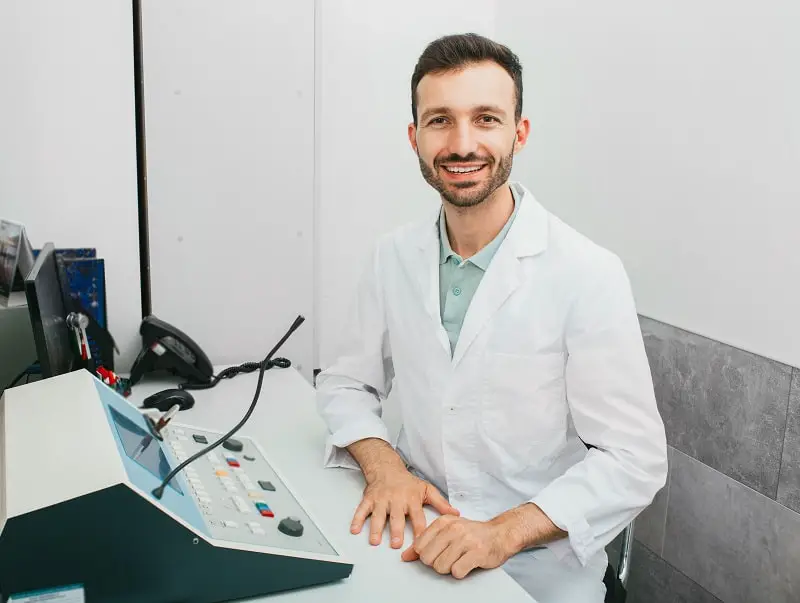 Audiologists assess and treat persons with hearing and related disorders. May fit hearing aids and provide auditory training. May perform research related to hearing problems.
Education
Doctoral degree
---
---
---
---
Table of contents
---
Summary
| | |
| --- | --- |
| Degree | Doctoral degree |
| Degree field | Audiology (AuD) |
| License or certification | State licensing required |
| Duration to become one | 8 years |
| Difficulty to become one | Very Hard |
Audiologists need a Doctoral degree, which requires the completion of a Bachelor's degree program.
Aspiring Audiologists may earn a Bachelor's degree in any field but need a Doctoral degree in Audiology (AuD).
Audiologists require state licensing and may earn voluntary certifications.
---
Featured Schools
Audiologists Requirements
Step 1: Take Science Courses in High School
Audiologists complete college courses in Anatomy, Physics, Genetics, and other fields of science. High schools may offer some of these classes, allowing aspiring Audiologists to explore concepts and knowledge needed for this career.
Step 2: Earn a Bachelor's Degree
Most Audiology programs require students to have a Bachelor's degree. You may earn a Bachelor's degree in any field. However, many Audiologists hold Bachelor of Science (BS) degrees.
A BS in Communicative Disorders is the most common degree for aspiring Audiologists. If you choose another field of study, you may need to complete additional prerequisite coursework before being accepted to an Audiology program.
The curriculum for Communicative Disorders programs typically includes Phonetics, Hearing Science, Speech Science, and Language Development. Students also receive an introduction to clinical methods used for observing and diagnosing communicative disorders.
During your last year of study for the Communicative Disorders degree, you will complete clinical rotations to gain hands-on experience. Many programs provide a minimum of 25 hours of supervised clinical observation, which meets the Council for Clinical Certification (CCC) requirements set by the American Speech-Language-Hearing Association (ASHA).
Step 3: Complete a Doctoral Audiology Program
Audiologists need to earn a Doctoral degree in Audiology (AuD). Most states require Audiologists to graduate from a program accredited by the Council on Academic Accreditation. The programs typically last four years.
The admission requirements for Audiology programs also vary. While many programs accept students with Bachelor's degrees in any major, some programs may require previous clinical education, such as the clinical experience provided by a BS in Communicative Disorders.
During your first year of the program, you will take core classes, such as Physiology, Diagnosis and Treatment, Pharmacology, Physics, Genetics, Ethics, and Anatomy.
The last year of the program typically includes supervised rotations at local clinics.  You will work full-time in a clinical environment under the supervision of experienced Audiologists.
Step 4: Become a Licensed Audiologist in Your State
All states require Audiologists to become licensed. The licensing requirements vary but you typically need to have an AuD degree and may be required to pass an exam.
Most states also have a minimum number of hours of clinical experience that you must complete before earning your license. Clinical experience is typically obtained during your college studies and internships.
In many cases, students earn the required clinical experience during their final year of an AuD program. Depending on the state and the college program, you may be able to apply for a license during your final semester.
Keep in mind that you need to apply for a license in the state where you plan to seek employment. You also need to obtain a license if you move to another state later in your career.
Step 5: Earn a Voluntary Certification
The Certificate of Clinical Competence in Audiology (CCC-A) is the most common professional certification for Audiologists. It is offered by the American Speech-Language-Hearing Association. To earn the CCC-A, you need to complete an accredited AuD program and pass an exam.
The CCC-A includes continuing education requirements. You must complete 30 hours of professional development every three years to maintain your certification.
The American Board of Audiology also offers professional certification for Audiologists. While these certifications are voluntary in most states, a few states may require professional certification as part of their licensing requirements.
Step 6: Apply for Audiology Jobs in Your Area
After obtaining your license to practice Audiology and earning a relevant certification, you can start applying for Audiologist positions. Audiologists frequently work in private practices, clinics, and hospitals. You may also find Audiology departments at universities and colleges.
Some Audiologists start in related entry-level jobs, such as Dispensing Audiologist, Hearing Aid Specialist, or Patient Care Coordinator.
What degree do most Audiologists have
Doctoral degree
We did a survey to ask other Audiologists what degree they had when they first became one. Here are the results.
Doctoral degree
---
Master's degree
---
First Professional degree
---
How long does it take
8 years
Audiologists need to earn a Bachelor's degree, which typically takes four years to complete. This is followed by a Doctoral degree in Audiology. Most Audiology programs take four years to complete.
---
Find a college with the major you want
---
---