Day in the life of


Ice Dam Remover – Joe Palumbo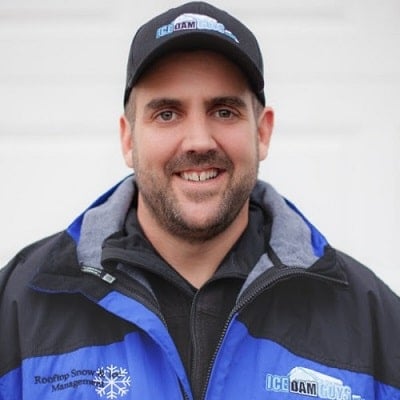 Joe Palumbo
Ice Dam Remover
Ice Dam Guys
My Typical Day
Battling ice dams produces very long days in below-freezing temperatures, all across the northern states of the country, so we're usually up around 5 AM to 5:30 AM. We quickly get some sustenance into our bodies with whatever continental breakfast options we have to choose from at the hotel or accommodations we're staying at and then it's onto the prepping of our gear for our first house call of the day.
When you remove ice dams, the most efficient and effective way is to use hot steam. Steam, unlike hot water power-washers, hammers, hatches, and the like, doesn't harm the property owner's shingles and/or gutters. This means we need to ensure our equipment is warmed up and working properly so we don't encounter any issues once we're at the client's property. We'll start the steamer, circulate the anti-freeze in the system, and shut it down in the hotel's parking lot. Once that's all confirmed good-to-go for the day, we hit the crazy frozen roads before most city snowplows have the opportunity to make driving safe and head to our first client.
Ice dam removal isn't a cheap service, as it's often emergency-related due to the property owner experiencing a minor leak (which can easily become a major one that's expensive to repair) within their home or sagging gutters, which is when they realize they need assistance. Due to the urgency of the situation, we always meet with them first and assess their unique situation, and lay out our plan of attack. Once we're in agreement, we get to work!
We'll haul a tall ladder off our truck and safely get onto their roof. Once we establish our proper footing, we'll delicately remove any snow that's covering the problematic ice dam so our steamer has a direct shot at removing it. However, to hook up our steamer, we'll need access to an exterior water spigot, which is commonly frozen or already winterized. More often than not, we'll use a heat gun to thaw the spigot and once it's flowing, hook up the machine. We then have to remove the anti-freeze from the system, then get onto the roof, and start steaming away. Depending on how large the ice dam is and other factors, this can take various amounts of hours. Once we've completely removed the ice dam and are confident the homeowner's issues will subside from our work, we'll carefully get down off the roof.
Back on the ground, we need to re-anti-freeze the machine, so it doesn't freeze during travel to the next job, and clean up any "messes" we may have made when removing snow and ice chunks from their roof. We then go over our work with the client, collect a payment, and are off to the next of many jobs we have lined up for the day.
This process is rinsed and repeated until the late evening hours until we can no longer confidently say it's safe to work. Keep in mind that our entire season is on average only 3-6 weeks, so we have to accomplish a lot of jobs in a very short amount of time. That being said, we've been removing ice dams for nearly 20 years, so you find your groove!
Pros
I'll be direct, the most obvious benefit of the job is that the pay is great! That being said, you are 100% going to work for that great pay every second of every day for those 3 to 6 weeks. Another benefit is that it keeps you incredibly active and fit during the winter months when most people go into a low-key hibernation mode. There are no holiday weight gains on the Ice Dam Guys crew, as we're burning more calories in a day than most will all week. So that's a great benefit to match the pay! Lastly, we're also helping so many people avoid very costly home repairs that can exasperate into month-long renovations and more if they experience a significant leak, interior ceiling collapse, and more. While we might cost them a couple of thousand dollars for our visit, they're avoiding very costly repairs and insurance premium increases if they skip calling us and wait to "see what happens".
Cons
The challenges are that it is quite literally the coldest storm of the season. Whether we're in our home state of Minnesota, out in Idaho, or in New England, the local market is experiencing its most dramatic and intense blizzards and freezing temperatures of its season. While we have the best gear for our crews to work in, both waterproof and weatherproof, it still gets really cold and the environment on those roofs can be sketchy. Spraying hot steam in below-zero temperatures is not fun no matter how you slice it and is very dangerous, so there are hazards too. Pair all of these factors into what are commonly 12-16 hour days and you can see how it's a challenging job for most, but super rewarding for those that elect to make it their profession!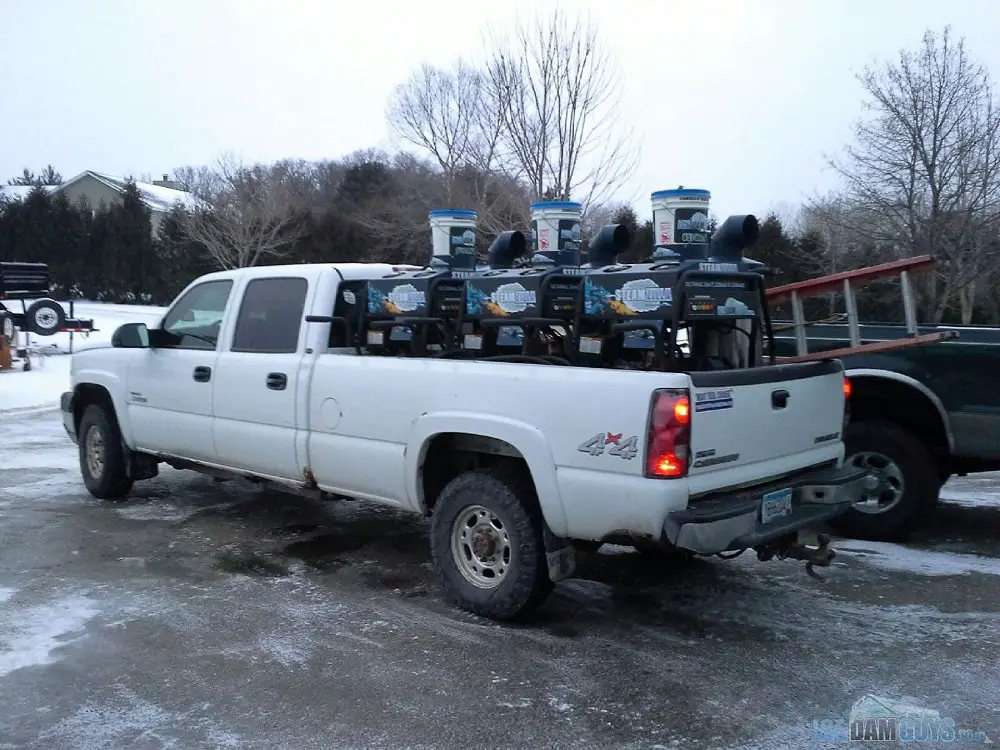 How does one go about becoming an Ice Dam Remover?
What's great about wanting to become an ice dam remover is that you simply need to apply to a help wanted ad in your local market or contact a large national provider in the fall to inquire about their open slots for the upcoming season.
One of the nice things about going into ice dam removal is that you do NOT need any formal education or training, so you won't have costly student loans or years of your life in school to become one. You will need to learn the ropes from your employer via on-the-job training, but once you get that under your belt, you're instantly making solid money and the sky's the limit from there. Some team members make it one season and they decide it's not for them. No worries, I'm certain they made a ton of money and had an experience that many won't. I applaud them for giving it an honest attempt. Others have been with me for many years and become supervisors and managers, which comes with increased pay and responsibilities. It's all up to the individual and what their tolerances are for traveling extensively during the season and doing intensive labor during that time.
And how long does it take to become one?
Everyone is different with their learning curve and a lot of that is dictated by their existing skillsets and what comes naturally to them. That being said, most employers can have you operating on your own within a few weeks after a crash course with a more senior team member. That's not to say you can be an owner in only a few weeks, as the overhead for operating an ice dam removal company is expensive! We have to buy/lease 4×4 trucks for each crew, outfit each one with steamers, and provide all personnel gear. We also have to pay for travel, accommodations, and so forth, on top of their strong wages. Becoming an owner requires significant financial investments, but that's not to say you couldn't operate a small shop if you elected to after a couple of seasons under the guidance of an established provider. But if you're looking for some quick and impressive income for a winter's work, being a competent employee should be very easy to accomplish after a few weeks.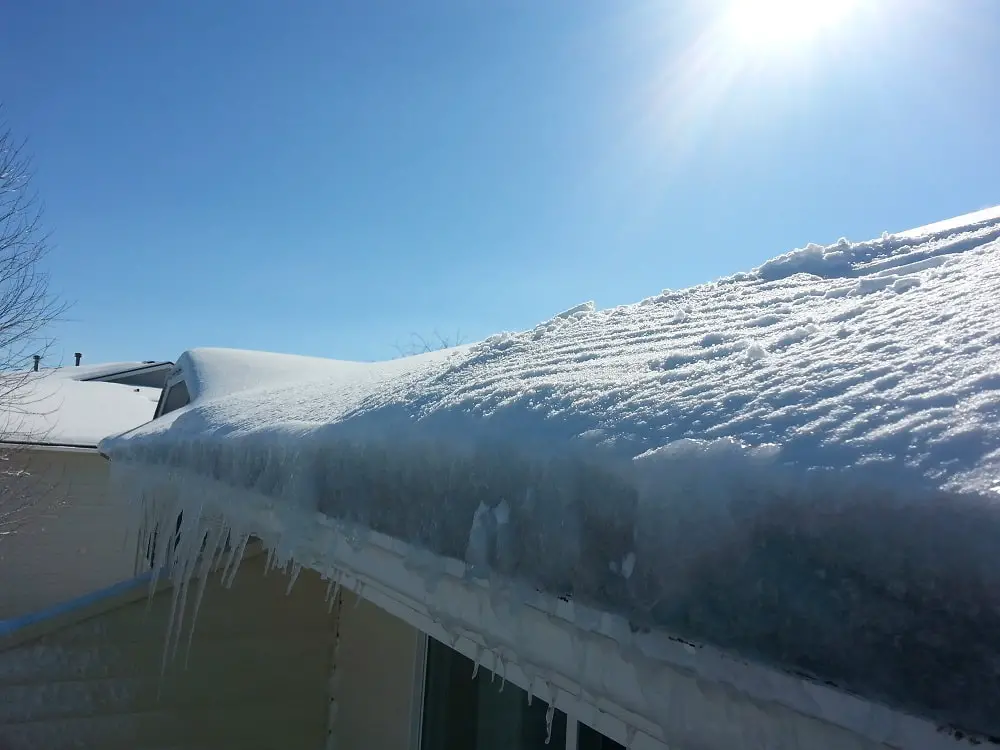 What advice would you give to individuals who wish to pursue a career as an Ice Dam Remover?
If you currently work in a role or profession that provides you with a winter break, such as being a school teacher, summer landscaper, or some sort of consultant (among other things), this can be a GREAT add-on to your life! Some on my team will easily make way more money in 6-weeks with me than they'll make all year with their full-time job. As I noted above, the income opportunity here is insane and a big motivator for many, as seen in oil and gas jobs, other labor-intensive sectors, or "dangerous" gigs. Even if you don't have availability for our entire season, we'll take ya for 2-4 weeks or whatever you can provide. We just have to ensure you're trained safely with the proper knowledge to accomplish the job. But once you get that maiden training under your belt, you're always welcome back on my team any year when you're available.
Joe Palumbo
Ice Dam Remover
Ice Dam Guys