Yaeger CPA Review
Rating: 4.8
All of your hard work has finally paid off. You have completed the educational requirements, work requirements, and all the steps necessary to qualify to take the CPA exam. Now it is time to buckle down and study for the test. You probably already know, but I will share with you again that you're going to be studying A LOT.
I have found that using an exam review course made it so much easier to get through each section of the exam. With all the potential topics out there, it helped me to narrow my focus on exactly what I need to know. Today let's take a look at the Yaeger CPA review course.
Reviewed by kayla-w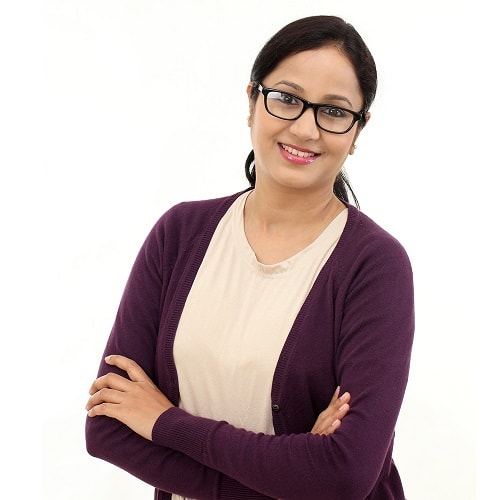 ---
---
Who should buy this course
| | |
| --- | --- |
| | You want a study plan tailored to your needs |
| | You want an option for extra assistance outside the course materials |
| | You enjoy learning through various mediums (video, text, audio, etc.) |
| | You have sufficient time in your schedule to take the course |
| | You can work independently to learn the materials in the course |
Who shouldn't buy this course
| | |
| --- | --- |
| | You need an extended amount of time to prepare for the exam |
| | You prefer in-person classes |
| | You do not have sufficient time to study for the test |
---
---
---
What we like
A Custom Schedule to Complete the Course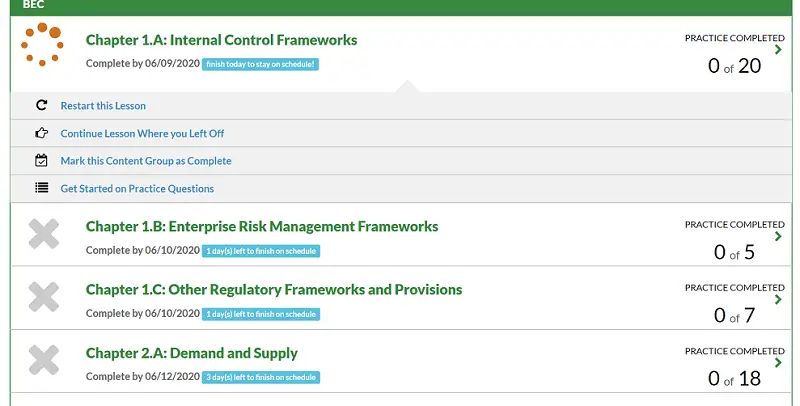 After setting up my account, I was given the option to create a schedule. The schedule created was based on either the number of hours you have available to study each week or the date of your scheduled exam. I chose the option based on the number of hours I have available to study each week (20 hours).
On the homepage, you will see a list of the recommended topics you should be studying, in addition to be upcoming subjects due.
I love how easy it is to see exactly when things need to be done making it much more simple to plan my day.
Lesson Layout
Each module has a little bit of something for everyone. The lessons come with an instructor-led video for that section, along with a PDF summary of the content that is being covered in each lesson. I like having the option to print off the PDF to be able to take notes along with the lesson. Even better, is the fact that as the video plays, the PDF location will adjust to match the appropriate section of the video.
The amount of video vs. audio and other media used to deliver the course is based on the survey that you take as you are setting up your account. I found this to be super helpful as I was going through this course.
CRAM Courses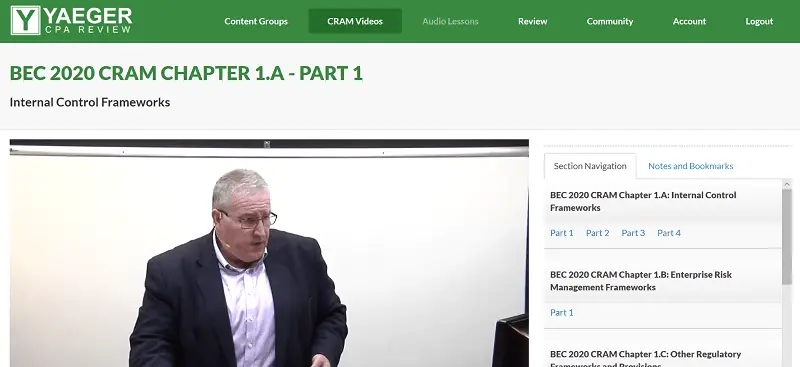 After you have gone through each module and are getting closer to test time, you'll want to refresh everything that you have learned.
Yaeger's course includes CRAM courses, which are exactly what they sound like. You get a series of videos which provide you with a consolidated version of the things that you need to learn. These are super helpful for sections where you might need a little more focus.
Strengths vs. Weaknesses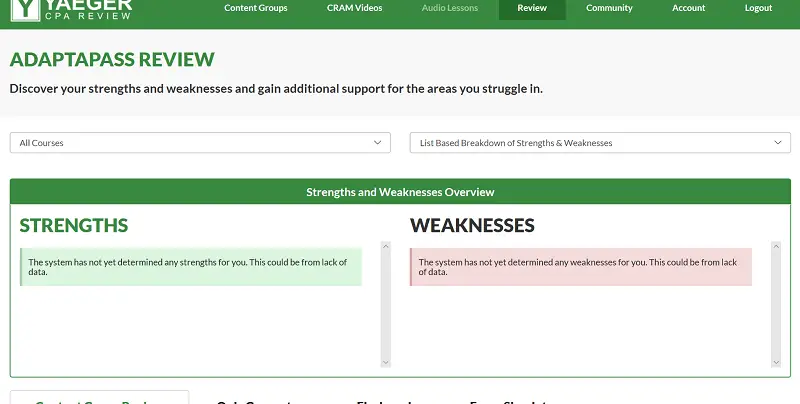 As you go through the course and complete the various lessons and assignments, you receive feedback on the areas where you are doing well and where you can improve.
I like that this provides you with a quick overview of the topics that I have mastered and can move forward to work on exactly the sections where my knowledge is lacking. This will help to save hours of time leading up to exam day.
Customization and Extra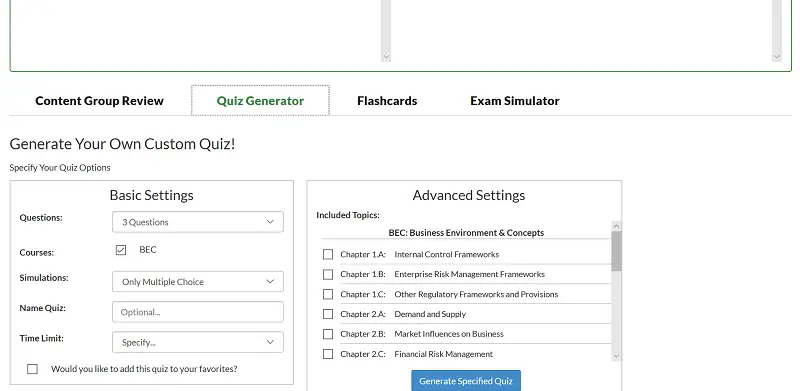 In addition to the homework questions, quizzes, and exams provided within the course, I have the option to create custom quizzes and exams. This is helpful in testing myself on the material I did not understand and providing extra practice. You can decide whether the quizzes include only multiple-choice questions or simulations. In addition, you can add a time limit on your quiz to help better reflect the testing environment.
Support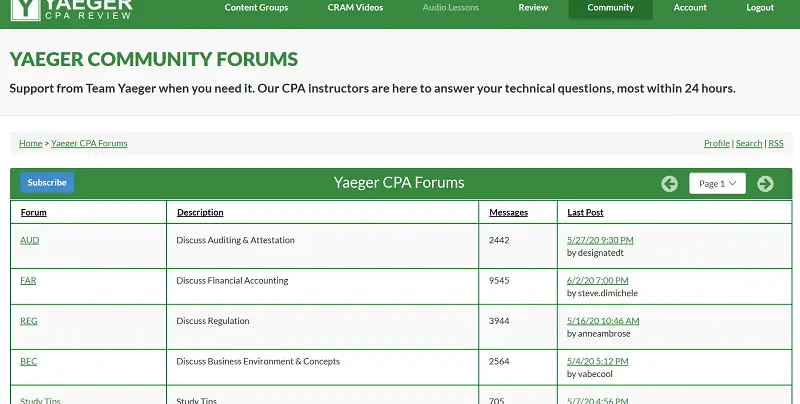 I love that Yaeger offers a ton of ways to get help as I am studying for the course.
Community Forum
The community forum allows you to get assistance with your questions from both the instructors at Yaeger and also other members of the community. I appreciate the opportunity to learn from others who are also studying for the course. It feels like have a mini virtual classroom at your disposal.
1 on 1 Phone Support
If I have questions that I need to work through that might be too involved for emails or the forum, you can reach out to the instructors via telephone. I am provided with two hours per month for each section of the exam to speak with instructors (including Phil Yaeger himself!) about my concerns. This assistance does require payment of an additional fee ($50/month).
---
What we didn't like
Structure
While I enjoyed the layout of the individual lessons for each module, the overall structure was missing a few key components.
I would like to see a standard pre-test that set a baseline for the material that you may have already mastered. This would be helpful to identify gaps in my knowledge up front and potentially reduce the overall time needed to study.
I would also like to see the strengths and weaknesses (which are house in the review tab) included as a part of the overview. This would allow me to immediately see what topics I have mastered and whether I need to go back and review previously studied materials before moving forward.
Access Time – 2 Years
While two years may seem like a long time, I understand that it can take some individuals years to complete all four parts of the exam. In addition to the difficulty of the course, people may have professional or personal obligations that may slow them down.
There is an option to purchase additional years if necessary, at the end of the 24 months. I think that once you have purchased the course materials, you should have access to them until you have completed the exam.
Free Trial Duration
Many CPA courses offer a free, limited time trial so that you can determine whether the course will meet your needs. While most courses offer between 5 and 7 days, Yaeger's trial is only three days. I do not feel like this offers quite enough time to evaluate whether the program works well for me. I think that five to seven days would be more sufficient.
Extra Costs
While the course includes everything you need to study for the exam, they offer a few addons that may be included for an additional fee.
The one that stands out to me is the cost for a printed version of the materials. While they are included with the price of the course, you must pay a $79 shipping and handling fee per book in order to receive them.
Also, the additional 1 on 1 phone assistance option can be added for an additional $50 each month.
Once the initial 24 month access period is over, you can purchase additional years of access at $99 for each part per year.
---
How much does it cost
4-Course Bundle ($999) and Single-Course Bundle ($299)
Includes:
Over 120 hours of instructor-led video lectures
Online textbooks including video sync
PDF version of the course textbooks
Study planner created based on your schedule and needs
Homework questions (multiple choice)
Test bank which includes a quiz generator and exam simulator
CRAM video courses
Audio lecture files
Flashcards for each section
2 15-minute telephone calls with Phil Yaeger to help you on your CPA study journey
24 months of unlimited access
1 on 1 instructor access (limited to 2 hours per month for each exam section)
Optional add-ons: Additional 1 on 1 instruction, Hardcopies of textbooks ($79 per section)
Who Is This Suitable For: The bundle courses are suitable for those who want longer access to the CPA course materials or the ability to access all four courses at once.
Subscription Products
Yaeger offers a more flexible monthly subscription option for their CPA review courses. You can select the tier of access to the course based on your learning needs.
Bronze ($119/mo)
The Bronze Tier package includes:
Access to the 120+ hours of the videos
Access to the CRAM video courses
Video sync textbook
Test bank with the option to create custom quizzes and exams
Access to the Community forum
Two 15-minute phone calls with Phil Yaeger to help you progress on your CPA study journey
Silver ($159/mo)
The silver plan includes everything provided in the Bronze tier in addition to MP3 audio lecture files.
Gold ($189/mo)
The gold plan includes everything in the silver plan tier package plus access to an instructor hotline for extra help which provides you with two hours per exam section. You also receive access to 1 on 1 help from Phil Yaeger, which also includes two hours of access per section.
Who Is This Suitable For: The subscription course is best for those who want to condense their study for the exam into a shorter time span. It is great for individuals who are looking for a more economical way to study for the exam that does not require a large upfront investment.
---
Rating criteria
| Criteria | Rating | What we think |
| --- | --- | --- |
| Extras | 4.5 | The course includes flashcards that allow you to study no matter where you are. If you prefer to have printed text, you can receive a hard copy in the mail for an additional cost. |
| Support | 4.5 | The support offered by the Yaeger team is unique in that you can speak on the phone for assistance with one of the founders of the course. The only drawback to the support is that you are limited in the amount of assistance you can receive prior to having to pay for additional time. |
| Practice Exams | 5 | Yaeger has created simulated exams that are set up to reflect what taking the actual exam will look like, including the introduction screens. |
| Video Instructions | 5 | The video instructions include a video sync textbook which helps you follow along with material being taught. I thought this was an excellent way to help both audio and visual learners to get through the material. |
| Practice Questions | 5 | Yaeger does a great job of compiling a test bank of questions based on the AICPA blueprint, made to closely reflect the questions you might encounter on the CPA exam. |
---
FAQ
Can I extend my access period?
Yes, you can. However, there is an update fee in order to obtain the most up to date course materials.
How often do they update their materials?
Yaeger updates their course every year. You will receive the content updates during your access window.
---
Conclusion
The Yaeger CPA review course is a great option for those who can study independently in an online format. There are numerous plan options for those with various budgets and learning styles.
Whether you are taking the test month or next year, Yaeger has an option to help you pass the CPA.
Go to Yaeger CPA now
$850 OFF
One of the most affordable CPA review course
Over 4300 MCQs
Over 160 task-based simulations
2 years of access
Claim discount
---
---