Magoosh GRE Review
Rating: 4.8
The Magoosh Online GRE Prep is a digital resource designed for students preparing to take the GRE. With a subscription, students can log in and view a plethora of practice materials, including:
Video lessons
Practice questions
Full-length tests
The best part? You'll never have to worry about studying outdated information. Magoosh updates the material routinely to ensure all the data is the most relevant, up-to-date version possible.
As they study, students can take virtual notes, read test transcripts and provide Magoosh with feedback to help them shape the next round of materials.
Reviewed by Stan T.
---
---
Who should buy this course
| | |
| --- | --- |
| | Learners who are comfortable learning online |
| | Students who have taken the GRE in the past and can take advantage of Magoosh's 5 point increase guarantee |
| | On-the-go students and professionals with busy schedules |
| | Visual learners |
| | Self-paced students |
Who shouldn't buy this course
| | |
| --- | --- |
| | Students who prefer peer discussions and group-based activities |
| | Learners who are unfamiliar with online learning |
| | Students who require personal reminders to stay on task |
---
---
Every year, more than 700,000 students take the Graduate Record Examination (GRE).
Are you gearing up to join their ranks in 2020?
If so, it pays to prepare. The scores you receive on the verbal, quantitative and writing portions of the exam will have a direct influence on your admission into the graduate program of your choice.
As such, there are myriad resources designed to help you navigate the GRE with ease. One option is Magoosh Online GRE Prep.
This online, subscription-based course comes with a hefty promise: Increase your score by five points, or you'll get your money back. Today, we're providing an in-depth Magoosh GRE Review to help you navigate the ins and outs.
Does it live up to the hype? Is it worth the investment? Read on as we explore the answers to these questions and more.
---
What we like
Fully Accessible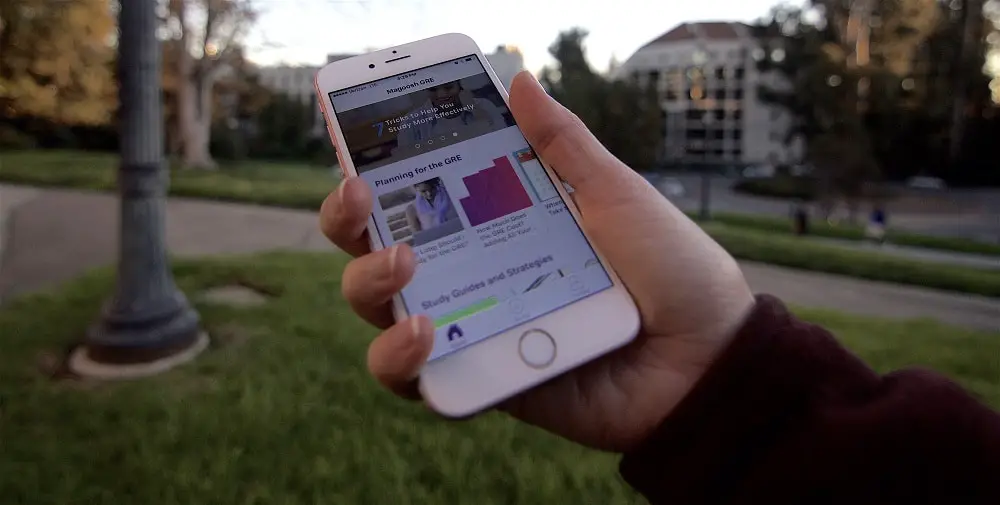 While Magoosh does publish hard-copy GRE guides for those interested, we love that all of the course material is fully available online.
Regardless of the subscription plan you select, you can access all course material with a click from your tablet, computer or smartphone (both iOS and Android).
The flexibility is impressive, allowing you to study from anywhere, at any time.
There are no class meetings to attend, books to read, or DVDs to watch. You can pause and resume the work on your own time, and at your own pace.
Comprehensive Material
The questions and lessons included in the Magoosh GRE Online Prep aren't limited in scale. Rather, they do a thorough job of covering all GRE topics, including those in the Math, Verbal and AWA sections.
As you work through the material, you'll cover a wide range of topics. This way, there are no surprises on test day.
Math
Magoosh math lessons are comprehensive, including all of the relevant information you'll need to learn for the GRE. Each video lessons is approximately three to 20 minutes long, with topics that include:
General math strategies
Arithmetic and fractions
Integer properties
Percents and ratios
Algebra, equations, and inequalities
Powers and roots
Word problems
Data interpretation
Probability
Counting
Statistics
Geometry
Coordinate geometry
Verbal
The verbal portion of the Magoosh GRE prep course is also thorough, with lessons around the same length as the math portion. These lessons cover the following topics:
Text completion
Sentence shifts
No-shift sentences
Double blank sentences
Triple blank sentences
Sentence equivalence
Vocabulary
Reading comprehension
Paragraph argument
Writing
The AWA portion of the GRE can be difficult to study for, but Magoosh prepares students by explaining how this section is laid out and what to expect. Lesson topics include:
AWA basics (essay organization, writing tips, time management)
Issue tasks
Argument tasks
It's worth setting aside the time to go through all of these sections, even as a refresher. They're designed to cover everything you might encounter on the GRE and make excellent study resources.
Taught by Real GRE Experts
The posted video lessons are taught by real GRE experts who are well-versed in the industry. As soon as you log into your dashboard, you'll see suggested videos based on your progress.
As a result, you can rest assured that you're on track and studying the material you're prepared to tackle. As you work your way through the material, the lessons will become incrementally more advanced.
Practice Questions and Score Predictions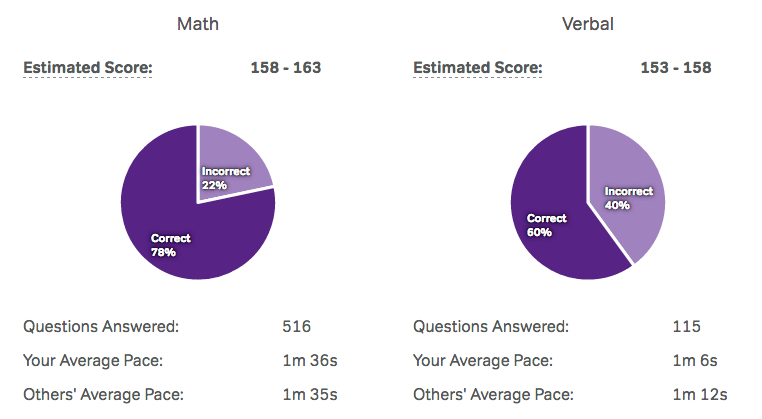 Another great benefit of the Magoosh GRE Prep course is access to more than 1,000 practice questions.
Course instructors use advanced metrics to ensure that these questions are as difficult and closely matched to the real GRE as possible. The practice questions are also ranked by difficulty so you can master the basics first before progressing toward your target score.
In addition, you can also use the integrated Score Predictor to work toward your goals.
Visible on your dashboard, this predictor is generated after you've answered at least 50 practice questions in each section (math, verbal, writing). Covering a five-point range, this predictor gives you an idea of where your strong points are and which topics you need to revisit. You can also see your average pace per question compared with others'.
Magoosh advertises that the Score Predictor is more accurate than GRE raw score conversion or AWA rubrics. However, to get the most out of this tool, it's best to take multiple practice tests rather than forecasting the future after just one.
Helpful Peer Comparisons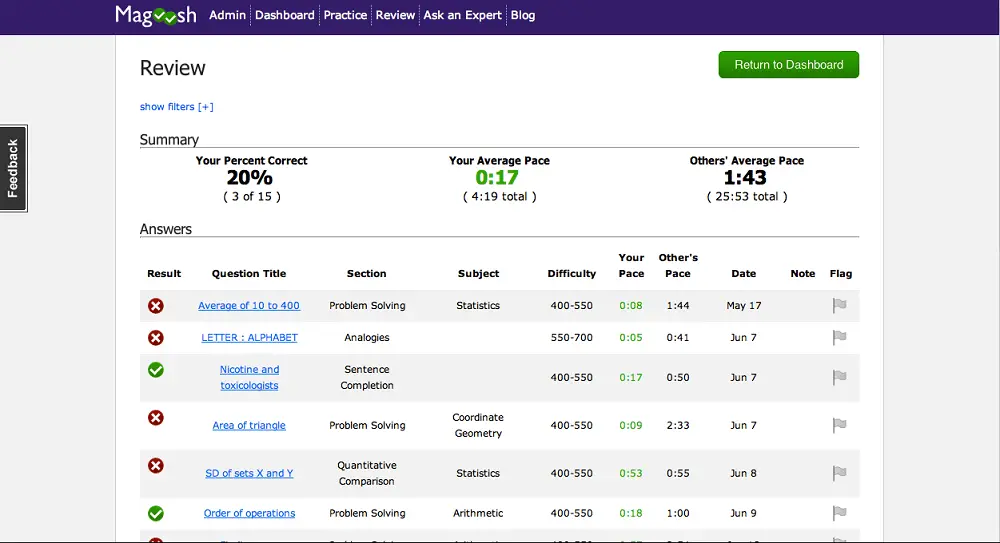 Especially with such a broad test as the GRE, it can be difficult to know where to focus your efforts. That's why we appreciate the peer-to-peer comparisons that appear on the Magoosh dashboard.
With these, students can see where their progress falls compared to other students who are also taking the Magoosh course.
Seeing this data in a simple format allows you to better understand your personal abilities. It also highlights areas that need a little more review, so you know which topics to target.
Video Question Explanations
It can be frustrating to find that you got a practice question wrong. It's even more maddening when you can't figure out why.
Although there are more than 1,200 practice questions offered through Magoosh, the creators took the time to make a short video explanation for every single one. This makes it easy to know where you went astray and how to correct it.
Flexible Study Schedules
Magoosh knows that every student will approach this material with their own timeline and goals. To help you stay motivated on track, there are customizable study schedules and checklists available. These study plans are designed around the following timelines:
One week
One month
Two to three months
Three months
90-days
Six months
Depending on how much time you have before you take the GRE, you can select the plan closest to your deadline and work from there!
The best part? These plans are available for free, even if you don't pay for a student subscription plan! You can click here to access them on the Magoosh website.
While the study plans do reference some material only available through a premium subscription, they also encourage students to take advantage of the free GRE prep help (like these flashcards) available on their website and blog.
Affordability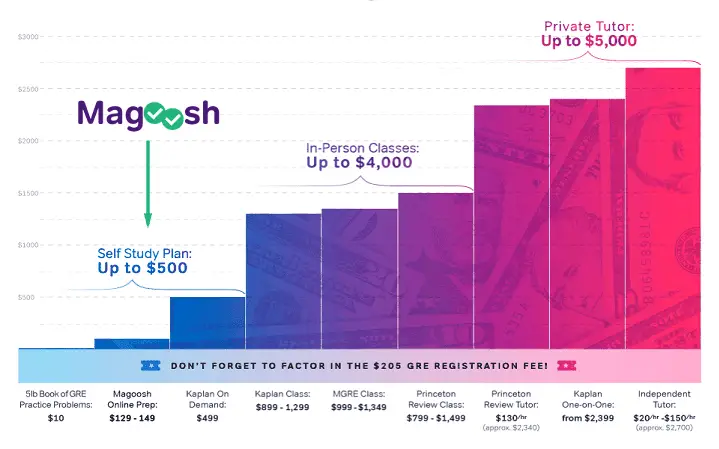 Taking the GRE can be expensive enough on its own. You need access to practice material that's easy on your wallet. This is one of the biggest benefits of the Magoosh GRE Review.
The six-month premium subscription plan is available for only $179, while the one-month premium plan costs $149. In addition, the organization routinely runs discounts and promo codes to make the material even more cost-effective.
---
What we didn't like
Limited Practice Tests
As mentioned, both plans allow you to access up to three practice tests.
While these are beneficial, a few more would be ideal, as most GRE practice courses generate between six to eight practice tests.
However, Magoosh does allow students to create their own practice tests from their lists of incorrect practice questions. This targeted approach directly addresses specific problem areas, making it a helpful feature.
Self-Guided
When you subscribe to a plan, you have around-the-clock access to expert support if you have any questions or need clarification. Yet, the material itself is entirely self-guided.
That means you're the one working through the material, answering the practice questions and navigating your dashboard. You're also responsible for your own motivation.
If you learn best by observation or require reminders to stay on task, a more direct study approach might be better suited for your needs.
---
How much does it cost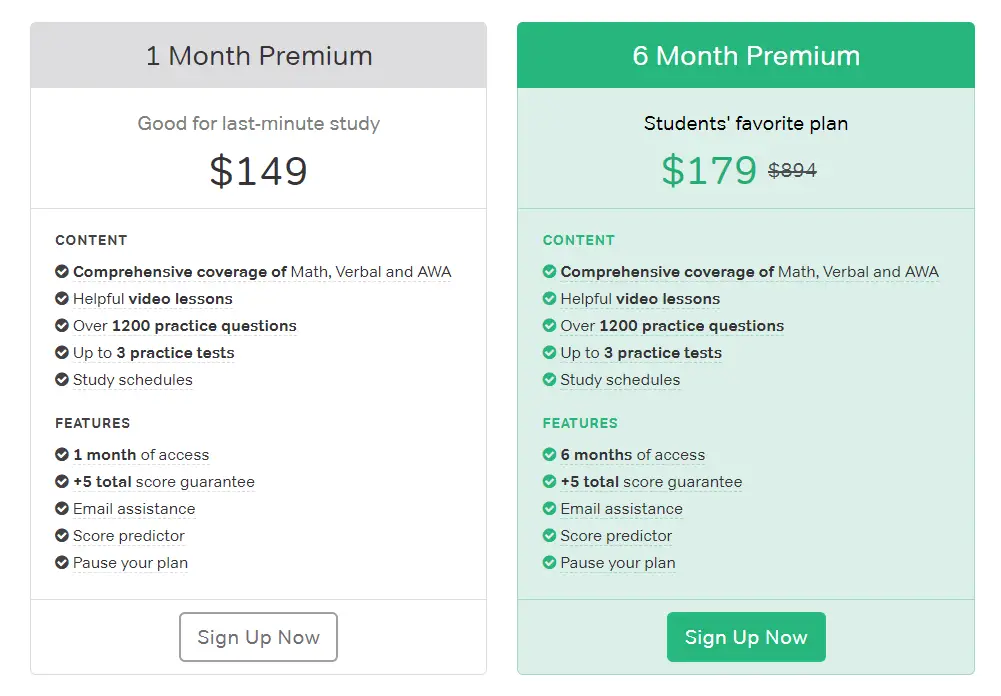 Magoosh offers two subscription options for prospective graduate students. They include:
One-month premium subscription
Six-month premium subscription
Both the one-month and six-month subscription include:
Full coverage of all topics included in the Math, Verbal and Analytical Writing Assessment (AWA) GRE test sections
Video lessons
More than 1,200 practice questions
Up to three practice tests
Study schedules
+5 point total score guarantee
24/7 email assistance
Accurate score predictors
With both plans, students have the option to pause their progress and resume later. The only difference between the plans is their duration.
The one-month plan offers one month of access, making it ideal for last-minute study sessions or a quick refresher. The six-month plan offers six months of online access and is a great way to take a deep dive into the material.
Students can also access a free seven-day trial to navigate the material. This free trial includes more than 20 lessons and questions.
---
FAQ
Is everyone eligible for Magoosh's five-point guarantee?
One of the most exciting components of the Magoosh Online GRE Prep is the coveted five-point guarantee. If you do not see a five-point improvement over your last GRE score after completing the Magoosh materials, you can receive your money back in full.
While such an assurance is promising, there are a few qualifications you'll need to meet to be eligible for the refund. The requirements include:
You must have taken the GRE exam before studying with Magoosh.
Your GRE score must be valid and fewer than five years old.
You must email Magoosh a copy of your "Before" report upon subscription sign-up.
Note that if you haven't taken the course before, you can still access all the material, but the five-point guarantee will not apply.
---
Conclusion
Overall, we highly recommend the Magoosh Online GRE Prep as an excellent study prep resource. With so many options at your fingertips, knowing where to direct your focus is invaluable.
Whether you're taking the course for the first time, or you're looking to improve your last score, Magoosh is the way to go.
After reading our Magoosh GRE Review, go ahead and sign up for a subscription today! If you're diligent about completing the material, you'll be one step closer to getting into the graduate school of your choice.
Go to Magoosh now
20% OFF
Code
GRE20SALE
Over 1200 practice questions
Up to 3 practice tests
Accurate score predictor
24/7 support from test prep experts
Claim discount
---
---