Becker CPA Review
Rating: 4.8
Studying for the CPA exam is one of the most challenging things I have ever done outside of graduating from college.  The amount of time needed to study is almost like having a full-time job in addition to my day job.  The long nights of studying after work reminded me of what is was like during finals week, except with the CPA exam, I was studying every single night for weeks on end.  Having a study course to be able to keep me focused with a study plan, knowing exactly the topics I need to study is essential. In addition, because I am working full-time, being able to study anywhere without needing to carry around a ton of books and materials was essential.  I could study on the train or during lunch, allowing me to add more study hours to my day. Today we'll take a look at the Becker CPA review course and see whether it could be helpful for your journey in studying for the exam.  Ready?  Let's get started.
Reviewed by kayla-w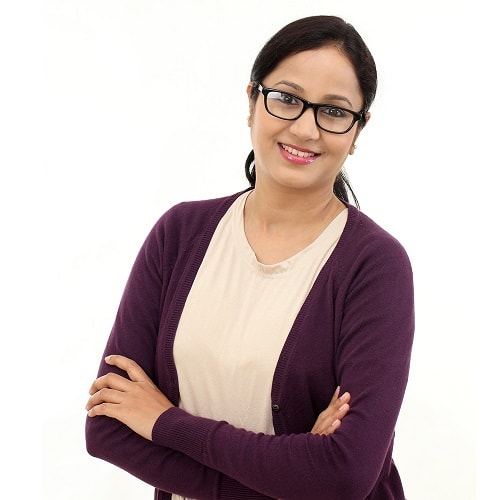 ---
---
Who should buy this course
| | |
| --- | --- |
| | Those who need a variety of resources to use in their study plan.  Lectures, books, flashcards, practice questions, etc. |
| | Those who work best in a virtual environment, but who also want the option of a traditional classroom environment. |
| | Those who want a customized plan based on their scheduled exam date or the recommended available study time each week. |
| | You want a personalized review based on your personal strengths and weaknesses on individual exam topics. |
| | You want a one-stop place for studying for the test and assistance with registering to take the exam. |
Who shouldn't buy this course
| | |
| --- | --- |
| | Those who do not have significant time to allocate to studying for the exam. |
| | Those who aren't prepared to make a significant investment of money in their CPA exam studying. |
---
---
---
What we like
Ability to create a customized study plan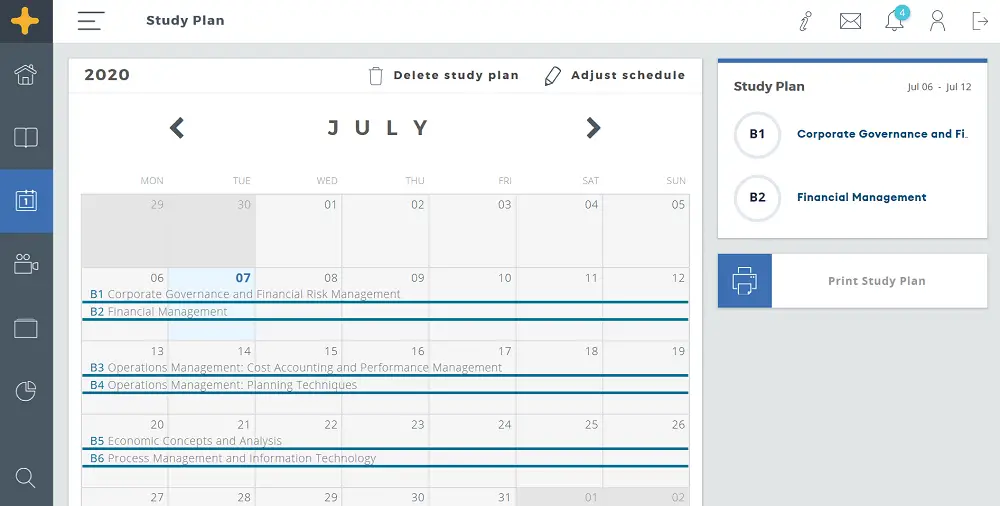 You have the option to create a personalized study program based on an already scheduled exam date or the amount of time you have available to study each week.  You can print a copy of the study plan if you work better with hard copy.  The platform also includes a calendar so that you can take a long-term view of your study progression.
I used the suggested exam period based on my ability to study 25-30 hours each week.  You receive a detailed schedule of when to study for each portion of the exam along with a recommended testing window.  If things get busy or if you find yourself with more time on your hands, you can adjust the study plan to better accommodate your new schedule.
Schedule the exam directly from the portal
In the dashboard, you have the ability to register for your notice to schedule for each part of the CPA exam, including a CPA exam tracker that shows you the state, exam date, and exam grade.  Knowing where to go to register and how to apply to take the exam can take quite a bit of extra time.  Being able to register for the exam, keep up with exam dates and even test scores all in one place makes life so much easier.
Live online and in-person classroom scheduling options
The higher tiers of the Becker CPA course allow for a live component to their CPA review curriculum.  You can take virtual classes if your schedule allows and is convenient.  If you prefer a more traditional classroom, you have the option to sign up for in-person courses.  This seems to be an awesome feature that is unique to the Becker review course as I have not seen it in other courses I have looked at.
Video tutorials to help you to navigate the exam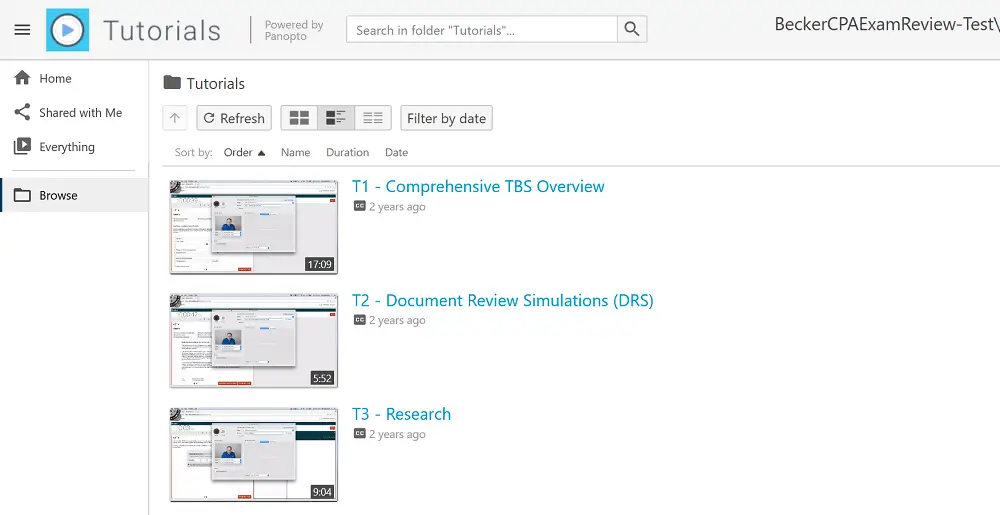 The course includes video tutorials that help you to navigate the ins and outs of the exam.  There are tips on best ways to manage the exam, the structure of the exam, and even the simulations you will take on exam day.  This comes in super handy when it comes to preparing to take the test and can help to relieve some of the anxiety of feeling like you do not know what to expect.  This is included as a part of the Skill Master video library.
Detailed outlines of each study modules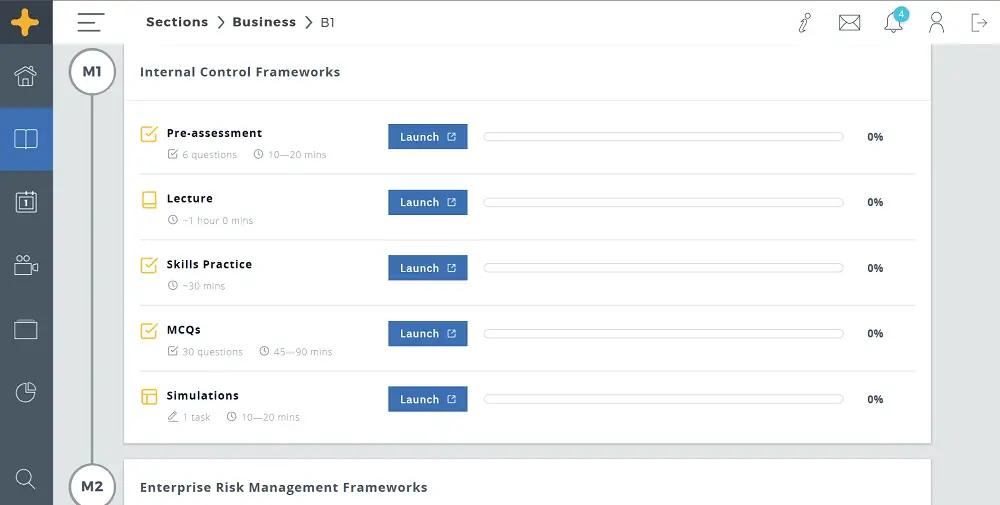 Each study section includes a detailed outline to cover the material.  Each section includes a pre-assessment to help you to determine here your weaknesses are initially.  In addition, there is a video lecture for each individual concept, skills practice to test your knowledge, multiple-choice questions, and simulations similar to those that you would see on the exam.  Once you have completed the section, you can go through an adaptive review of the material based on your work throughout the section.
Performance dashboard
The course includes a performance dashboard which highlights your progression through the course.  You can keep track of which lectures have been viewed in addition to the questions answered, including the number answered correctly.
---
What we didn't like
Navigation takes a little bit of getting used to
The dashboard includes numerous tabs to help you navigate through your studying of the course.  While there is a lot of material that is extremely helpful, there is a little bit of a learning curve to help you find everything.
Request a lot of personal information
While the material in the course is extremely beneficial, I found the amount of personal information to be somewhat of a drawback.  In addition to the usual information such as name, email address, and courses to take, they also ask questions such as where you graduated from school, graduation date, and the name of your employer.  These questions are required as a part of the registration process.
---
How much does it cost
The Becker review course includes three price points based on the features that you're looking for:
Advantage – $2,399
Includes unlimited access for 24 months for each of the four sections
Includes more than 1,400 digital flashcards to help you solidify your knowledge of important CPA exam terminology and concepts.
Adaptive technology that is tailored to your specific strengths and weaknesses to help you concentrate on the areas here you need more practice.
Task based simulations that help you to prepare for the exam
12 simulated exams to replicate hat you will experience in the actual exam
Premium – $2,999
The Premium review course option includes everything in the Advantage plan, plus:
Unlimited access as opposed to 24-month access
A comprehensive final review of the exam material, including condensed material, additional multiple-choice questions, and simulations.
An additional multiple-choice question database with over 1,100 practice questions
Access to CPA exam success coaches to help you along as you study for the exam
A live, online classroom component if you want additional guidance
Pro – $3,499
The Pro version of the Becker CPA review course includes everything in the Premium and Advantage plans, plus:
Printed versions of over 1,400 flashcards
A live in-person classroom option
An option to schedule up to five one on one academic tutoring sessions
A one-year subscription to their Continuing Professional Education service
---
Rating criteria
| Criteria | Rating | What we think |
| --- | --- | --- |
---
FAQ
When does Becker update their CPA exam review and final review content?
All CPA exam review and final review content are updated in December.
---
Conclusion
In my opinion, the Becker review course is one of the most comprehensive review courses that I've seen.  No matter how you learn, there is a methodology to support you.
If you need additional help, there are tutoring sessions available for one on one help.
I haven't seen any other courses that offer both a virtual and live in-person classroom option to help solidify your knowledge base.
That being said, the Becker review course is not inexpensive, but with all that you receive in support of your CPA journey it may well just be worth it.
Best of luck to you as you study for the CPA exam.
Go to Becker now
$800 OFF
Endorsed by the Big 4
Over 7000 MCQs
Over 400 task-based simulations
Unlimited access
Claim discount
---
---