How Long Does It Take, What Degree Do You Need, and More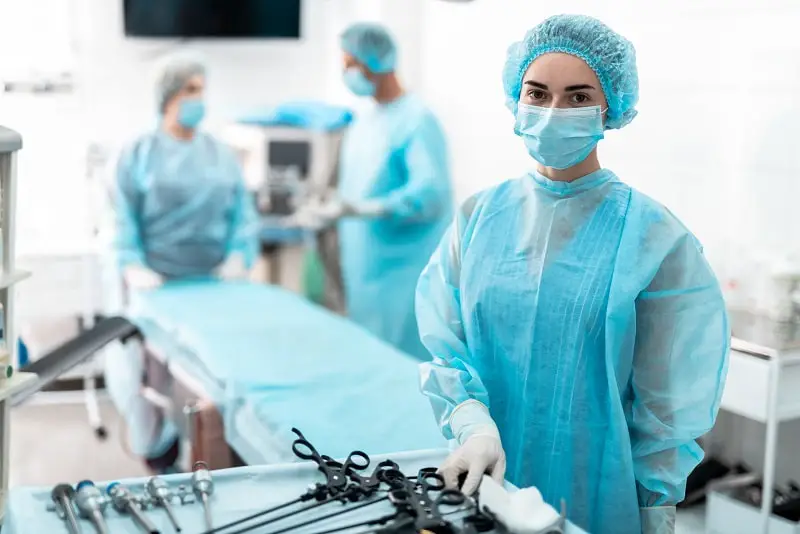 Surgical Assistants assist surgeons during surgery by performing duties such as tissue retraction, insertion of tubes and intravenous lines, or closure of surgical wounds. Perform preoperative and postoperative duties to facilitate patient care.
Education
Associate's degree
---
---
---
---
Table of contents
---
Summary
| | |
| --- | --- |
| Degree | Associate's degree |
| Degree field | Surgical Technology |
| Duration to become one | 8 to 10 years |
| Difficulty to become one | Medium |
A Surgical Assistant is also known as a Surgical Technologist or Operating Room Technician. This medical professional works with a surgeon before, during, and after surgery.
Surgical Assistants must earn an Associate's Degree, but many of them earn a Bachelor's Degree. After school, they need three years of operating room work experience. It is also possible to enroll in a surgical assisting program, which takes between 10 and 22 months.
Once this is complete, you can meet certain requirements and earn your certification.
---
Surgical Assistants Requirements
Step 1: Take Science and Medical Courses in High School
If you want to become a Surgical Assistant, it will help you to take science courses and pre-med courses in high school. You can take biology, chemistry, and other sciences, as this will prepare you for college. If your high school offers pre-med classes, you should take them. You should also concentrate on math so that you are ready for college.
Step 2: Earn Your Associate's or Bachelor's Degree
You can earn your Associate's Degree or your Bachelor's Degree in Surgical Technology. You will take classes in human anatomy, microbiology, pharmacology, medical terminology, pathophysiology, and basic sciences during this program. You will earn your Associate's Degree first, and then, you can continue on with your Bachelor's degree. You normally must have an Associate's Degree or be enrolled in a program to apply for a Bachelor of Science in Surgical Technology.
Step 3: Get Operating Room Experience
You will need operating room experience before you can be certified. This will give you valuable experience in this field while you are earning your certification. If you have experience as a military medic, you may be able to enter a surgical assistant program right away.
During this time, you will gain experience working in an operating room under supervision. This job requires that you learn how to conduct pre-surgery interviews to learn about the patient's history, prepare the operating room for surgery and make sure that all of the necessary tools are present, clean, and sanitized, and monitor electronic displays during surgery. You will also learn how to bind, dress, and apply pressure on wounds and perform follow-up visits with patients. You need approximately three years of experience before you will be admitted to a Surgical Assistant Program.
Step 4: Enter a Surgical Assistant Program
If you want to get certified and licensed, you will need to attend a Surgical Assistant Program. This program lasts between 12 and 24 months, and you will gain experience working with supervision. You will take courses, including Advanced surgical anatomy, surgical microbiology, surgical pharmacology, anesthesia, bioscience, and more This will help you prepare for your career. This program will give you everything you need to get certified and licensed.
Step 5: Earn Your Certification
When you complete your Surgical Assistant program, you will be ready to take your Certification exam. You will take a general exam that is required for all types of Physician Assistants, and then you will need to take your Surgical Assistant certification exam.
Step 6: Apply for Your License
After you pass your certification exam, you will be eligible to apply for your state license. You will need to submit your exam scores as well as your surgical experience and proof of your completion of a surgical assistant program.
Step 7: Complete a Surgical Assistant Residency Program
Although this is an optional step, many people choose to do a one-year residency before moving to their career. Residencies are offered at different Universities and teaching hospitals, and you will get intensive training as you participate in labs, clinical work, seminars, and lectures. You can be paid a stipend while you do your residency year.
Step 8: Apply for a Job
Once you complete your residency, you are ready to apply for a job. You can apply at hospitals or work for doctors directly. You will want to have recommendations and references to present with your job application, and you will be able to get a job.
Step 9: Maintain Your Certification and License
Once you become a Surgical Assistant, you will need to maintain your certification by taking continuing education classes. The specific requirements will depend on your state, so make sure that you stay on top of what you need to do. It is important to keep up with your requirements so that you don't lose your license and certification.
What degree do most Surgical Assistants have
Associate's degree
We did a survey to ask other Surgical Assistants what degree they had when they first became one. Here are the results.
Associate's degree
---
Post Baccalaureate certificate
---
Post-secondary certificate
---
How long does it take
8 to 10 years
It can take anywhere from eight to ten years to become a surgical assistant. You can choose whether you get an Associate's Degree or a Bachelor's Degree, and then you will need to work in an operating room for three years. You will then be eligible for a Surgical Assistant Program. After you complete the program, you can get certified. You can choose to complete a one-year residency before finding your permanent job.
---
Learn more about Surgical Assistants