How Long Does It Take, What Degree Do You Need, and More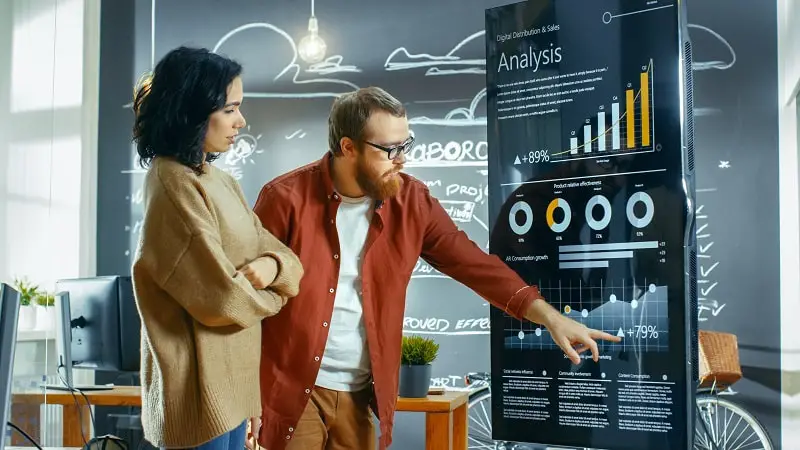 Statisticians develop or apply mathematical or statistical theory and methods to collect, organize, interpret, and summarize numerical data to provide usable information. May specialize in fields such as biostatistics, agricultural statistics, business statistics, or economic statistics. Includes mathematical and survey statisticians.
Education
Master's degree
---
---
---
---
Table of contents
---
Summary
| | |
| --- | --- |
| Degree | Statisticians typically require a Master's Degree but some employers may only require a Bachelor's Degree for entry-level positions. |
| Degree field | Statisticians often obtain degrees in Statistics, Mathematics, Economics, or Computer Science. |
| License or certification | Optional. The American Statistical Association offers voluntary accreditation for professional Statisticians, which requires a graduate degree and a portfolio containing work samples and letters of recommendation. |
| Duration to become one | 4 to 6 years |
| Difficulty to become one | Very Hard |
---
Featured Schools
Statisticians Requirements
Step 1: Take AP Math Classes in High School
Statisticians require a strong background in mathematics, which you can start developing in high school. Take the highest level of mathematics available at your school. Many states only require students to complete two or three credits of math in high school. This often includes geometry and algebra.
Higher courses may include advanced algebra, trigonometry, pre-calculus, AP calculus, and linear algebra. Some schools may also offer an AP statistics class, which is more closely related to the skills needed to become a Statistician.
Step 2: Earn a Bachelor's Degree in a Relevant Discipline
A Bachelor's Degree may qualify you for some entry-level positions in the Statistician field. It is also a necessary path for earning a Master's Degree, which is required for most Statistician positions. Common fields of study for aspiring Statisticians include Mathematics and Statistics. Both majors include a lot of math classes and courses in statistical computing. You may also take courses in regression, experimental design, statistical methods, and research.
Along with Mathematics and Statistics, some Statisticians choose to earn degrees in Economics or Computer Science. These fields of study can prepare you for a Master's Degree program in Statistics. An Economics Degree provides students with the foundational knowledge needed to solve complex problems using data analysis. Computer Science Degrees give you the skills needed to use advanced computational software for analyzing data.
Step 3: Accept an Internship or Entry-Level Position
Accepting an internship or seeking entry-level work may make it easier to find full-time employment as a Statistician after finishing your education. Internship opportunities are often found through advisors at your college or universities. You may also search for internships online.
Entry-level positions available for those with a Bachelor's Degree include Data Scientist, Data Modeler, Data Entry Clerk, and Statistical Analyst. Advancing beyond these positions will typically require a Master's Degree.
Step 4: Earn a Master's Degree in Statistics
Most Statisticians hold a Master's Degree in Statistics. You can pursue a Master of Science (MS) or a Master of Arts (MA) in Statistics. An MS is a common path for those wanting to earn a Ph.D. and seek jobs in research or academia.
Master's Degree programs in Statistics typically include a comprehensive exam toward the end of the program. You may also need to complete a thesis. Most Master's Degree programs in this field are completed in 12 to 24 months. However, there are also accelerated programs that may only take nine months to complete.
During your graduate studies, you may also complete courses in other fields to prepare for work in various industries. For example, you may choose to take Physical Science or Biology courses to prepare yourself for a career as a Biostatistician.
Step 5: Obtain Professional Certification as a Statistician
Many Statisticians choose to demonstrate their knowledge by obtaining professional certifications. These certifications are voluntary but they help increase your employability in competitive job markets. The main professional organization for Statisticians is the American Statistical Association (ASA). The ASA offers three certifications for varying levels of experience:
Graduate Statistician (GStat)
Professional Statistician (PStat)
Accredited Professional Statistician
The GStat credential is intended for recent graduates of accredited Master's Degree programs in Statistics. You do not need to take an exam to obtain this credential. You simply need to submit an application that contains your resume, contact information, and the list of degrees and courses that you have completed.
The PStat credential requires a minimum of five years of work experience in the Statistician field. You must also provide evidence of your work and examples of ongoing activities.
The Accredited Professional Statistician credential is awarded to Statisticians who can demonstrate advanced Statistical training and knowledge. You must also agree to abide by specific ethical standards and maintain appropriate professional development.
Step 6: Start Specializing in a Specific Field
Professional Statisticians work in a variety of fields. However, specializing in a specific industry helps you stand out compared to other candidates applying for the same position. Statisticians commonly work in Education, Finance, Biology, Psychology, Geography, Health, Economics, Marketing, and Product Development. Statisticians are also employed at all levels of Government.
Specializing in the industry that you serve can enhance your job skills and improve your resume. There are several ways to increase your knowledge of specific industries. You can take courses at trade schools, complete individual college courses, or enroll in another Master's Degree program. As you will already have a Bachelor's Degree at this point, you should easily qualify for Master's programs in other fields, including accelerated programs that may only take a year to complete.
Step 7: Pursue a Ph.D. in Statistics
Earning a Doctorate of Philosophy (Ph.D.) in Statistics is only a requirement for those who want to become Professors or Researchers. Ph.D. programs may take four to five years to complete. Obtaining a Ph.D. also requires the completion of a thesis or dissertation. This final step may involve original research.
If you plan on teaching Statistics, you will likely need teaching experience. Look for Assistant Professor positions during your Doctorate studies to gain the necessary qualifications. By the time you reach this level of your education, you may also start to specialize in specific areas of the Statistician field. For example, you may start focusing on Market Research, Meteorology, or Operations Research.
What degree do most Statisticians have
Master's degree
We did a survey to ask other Statisticians what degree they had when they first became one. Here are the results.
Master's degree
---
Doctoral degree
---
Bachelor's degree
---
How long does it take
4 to 6 years
Becoming a Statistician takes an average of four to six years. Earning a Bachelor's Degree typically takes four years but you will likely need a Master's Degree to advance in this career, which takes another two years. If you choose to pursue research or teaching positions, you may need a Ph.D., adding another four to five years to your timeframe.
---
Find a college with the major you want
---
---